Historic Waybury Inn
The Vermont – Bob Newhart Show – Hollywood Connection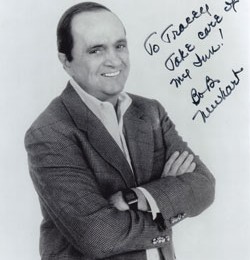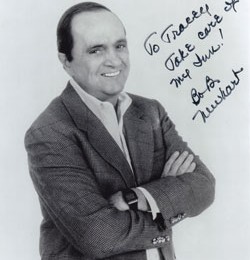 Visit Vermont and stay at the inn made famous by Bob Newhart. The television show, which aired on CBS from 1982 to 1990, was a big success and the Waybury Inn received world-wide recognition and notoriety because of the exposure. The fame continues even today, a decade after the show's final production. Travelers and tourists often ask, "where is the inn that was featured on that television show 'Newhart?'". Ask us about Bob Newhart's Vermont visit. To feature your Vermont business, contact us.
Vermont's "Hollywood" Inn & Bob Newhart


Waybury Inn, 457 East Main St., Rte. 125, E. Middlebury, VT 05740 | 800-348-1810
Packages offered at the Waybury Inn include a unique "Best Cellars" which includes a special wine from the reserve cellar as well as two books of your choice from the NY Times best seller list and Vermont made chocolates. Or try our "falling in love again" package, if you and your partner are the "outdoors" type, how about "taking a hike" with your own Vermont made walking stick. All in one of our 14 unique guest suites that present the most modern amenities to today's guests yet are filled with elegant and charming details. Amenities include deep, claw foot tubs, Jacuzzi suite, free wireless internet, full service bar, elegant cooked to order breakfast that includes eggs benedict. Reservations are required.
Visit Waybury Inn - E. Middlebury, VT
---
Middlebury, Vermont and Hollywood, California – A rather unlikely match but, as fate would have it, this authentic New England stagecoach inn from the 18th century was just what the director wanted for television's 'Newhart.' It's the look of this unique property that Hollywood was after, but it's the Inn's charm and character you will most admire.
The show was not only a success for CBS, but for Middlebury VT Realtors, innkeepers, and Vermont tourism in general.
'Newhart' was a classic TV sitcom. The show featured Newhart's dry wit and poked fun at Vermonters (Larry, his brother Daryl, and his other brother Daryl). Bob Newhart depicts Dick Loudon, the proprietor of a Vermont inn surrounded by a collection of very odd characters including the local boys, Larry, Daryl, and Daryl. Tony Papenfuss was the actor who plays Daryl and John Volstad played the other brother Daryl. Larry was played by actor Bill Sanderson. Ironically, it was only Larry, Daryl, and Daryl who actually visited the inn, as the program was filmed on a Hollywood set. Only the inn's exterior was shown on T.V. Such a shame, as the interior of this historic country inn is most charming and unique.
Bob Newhart previously starred as Bob Hartley, a quirky but well-adjusted Chicago psychologist, in The Bob Newhart Show, which aired from 1972-1978.
In the now famous last episode of Newhart, we discover that his life in Vermont is just a dream. He's really Bob Hartley, the psychologist, in bed with Emily back in Chicago.
P.S. There are no T.V.'s in the bedrooms at the Waybury Inn, but you can view your videotapes and television reruns of Newhart on the television set in the Inn's Pub.
P.P.S.  The Bob Newhart Show was followed by Newhart and then by Bob… all starring the legendary comic Bob Newhart.  Newhart reruns debuted on Nick at Nite on September 21, 1993.  The Bob Newhart Show debuted on September 16, 1972, and completed its original run on August 26, 1978.

The Waybury Inn
Established 1810
Middlebury, Vermont 05740
800-348-1810 • 802-388-4015 
www.wayburyinn.com
inns | hotels | resorts | rentals | attractions | dining | real estate

Vermont Products | Visit VT Towns | FWM 24/7 Shopping

Country Weddings | New England Recipes
VT Inns | Red Sox Gifts | Travel Destinations
Free World Mall

Country Weddings | New England Recipes
VT Inns | Red Sox Gifts | Travel Destinations