The Orvis Company
America's Oldest Catalog Company Manchester, Vermont

Founded by Charlies Orvis when he opened a tackle shop in Manchester, Vermont in 1856, the Orvis mail-order company has continued to be family-owned and specializes in high-quality hunting, outdoor sport, and fly fishing gear. Ovis is one of Vermont's top-performing corporations and has only had five CEOs in its entire history. Ask us about Orvis, Manchester Vermont, share Vermont comments or feature your Vermont business, contact us.
Vermont Stores: Orvis Company Manchester, VT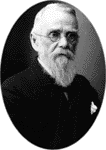 The nation's oldest mail-order company was founded right here in Vermont! The Orvis Company began offering fishing products via the U.S. Mail back in 1856. A Vermont product pioneer, Charles Orvis, the fourth of seven children, was born in Manchester, Vermont in 1831. Charles developed an uncommon practical inventiveness along with unusual business acumen. By his twentieth birthday, he was a skilled machinist and had mastered the basics of mechanical engineering. Charles also developed a passion for outdoor sports, especially hunting and fishing. Before long Charles began building fly fishing rods for himself and his friends.
Vermont Tourism – Destination Manchester VT
Both Charles and his brother Franklin Orvis became involved in Vermont's tourist trade. In 1853, Franklin opened the hotel that later became the famous Equinox House, and in 1861 Charles built the Orvis Hotel, also in Manchester. Throughout their lives both promoted the resort business which would be so important to Charles' interests in the marketing of his fishing tackle products.
As Vermont tourism grew, Charles was able to turn his fly fishing rod building hobby into a viable Vermont product business. In 1856, he formed the C. F. Orvis Company. The company's first sales room was located in a small stone building next to his brother's Equinox Hotel.
The Orvis family prospered as the railway brought ever-increasing numbers of tourists from New York and elsewhere to Manchester. These customers were the best advertisement possible for Charles' new fishing tackle company. His well made fly fishing rods and flies attracted a growing number of affluent sportsmen and generated repeat orders by mail. Thus, the country's first mail order catalog was established.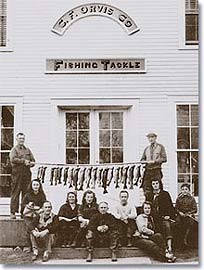 By 1861 the U.S. was beginning the Civil War, and the Orvis Company had already firmly established itself as a manufacturer of quality solid wood fly fishing rods.Orvis was also becoming noted for its wide selection of flies, and had the company's mail order business expanding.
The Civil War temporarily halted growth, but by the 1870s the company's prospects had improved. Taking advantage of a growing network of railroads, sportsmen were now flocking to Vermont's lakes and streams. Increased orders for fishing tackle prompted Charles to relocate his business in the now-historic white frame building on Union Street in Manchester, across the square from his very first location. With characteristic thoroughness and caution, Charles Orvis began exploring ways in which he could improve both his business and his products.
Today, the Orvis company operates retail stores worldwide and sells products online via the company website.
A visit to the Orvis store near Mt. Equinox in Manchester Center, Vermont is a wonderful vacation idea and yet another great reason for traveling to south-western Vermont.
Orvis is not just fishing anymore, they offer women's and men's apparel, fishing equipment, travel and hunting equipment to name a few. Orvis has been providing quality equipment and apparel since 1856. Find the quality products for the home and outdoors at Orvis.
Made In VT Orvis Fishing Rods Apparel & Outerwear – Fly Fishing Equipment
inns | hotels | resorts | rentals | attractions | dining | real estate

Vermont Products | Visit VT Towns | FWM 24/7 Shopping

Country Weddings | New England Recipes
VT Inns | Red Sox Gifts | Travel Destinations
Free World Mall

Country Weddings | New England Recipes
VT Inns | Red Sox Gifts | Travel Destinations