Vermont Real Estate Glossary
Realtor & Real Estate Agent Terminology

Learn the lingo of Real Estate Agents and Realtors. It is important to learn to basic Real Estate terms before you begin seeking Real Estate advice, search for Realtor listings, or meet with a Real Estate Mortgage broker. Browse the Real Estate Terms below. We suggest working with one of our suggested, licensed, Vermont Realtors Realty Brokers, or Real Estate Agents. Ask us about life in Vermont, VT Real Estate, or feature your Vermont Real Estate listings, contact us.
VT Real Estate Terms & Lingo


Berkley, Veller & Greenwood Country Realtors, 119 Western Ave., Brattleboro, VT 05301 also 118 Route 100, West Dover, VT 05356 | 802-254-6400
Berkley, Veller & Greenwood Country Realtors has access to the largest selection of real estate listings in southeastern Vermont and southwestern New Hampshire. Offices are located in Brattleboro and Mount Snow, Vermont. The area's leading independent full service real estate company serving Windham County in Southern Vermont and Cheshire County in Southern New Hampshire.
Visit Berkley Veller Greenwood Country Realtors Website
---


Parkway Realty Associates, 75 Mt. Pleasant St., St. Johnsbury, VT 05819 and 223 Main Street, Lyndonville, VT 05851 | 802-748-8169
A full service real estate agency specializing in northeastern Vermont homes, land, and commercial property for sale with offices in St. Johnsbury and Lyndonville, Vermont. The top producing real estate agency in the area for several years. View real estate listings online.
Visit Parkway Realty Associates
---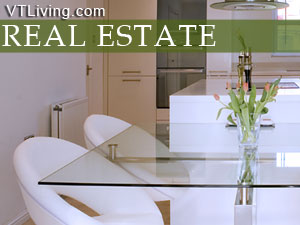 Accessed Value: Accessed value is the valuation placed on property by a public tax assessor for purpose of taxation.
Adjustable-Rate Mortgage (ARM): An adjustable rate mortgage is a mortgage in which the interest changes periodically, according to corresponding fluctuations in an index. All ARMs are tied to indexes.
Agreement for Sale: Known by various names, such as contract of purchase, purchase agreement, or sales agreement according to location or jurisdiction. A contract in which a seller agrees to sell and a buyer agrees to buy, under specific terms spelled out in writing and signed by both parties.
Broker: Broker has several meanings in different situations. Most Realtors are "agents" who work under a "broker." Some agents are brokers as well, either working for themselves or under another broker. In the mortgage industry, a broker usually refers to a company or individual that does not lend money for the loans themselves, but broker loans to larger lenders or investors. (See the Home Loan Library that discusses the different types of lenders). As a normal definition, a broker is anyone who acts as an agent, bringing two parties together for any type of transaction and earns a fee for doing so.
Closing Costs:
 Closing costs are separated into what are called "non-recurring closing costs" and "pre-paid items." Non-recurring closing costs are any items which are paid just once as a result of buying the property or obtaining a loan. "Pre-paids" are items which recur over time, such as property taxes and homeowners insurance. A lender makes an attempt to estimate the amount of non-recurring closing costs and prepaid items on the Good Faith Estimate which they must issue to the borrower within three days of receiving a home loan application.
Contingency: A condition that must be met before a contract is legally binding. For example, home purchasers often include a contingency that specifies that the contract is not binding until the purchaser obtains a satisfactory home inspection report from a qualified home inspector.
Cost of Funds Index (COFI): One of the indexes that is used to determine interest rate changes for certain adjustable-rate mortgages. It represents the weighted-average cost of savings, borrowings, and advances of the financial institutions such as banks and savings & loans, in the 11th District of the Federal Home Loan Bank.
Escrow Amount: Once you close your purchase transaction, you may have an escrow account or impound account with your lender. This means the amount you pay each month includes an amount above what would be required if you were only paying your principal and interest. The extra money is held in your impound account (escrow account) for the payment of items like property taxes and homeowner's insurance when they come due. The lender pays them with your money instead of you paying them yourself.
Fair Market Value: The highest price that a buyer, willing but not compelled to buy, would pay and the lowest a seller, willing but not compelled to sell, would accept.
Survey: A drawing or map showing the precise legal boundaries of a property, the location of improvements, easements, rights of way, encroachments, and other physical features.
Truth-In-Lending: A federal law that requires lenders to fully disclose, in writing, the terms and conditions of a mortgage, including the annual percentage rate (APR) and other charges.
Two to Four-Family Property: A property that consists of a structure that provides living space (dwelling units) for two to four families, although ownership of the structure is evidenced by a single deed.
Zoning: The right of a community, under its police power, to dictate the use of property within its boundaries.
Vermont Real Estate Experts


Deerfield Valley Real Estate, 183 Route 100, Valley Center, West Dover, VT 05356 | 802-464-3055
Deerfield Valley Real Estate provides the finest level of real estate service. We maintain a high standard of professionalism by retaining only full-time, experienced Realtors. Our team of licensed Real Estate Agents has over 150 years of collective real estate experience to assist you with the largest selection of residential, land and commercial properties in Southern Vermont.
Visit Deerfield Valley Real Estate- W. Dover, VT
---


Berkley, Veller & Greenwood Country Realtors, 119 Western Ave., Brattleboro, VT 05301 also 118 Route 100, West Dover, VT 05356 | 802-254-6400
Berkley, Veller & Greenwood Country Realtors has access to the largest selection of real estate listings in southeastern Vermont and southwestern New Hampshire. Offices are located in Brattleboro and Mount Snow, Vermont. The area's leading independent full service real estate company serving Windham County in Southern Vermont and Cheshire County in Southern New Hampshire.
Visit Berkley Veller Greenwood Country Realtors Website
---


RE/MAX Four Seasons Real Estate, 2897 Depot Street, Manchester Center, VT 05255 | 802-362-4067
REMAX Four Seasons Real Estate is a full service real estate firm, assisting buyers and sellers of homes, condominiums, commercial properties, and land. We serve the southern Vermont real estate market, specializing in Manchester, Dorset, Arlington, Winhall, and the Bromley and Stratton ski areas.
Visit RE/MAX Four Seasons Real Estate Website
---


Southern Vermont Realty Group, 278 US Route 100, West Dover, VT 05356 | 802-464-2585
Shopping for Vermont Real Estate? Southern Vermont Realty Group is by your side every step of the way! From answering those first few questions, referring you to fantastic local mortgage brokers, and selecting potential properties to view. When you find the property you want, we will prepare and present the offer, and negotiate skillfully on your behalf. Selling local real estate? Our extensive knowledge of the local market and online marketing we know how to showcase your home effectively. We know how to set the listing price, so you get the most for your property. We know how to attract many qualified buyers.
Visit Southern Vermont Realty Group
---


Century 21 Farm and Forest Realty, 5043 US Route. 5, Derby Road, Derby, VT 05829 | 802-334-1200
Since 1993 Century 21 Farm & Forest Realty has assembled a diversified team of experts familiar with a broad range of Vermont real estate; residential, commercial, timber tracts, vacation property or building lots. Office is conveniently located off Interstate 91 and open six days a week, Sundays by appointment. Member MLS, Century 21 Real Estate network. View listings online.
Visit Century 21 Farm & Forest Website
---


Parkway Realty Associates, 75 Mt. Pleasant St., St. Johnsbury, VT 05819 | 802-748-8169
Welcome to Parkway Realty Associates - Your Key to the Kingdom! We are a full service real estate agency specializing in northeastern Vermont homes, land, and commercial property for sale. We are experts in Northeast Kingdom Real Estate, and the top producing real estate agency in the area. View Vermont real estate listings online.
Visit Parkway Realty Associates - St. Johnsbury, VT
---


Begin Realty, 309 Portland St., Suite 101, St. Johnsbury, VT 05819 and 10 Route 2 W, Danville, VT 05828 | 802-748-2045
Welcome home to Vermont. Begin Realty "Providing professional and courteous service". Vermont's Northeast Kingdom is a wonderful place to work and live. Begin Realty has offices in St. Johnsbury and Danville. For commercial, residential, and land listings in the Northeast Kingdom of Vermont visit our website.
Visit Begin Realty Website
---


StoneCrest Properties, 101 Depot Street, Lyndonville, VT 05851 | 802-626-4790
StoneCrest Properties is a full service Vermont real estate agency meeting the needs of buyers and sellers every day. Located in Lyndonville, Vermont and servicing the entire Northeast Kingdom. At StoneCrest Properties we offer: First time homebuyer experience, Unique marketing of our properties, Experienced professional agents who take personal care. Give us a call, or view our latest listings online.
Visit StoneCrest Properties - Lyndonville, VT
---


Sugarbush Real Estate, Rt. 100, Village Square, Waitsfield, VT & Sugarbush Village, Warren, VT 05674 | 802-583-2100
Celebrating over 50 years of exceptional real estate service. With three offices in Warren and Waitsfield, memberships in both Vermont MLS systems, and extensive internet marketing, we offer Buyers the most complete selection of Mad River Valley residential and resort properties, and Sellers the broadest exposure in which to sell their property. Buyer/Seller Representation, Development and Permitting Services, new Home Packages. Members: REALTORS, NNEREN & Northwest MLS.
Visit Sugarbush Real Estate Website
---


Lisa Meyer, Licensed Real Estate Broker, Berkshire Hathaway Home Services, 98 South Main Street, Waterbury, VT 05676 | 802-793-2299
Offering Buyer representation and assistance in purchasing Primary or Vacation homes. Specializing in the sale of Vermont homes. Serving the Waterbury, Stowe, Montpelier, Barre, Mad River Valley, and Chittenden county Vermont. I also specialize in investment properties and land in the central Vermont Area. I am the Managing Broker for the Waterbury branch of Berkshire Hathaway HomeServices Vermont Realty Group and am surrounded by an extremely capable and experienced team.
Visit Lisa Meyer Berkshire Hathaway Vermont Realty Group - Waterbury, VT
---


Pall Spera Company Realtors, 1800 Mountain Road, Stowe, VT 05672 | 800-253-2700
From starter homes, lots, commercial buildings, to vacation hideaways, cabins, condos and world class estates, we have three offices to serve you - in Stowe on the Mountain Road and in the Village, and in Morrisville on Brooklyn Street. We look forward to creating your dreams with you.
Visit Pall Spera Realtors Website
---


Lipkin Audette Real Estate, Coldwell Banker Hickok and Boardman, 346 Shelburne Road, Burlington, VT 05401 | 802-846-8800
As the top selling team at Coldwell Banker Hickok & Boardman Realty, the Lipkin Audette team is a group of dedicated and experienced real estate professionals working with both investment and single family home buyers and sellers throughout Northwest Vermont. It is the mission of the Audette Team to consistently provide the highest quality, most innovative, and exceptional real estate service available anywhere. Our client's needs always come first. Our constant goal is mutual respect and long term relationships that are beneficial to all parties.
Visit Lipkin Audette Real Estate Website
---


Nancy Jenkins, CRB, CRS - Nancy Jenkins Real Estate, 140 Kennedy Drive, Suite 102, South Burlington, VT 05403 | 802-846-4888
Whether you're selling or buying, Nancy Jenkins and her team will provide you with the very best in real estate counsel and service. Her clients and customers rely on her for the financial insight that has placed her on the cutting edge of the ever changing Chittenden County VT real estatemarketplace. Involved, innovative, a top producer, interested in what is best for each person with whom she works, a leader and true professional. For more information about Nancy Jenkins, the number one agent in Vermont visit the website.
Visit Nancy Jenkins Real Estate
---


Coldwell Banker Islands Realty, 38 Community Lane, South Hero, VT 05486 | 802-372-5777
At Coldwell Banker Islands Realty, we have been helping people find homes in Northwest Vermont since 1994 from our Premier office in South Hero, Vermont, the gateway to the Champlain Islands. Our Realtors top priority is to deliver the best service and share their in-depth knowledge of the local market while ensuring their clients best interests. Our roots are in the Champlain Islands where we specialize in lakefront properties, but our award winning agents can help you buy or sell lakefront or inland properties throughout Chittenden, Franklin, and Grand Isle Counties.
Visit Coldwell Bankers Islands Realty
---
Champlain Valley VT Realtors & Real Estate
Burlington, Middlebury, St. Albans, the Islands of NW Vermont
North Central VT Realtors & Real Estate
Montpelier, Barre, Randolph, Waterbury, Stowe, Mad River Valley
Northeast Kingdom VT Realtors & Real Estate
St. Johnsbury, Newport, Barton, Lyndonville, Burke, Jay, Island Pond
South Central VT Realtors & Real Estate
Rutland, White River Jct., Woodstock, Quechee, Brandon, Killington, Ludlow, Weston, Chester
Southern VT Realtors & Real Estate
Bennington, Brattleboro, Manchester, Arlington, Newfane, Mt. Snow area
Vermont Real Estate Glossary | Vermont Real Estate Advice

Vermont Products | Visit VT Towns | FWM 24/7 Shopping

Country Weddings | New England Recipes
VT Inns | Red Sox Gifts | Travel Destinations
Free World Mall

Country Weddings | New England Recipes
VT Inns | Red Sox Gifts | Travel Destinations