Scott Farm Orchards
Vermont Farm Orchards, Apple Growers, Farmstand, Heritage Apples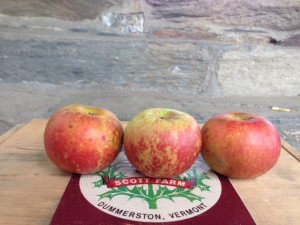 Vermont Apple Orchards
The Scott Farm, listed on the National Register of Historic Places, has been in active cultivation since 1791. This 571 acre farm has been owned since 1995 by The Landmark Trust USA, a non-profit organization whose mission is to rescue important but neglected historic properties and bring them back to life. At Scott Farm this has meant revitalizing the entire farm operation from orchard to farmhouses to barns.  A highly recommended Vermont apple orchard in Dummerston. Ask us about Scott Farm Orchards, visit all Vermont Apple Orchards, Farmstands, and Farmers' Markets.


Allen Brothers Farms, 6023 US Route 5, Westminster, VT 05158 | 802-722-3395
We are a uniquely Vermont combination of practical and beautiful. We have an inhouse bakery featuring cider donuts, pie, cakes and cookies , a deli with signature Mac & Cheese, pizza and other warm options as well as made to order sandwiches, a country store filled with local Vermont products, locally grown seasonal produce with our own apples, corn, strawberries, and squash and pumpkins, a gas station, a nursery and garden center. Come and see what we have for you at exit 5 off I-91, easy off and on
Visit Allen Bros. Farms Website
---


Yates Family Orchard, 1074 Davis Road, Hinesburg, VT 05461 | 802-373-7437
Come pick 23+ different apple varieties, pears and plums! Visit the orchard stand for delicious, hot, out of the fryer, cider donuts, and baked goods. Try all-natural Vermont made creemee ice cream, raw pressed cider, and other yummy orchard treats. Shop for Vermont local raw honey, maple syrup, orchard made jams, Mt Mansfield Creamery cheeses, Eden Specialty ciders, locally grown mums, pumpkins, and veggies. Discover other Vermont products and artwork for sale. Bring a picnic, stay the afternoon and relax in the scenic beauty of the orchard. Open September through November everyday.
Visit Yates Family Orchard - Hinesburg
---


The Dutton Berry Farmstands and Greenhouse, Route 30, Newfane, VT, Routes 11 & 30 in Manchester, VT, and Route 9 in West Brattleboro, VT | 802-365-4168
Dutton Berry Farmstands are well known for their Vermont grown produce and other unique local products. Fresh picked apples straight from our orchard are available throughout apple season. Stop in and pick up a jug of Dutton Berry Farm's fresh made apple cider, made from our home grown apples. Whether it is fresh farmer-grown fruits and vegetables, cider, Vermont maple syrup or plants, you'll enjoy visiting a true Vermont farm experience.
Visit Dutton Berry Farmstands- VT
---
707 Kipling Road
Dummerston, VT 05301
Ph: 802-254-6868
Visit Dummerston, Vermont.
Scotts Farm Orchards is a southern Vermont apple orchard and apple growing farm. Visit all recommended Vermont Orchards.

Vermont Products | Visit VT Towns | FWM 24/7 Shopping

Country Weddings | New England Recipes
VT Inns | Red Sox Gifts | Travel Destinations
Fitness and Sports Products On Sale Now
Free World Mall

Country Weddings | New England Recipes
VT Inns | Red Sox Gifts | Travel Destinations