Simon Pearce
Dining, Glassworks and Pottery from Vermont
Simon Pearce designs, manufactures and markets original designs in handblown glass and handmade pottery for the home and tabletop.
Founded in 1971, Simon Pearce originated as a small glassblowing workshop in Kilkenny, Ireland. Stop by the Simon Pearce factory at The Mill at Quechee to visit the retail store, watch glass blowers work their magic, and grab a bite to eat in their restaurant, which boasts spectacular views. Ask us about Simon Pearce in Quechee or share comments. To feature your Vermont restaurant, shop or mall,  contact us.
Simon Pearce Quechee VT Dining Glass & Pottery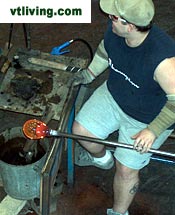 In the world of quality, hand-blown glass Simon Pearce is more than a legend. His name is now a custom trademark for glassware and pottery sold worldwide through Simon Pearce stores and other retailers.
Simon Pearce is very much a real person. He began his career at the Royal College of Art in London and has worked at some of Europe's famous glasshouses. It was 1981 when Simon moved his glass blowing operation to Quechee, Vermont. The company has grown and prospered since.
In the mid-1980's Simon Pearce built a 32,000 square foot glass manufacturing facility in Windsor, Vermont. The building produces some of the finest glassworks in the world. An adjacent building was later added and is now turning out quality hand-made pottery. The glass-blowing and pottery making facility are both open to the public and offer free admission to view artisans at work, see the latest Simon Pearce glassware and pottery, and browse the gift shop.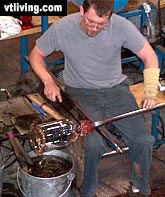 In the late 1990's Sim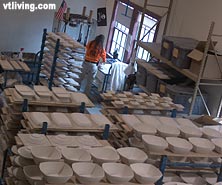 on Pearce opened a third manufacturing facility at Mt. Lake Park, Maryland. In the fall of 2000 another Simon Pearce facility opened, this time at the site of the former Lenape Inn on the banks of the Brandywine River in West Chester, PA.
A visit the Simon Pearce glassblowing and pottery studio in Windsor is a fascinating way to experience art and artists at work. Clean, functional and graceful designs that are both timeless and beautiful are the hallmarks of Simon Pearce Glass. See the latest styles being manufactured by making a special visit to Windsor Vermont. Tell them VTLiving.com sent you.
– Rick Rock for VTLIving.com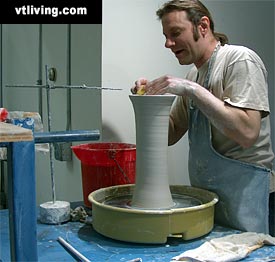 Shop online for glassware, pottery & gifts at Free World Mall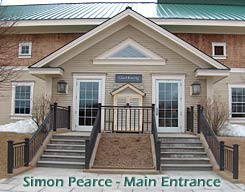 Simon Pearce Glass
Rt. 5 North, Exit 9 off I-91
Windsor, VT
Ph: 802-674-6280


Castle Hill Resort and Spa, Junction of Rt. 103 & 131, P.O. Box 525, Ludlow, VT 05149
Discover a freshly prepared French inspired American menu featuring local ingredients at the historic Castle Hill Mansion. This elegant, intimate restaurant welcomes guests with the opulent glow of the candle lit wood paneled dining room and the subtle chime of the grandfather clock. Enjoy the romantic ambience of this 1905 English Cotswold style Governor's mansion coupled with flavorful seasonal dining.
Visit Castle Hill Resort & Spa
---


The Norwich Inn, 325 Main Street, Norwich, VT 05055 | 802-649-1143
The Norwich Inn is a historic Vermont inn located just across the river from Hanover, New Hampshire. An Inn has been on the site since 1797; the current Victorian Structure since 1890. We offer 38 guestrooms, Pub, Dining Room, and Microbrewery. The Brewery at the Norwich Inn is one of the top VT breweries - all Jasper Murdock Ales and craft beer are brewed on premises.
Visit Norwich Inn - Norwich
---
inns | hotels | resorts | rentals | dining | real estate

Vermont Products | Visit VT Towns | FWM 24/7 Shopping

Country Weddings | New England Recipes
VT Inns | Red Sox Gifts | Travel Destinations
Free World Mall

Country Weddings | New England Recipes
VT Inns | Red Sox Gifts | Travel Destinations