Skijoring in Vermont
A Unique Winter Activity

A fast=growing Vermont winter sport is called Skijoring. Lots of people go skiing or snowboarding on their trip to New England, but if you really want a story to tell, go skijoring! The word "skijoring" means "ski driving" in Norwegian. The sport began in Scandinavia, where it has involved reindeer and horses as well as dogs, and it's becoming increasingly popular in throughtout this country. Share Vermont winter vacation comments, or feature your Vermont business,  contact us.
VT Winter Vacations: Skijoring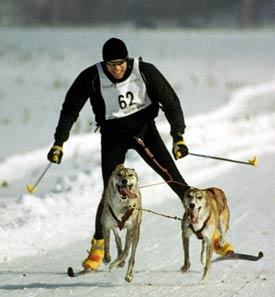 Basically, a skijorer is a cross-country skier harnessed to one or more dogs. Skijoring requires a team effort; skiers don't simply ride around while the dog does the work. It isn't just for huskies, either– skijoring can be done with active dogs of any breed as long as they're not too small (under 30-40 pounds). Done right, skijoring is a great way for you and your best friend to spend time together, enjoy the outdoors and stay in shape. And kids can do it, too!

If you've already mastered the basics of cross-country skiing, all you need is a suitable dog and a few pieces of equipment. You should train the dog to use the harness before there is snow on the ground or skis on your feet. You can also take lessons with experienced skijorers in the New England area. As with snowmobiling, don't assume that any trail will do; make sure you have permission before you take off skijoring on someone's property.
If you're interested in skijoring but don't want to try it yourself, you can still watch! The New England Sled Dog Club and the Down East Sled Dog Club both sponsor skijoring races in New England, and spectators are always welcome.
– Jenn for VTLiving.com
SKIJORING EQUIPMENT SALE

GUNDE SPLIT MITTENS - Perfect for aerobic activities in cold weather - like cross-country skiing, snowshoeing, running or cycling - these breathable gloves keep your hands warm without overheating
IDEAL FOR COLD WEATHER - System 3 gloves feature midweight insulation over the top of the hand for active use in colder conditions
NO ADDED BULK - 270g PrimaLoft ONE insulation is quick-drying and features a reduced loft for warmth without added bulk
ALL DAY COMFORT - Specialty tanned, supple leather palms provide comfort in both wet and dry conditions
DESIGN - Designed to breathe rather than trap excess heat and moisture inside, these gloves are best for active use and are not recommended for wet snowball fights
Windproof Outdoor Pants with Fleece Lining,keep you Warm and Comfortable in cold weather suitable for winter sports such as Skiing, Snowboarding, Snowshoeing.
Water Resistant yet Breathable snow pants to Remain you Warmth and Stay in Dry without overheating while you're out in the snow or rain.
8 Multi-Functional Cargo Pockets keep your presonal belongs and outdoor essentials SECURE.As well as UPF 50+ protects you from UV ray.
Lightweight Stretchy Softshell Pants Featuring Secure front Button closure with Zipper Fly & part Elastic Waistband with belt loops for Adjustability let you move freely and excellent Fit.
Womens hiking cargo pants perfect for winter outdoor activities like skiing, snowboarding, mountaineering,camping,trekking and other winter sports. NOTE: Dear customers, if you have any questions , please feel free to contact us and we will provide the best service to you.


Skijoring – A growing winter sport
Photos by Randy Brickell and John Sandberg courtesy of SkijorNow.com

Vermont Products | Visit VT Towns | FWM 24/7 Shopping

Country Weddings | New England Recipes
VT Inns | Red Sox Gifts | Travel Destinations
Fitness and Sports Products On Sale Now
Free World Mall

Country Weddings | New England Recipes
VT Inns | Red Sox Gifts | Travel Destinations