Vermont Horse Drawn Sleigh Rides
VT Sleigh Rides – An Unforgettable Vermont Vacation Experience

Step onto a sleigh, nestle under warm blankets and prepare to be whisked back in time with the vision of steaming breath and the sound of jingling sleigh bells. Discover the magic of Vermont as your sleigh glides through open meadows with incredible views of the notable Vermont countryside. Fortunately for both native Vermonters and Vermont vacationers alike, there are plenty of opportunities to experience the classic winter activity of sleigh riding. Ask us about Vermont sleigh rides or share your comments. To feature your Vermont business,  contact us.
A Vermont Sleigh Ride Vacation
If taking a sleigh ride is at or near the top of your Vermont vacation wish list, then take a few minutes to plan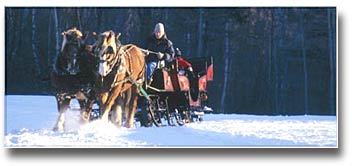 ahead. Contact the inn, resort or vacation rental agent where you are staying and inquire about local Vermont Sleigh Ride schedules and locations. All of our innkeepers and lodging managers will be quite helpful in providing information. Some our inns and resorts (Trapp Family Lodge, Mountain Top Inn & Resort, & others) have sleigh rides right on the premises. Weather, of course, can play a major role in Sleigh Ride schedules – so it's best to call in advance to confirm availability.
Vermont Inns & Resorts with Sleigh Rides
Our recommended Vermont Inns, B&Bs and Resorts are organized by region. Horse-drawn sleigh rides may be found in every region of the state, though not at every inn, resort or B&B – so inquire with the innkeeper directly. We thank you for mentioning VTLiving.com – Vermont's Internet Magazine. Find our recommended Vermont lodging accommodations by following the links below.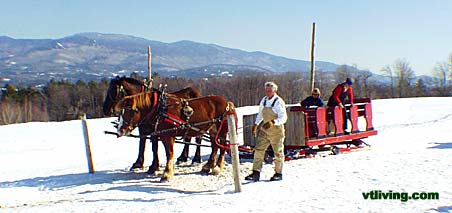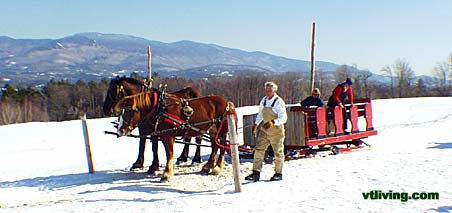 Vermont Products | Visit VT Towns | FWM 24/7 Shopping

Country Weddings | New England Recipes
VT Inns | Red Sox Gifts | Travel Destinations
Free World Mall

Country Weddings | New England Recipes
VT Inns | Red Sox Gifts | Travel Destinations