History of Snowboarding
The Birth of the Snowboard & Boarding Vacations

This is where snowboarding got it's start. So why not board where snowboarding first started, beside the conditions are just great for snowboarding at nearly all of Vermont's Ski Areas. A snowboarding vacation is outrageous way to getaway. Vermont offers the snowboard enthusiast challenging fun at a variety of slopes. With the best mountains, hotels, inns, resorts, and mountain rentals – it's no wonder Vermont is New England's top boarding destination. Discover the best snowboarding in the east in … Vermont – where snowboarding began! Ask us about VT Snowboarding history or share comments.  To feature your business, contact us.
Vermont Snowboarding History – Winter Vacations


The Wildflower Inn, 2059 Darling Hill Road, Lyndonville, VT 05851 | 802-626-8310
Trailside Lodging in the Northeast Kingdom of Vermont. Your next great adventure awaits at The Wildflower. A four-season destination property for the best in outdoor recreation and Vermont experiences. With our 25-room Inn, full-service restaurant, pub, Village Sport bike shop (with rentals) and KCE guide company right on the property, you will have everything you need to make the most of your Vermont visit.
Visit The Wildflower Inn - Lyndonville, VT
---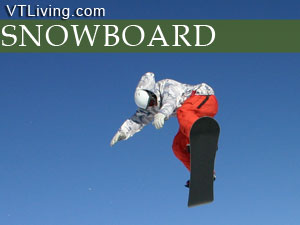 Take a passion for surfing, skateboarding and skiing, mix it with the force of gravity, bring it to the mountains and Voila! You have the birth of snowboarding. In the 1960's and 70's, early boarders called themselves 'Snurfers" (Snow + Surfer) and would hurl themselves down mountains with no foot straps and no control, on boards that were little more than two skis strapped together. Much like the antiquated surfboards of the 1960's, the first snurf boards were unreasonably long and cumbersome. Snurf Boards – were the original Snowboards – a unique made in Vermont Product.
In the early 1970's, not only did the size of surfboards decrease to a more modern and manageable size, the snurf boards did as well. It was at this point that Jake Burton Carpenter began developing safe and manageable snowboards in earnest. Working out of his garage in Manchester, VT, Burton had a vision of bringing snowboarding to the world. In the mid-70's he began shaping snowboards out of wood and attaching rubber foot straps to them as primitive bindings. This vision apparently succeeded, because Burton Snowboards has been one of the leading forerunners in the snowboard industry for the last 30 years. The vision of Jake Burton in the 1970's has directly influenced today's modern sport of snowboarding.
In the late 1970's and early 1980's, Vermont was home to one of the first established snowboard competition in the world – the National Races at Suicide Six in Pomfrey, VT. Early snowboard races were also held at Pando Park in Rochford, Michigan. A concentrated interest in this sport eventually spawned the US Open, the world's first renowned snowboard competition. The US Open has been held at Magic Mountain, and eventually moved to Stratton Mountain Resort.
Vermont was also the first state in America to offer terrain parks at its ski resorts. In the early 1980's, the tiny Sonnenburg Ski Hill near Barnard, VT was one of the first to open its arms to snowboarders. Not only did Sonnenburg give those early snow boarders free reign to build their own jumps on one trail, they also provided an endless supply of hay bales and picnic tables for jumping as well. Because the vast majority of ski resorts would not allow snowboarding on their trails at the time, what Sonnenburg did was truly groundbreaking. Because of Sonnenburg's willingness to open their doors to boarders, snowboard terrain parks are now a commonplace sight at most American ski resorts and countless other international winter resorts as well.
Thanks to the innovative visions of a handful of Vermonters, snowboarding is now an internationally accepted sport worldwide.
In 1988, the US Amateur Snowboarder Association was formed. By 1990, it had grown to become the International Snowboarding Federation. Finally, in 1998, snowboarding made it big. People started realizing it wasn't a fad that would fade as quickly as it seemed to have appeared. No longer considered just an 'extreme' sport, snowboarding had at last become a recognized Olympic sport
. Vermont was well represented at the Olympics in Nagano, Japan that year, with several native Vermonters competing in two different competitions; the Halfpipe and the Giant Slalom.
Today, Vermont resorts continually improve their boarding services, with newer and more innovative terrain opening each season. Vermont – home of the original Burton Snowboards. Thanks to Vermont snowboarders, 98% of all ski resorts not only allow snowboarding on their trails, they develop challenging slopes geared specifically for the boarders as well.
History of Snowboarding | Learning to Snowboard | Burton Snowboards
Snowboard Terminology | Vermont Snowboard Resorts | History of Burton
SNOWBOARD SALE


Vermont Products | Visit VT Towns | FWM 24/7 Shopping

Country Weddings | New England Recipes
VT Inns | Red Sox Gifts | Travel Destinations
New England Living | NE Ski Resorts
Fitness and Sports Products On Sale Now
Free World Mall

Country Weddings | New England Recipes
VT Inns | Red Sox Gifts | Travel Destinations