Snowboard Lingo
Snowboardng Terminology & Successful Snowboarding

This is where snowboarding got it's start. So why not board where snowboarding first started, beside the conditions are just great for snowboarding at nearly all of Vermont's Ski Areas. A snowboarding vacation is outrageous way to getaway. Vermont offers the snowboard enthusiast challenging fun at a variety of slopes. With the best mountains, hotels, inns, resorts, and mountain rentals – it's no wonder Vermont is New England's top boarding destination. Discover the best snowboarding in the east in … Vermont – where snowboarding began! Ask us about VT Snowboarding vacations or share Snowboard comments.  To feature your business, contact us.
Vermont Snowboarding Vacations


The Wildflower Inn, Darling Hill Road, Lyndonville, VT 05851
"Warm hospitality and tons of kids' activities" -Yankee Magazine. With on-site direct access to VAST 52 snowmobile trail and lots of room for trailer and sled parking, this family-friendly country resort on 570 acres is perfect for your Vermont snowmobiling getaway! The Wildflower inn offers comfortable rooms and suites, mountain views, cozy sitting rooms with woodstoves, and a casual atmosphere. On site x-country skiing and snowshoeing trails, sledding, skating, bonfires, petting barn, kids' programs & playroom, hot tub & sauna. Burke Mountain skiing just 3 miles away.
Visit Wildflower Inn
---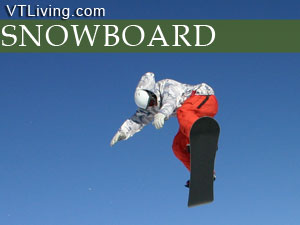 Snowboard Culture has its own unique flavor, including music, apparel and language. Here are a few of the more interesting terms used by snowboarders. If you want to speak like a snowboarder, or just understand one – read on. Snowmobile Terms.
Snowboard Terminology
Alley-Oop
Any maneuver in the halfpipe where you rotate 180 or more degrees in the uphill direction.
Regular
Riding with your left foot in the forward position
Fakie
Riding with your right foot in the forward position.
Backside Rodeo
Turning your back downhill when coming off a jump, flipping 540 and landing fakie or rotating 720 and landing regular.
Boned Out
Over-exagerating body positions when doing tricks, often giving the legs the appearance of being extended or stretched to the maximum degree.
Bonk
Hitting an object with your snowboard.
Duck Foot
A riding stance where heels are together and toes point outward away from one another.
Grind
To ride objects such as boxes and handrails with a snowboard.
Hammer
To ride as hard as possible.
Ollie
A hopping motion achieved by lifting first the front foot, then the rear foot before springing off the tail of the snowboard.
Nollie
A reversed Ollie, leading with the rear foot first.
Rolling Down the Windows
The spinning of your arms wildly in the air in an attempt to regain balance.
History of Snowboarding | Learning to Snowboard | Burton Snowboards
Snowboard Terminology | Vermont Snowboard Resorts | History of Burton
SNOWBOARD SALE


Vermont Products | Visit VT Towns | FWM 24/7 Shopping

Country Weddings | New England Recipes
VT Inns | Red Sox Gifts | Travel Destinations
Free World Mall

Country Weddings | New England Recipes
VT Inns | Red Sox Gifts | Travel Destinations