VT Snowmobile Vacations
Vermont Snowmobiling Trails Lodging & VAST Information

Snowmobiling is a popular Vermont winter sport – and it's growing! The Vermont winter brings a unique opportunity to view some of nature's awesome beauty. The snowmobiling enthusiast will love Vermont, for here the snowmobiler can enjoy breath-taking vistas, clean country air, superb accommodations, groomed VAST snowmobile trails, and an outstanding dining variety of casual and fine dining options. Vermont's more than 4,700 miles of groomed snowmobile trails make it the ideal choice for your New England Snowmobile adventure.
Ask us about VT Snowmobile vacations or share snowmobile vacation comments.  To feature your business, contact us.
Vermont Snowmobile Vacations


The Wildflower Inn, Darling Hill Road, Lyndonville, VT 05851
"Warm hospitality and tons of kids' activities" -Yankee Magazine. With on-site direct access to VAST 52 snowmobile trail and lots of room for trailer and sled parking, this family-friendly country resort on 570 acres is perfect for your Vermont snowmobiling getaway! The Wildflower inn offers comfortable rooms and suites, mountain views, cozy sitting rooms with woodstoves, and a casual atmosphere. On site x-country skiing and snowshoeing trails, sledding, skating, bonfires, petting barn, kids' programs & playroom, hot tub & sauna. Burke Mountain skiing just 3 miles away.
Visit Wildflower Inn
---
Vermont snowmobile trails are groomed by local snowmobile clubs, members of the Vermont Association of Snow Travelers (VAST). VAST is the non-profit association that maintains Vermont's trail network with more than 112 groomers working statewide.
If you are new to snowmobiling in Vermont be sure to read the information below about Vermont Snowmobile Rules, Permits, Laws and VAST Trail Types and the VAST Trail System. A TMA or Trail Pass is required to ride on VAST Snowmobile Trails in Vermont. Snowmobiler-friendly lodging is available in every region of Vermont. Please ride responsibly and respect the environment and landowners and thank you for mentioning VTLiving.com to our recommended businesses.
Within Vermont, there are more than 4,700 miles of corridor trails and 1,500 miles of secondary trails. 80% of VAST trails are on private land – so be sure to stay on designated trails. Play in Vermont – visit all Vermont Sports sections.
VT VAST Trail Types
There are two types of snowmobile trails – Corridor Trails and Secondary Trails.
Corridor Trails
Corridor Trails extend the entire length and width of the state of Vermont. These trails provide a wide range of snowmobile rides, from short loops to extended trips of over 100 miles per day. These trails are maintained by local snowmobile clubs with financial aid from VAST and are designated with GREEN tags.
Secondary Trails
Secondary Trails are designated as local club and feeder trails between the corridor trails. The secondary trails are generally for local use and have variable trails widths ranging from 4 to 8 feet and variable grooming conditions. These trails are designated with ORANGE signs.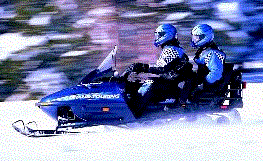 Vermont Products | Visit VT Towns | FWM 24/7 Shopping

Country Weddings | New England Recipes
VT Inns | Red Sox Gifts | Travel Destinations
Free World Mall

Country Weddings | New England Recipes
VT Inns | Red Sox Gifts | Travel Destinations