Vermont Snow Tubing
VT Winter Tubing Fun – Snow Tubing, Tube Riding

The family is going skiing and snowboarding but you don't ski or snowboard. So now what? How about taking to the slopes with them? There is a fun winter sport / activity that just about anyone can enjoy. It is called Snow Tubing. Snow Tubing is sometimes called simply "tubing". Ask us about VT Snow Tubing fun or share winter sports comments.  To feature your business, contact us.
Vermont Snowtubing Vacations


Smugglers' Notch Vermont, America's Family Resort, 4323 VT Rt.108, Jeffersonville, VT | 802-332-6854
SMUGGLERS' NOTCH RESORT. At America's Family Resort, experience Mountain Resort Village living, award-winning children's programs, family activities, 3 big mountains of skiing and snowboarding, plus entertainment, dining, shopping, year-round Zipline Canopy Tours & more. Family Fun Guaranteed. Smuggs offers four season Vermont family vacation experiences unlike any other!
Visit Smugglers' Notch Resort - Jeffersonville, VT
---


The Wildflower Inn, 2059 Darling Hill Road, Lyndonville, VT 05851 | 802-626-8310
Trailside Lodging in the Northeast Kingdom of Vermont. Your next great adventure awaits at The Wildflower. A four-season destination property for the best in outdoor recreation and Vermont experiences. With our 25-room Inn, full-service restaurant, pub, Village Sport bike shop (with rentals) and KCE guide company right on the property, you will have everything you need to make the most of your Vermont visit.
Visit The Wildflower Inn - Lyndonville, VT
---
VT Snow Tube Vacations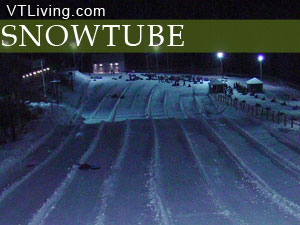 Snow tubing brings back those childhood memories of sledding down Grandma's backyard hill. When your wooden and metal Speedaway sled was not available we would visit the barn to retrieve a big truck tire tube. The tube functioned well as a sled, though controlling speed and direction was nearly impossible.
Modern Snow Tubes
Today, snow tubing is different. The tubes available at most ski areas and winter resorts now have steering and braking capabilities. Snow tubing is now safer and easier than ever. If you can sit, stand, and walk you can snow tube down a hillside and enjoy the winter snow. One of the best places to try Snow Tube riding is at Smugglers' Notch Resort in Jeffersonville.
As the baby boomers age and their bodies begin to feel the effects of the process, snow tubing is becoming more attractive as a winter fun sport. In fact, snow tubing is now one of America's fastest growing winter activities. In addition to Smuggs – Burke Mountain, Mount Snow, Bromley,  and other Vermont Ski Resorts offer excellent snow tubing opportunities.
What exactly is Snow Tubing?
Similar to sledding, snow tubing involves sliding down the hill while sitting on a large vinyl tube. At the base of the hill the snow tube rider can take the chair lift or rope tow back up the hill and repeat the process. If you enjoy the snow, and sledding, you will love snow tubing.
Why is Snow Tubing a good choice for the entire family?
Snow tubing requires little or no skill. Expensive and time-consuming lessons are not required. Specialized equipment is not required. Special clothing and gear is not required. Snow tubing is relatively inexpensive.
Where can I go Snow Tubing In Vermont?
There is snow tubing available at some Vermont Ski Resorts. Explore Burke Mountain, Mount Snow, Smugglers Notch or find the complete listing of Vermont Ski Areas or VT Inns for more information.
What Should I Wear When I Go Snow Tubing?
Temperatures and weather condition of course will vary. Dress in layers, and dress warmer that you think, you can always take off a layer of clothing but neglecting to wear enough clothing can ruin your day. You should dress for snow conditions and utilize waterproof clothing. Some clothing suggestions are; long underwear, insulated jeans, waterproof snow pants, gloves or mittens, a hat, helmet or headband, waterproof jacket and ski / snow pants. Goggles are recommended or required at some tubing locations.
The bright sun can be blinding without quality sunglasses and also provide eye protection. At most Snow Tubing areas participants are required to wear snow boots, hiking boots or waterproof shoes. Ski boots are usually prohibited for safety reasons.
What is the best time to go Snow Tubing?
This winter fun activity is growing in popularity. Call in advance to confirm information, check the weather forecast orweather maps, and make a reservation. We have had several local ski resorts report that the Snow Tubing sessions are selling out, sometimes days in advance. Call ahead and save the hassle. Find the telephone numbers and contact information to ski areas in our VT Ski Areas section.

Vermont Products | Visit VT Towns | FWM 24/7 Shopping

Country Weddings | New England Recipes
VT Inns | Red Sox Gifts | Travel Destinations
Free World Mall

Country Weddings | New England Recipes
VT Inns | Red Sox Gifts | Travel Destinations