Hiking With Your Canine In Vermont
VT State Park Dog Friendly Hiking Trails

Vermont is an ideal place for your outdoor adventure with your pet.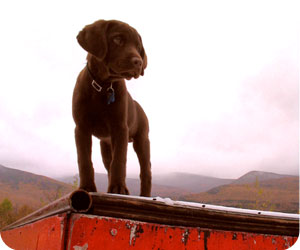 VT State Parks may be found in every corner of Vermont. Whether you are seeking adventure at the lakes, retreat in the mountains, or sun and sand the shores of Lake Champlain, you will find a Vermont State Park and many outstanding private campgrounds and RV Parks. Whether visiting one of Vermont's state parks, National Forests or National Parks for the day or the week, it is a wonderful way to experience Vermont.
The Vermont State Park system extends to every corner of the state providing a great place for camping, fishing, hiking, wildlife watching, and swimming. VT State Parks System includes beaches, campgrounds, historic sites, waysides, natural wildlife viewing areas, and miles of trails to explore. Visit Vermont Campsites for more amazing adventures, and scenery. To feature your Vermont campground in Vermont Living,  contact us.
Vermont State Park Hikes & Campgrounds


Lone Pine Campsites, 52 Sunset View Road, Colchester, VT | 802-878-5447
Known across New England and beyond as "Vermont's Favorite Family Campground", Lone Pine Campsites offers the quintessential Vermont camping experience in one of the most beautiful regions of the state, the Lake Champlain Valley. Located a mere stone's throw from Mallets Bay and 15 minutes from downtown Burlington, our 265 spacious campsites are surrounded by native trees and wildlife. We provide several RV hook-up options, offer RV rentals, and are happy to welcome tent campers.
Visit Lone Pine Campsites - Colchester
---


Lake Lyster Campground, 360 Chemin de Chalets, Coaticook, PC J1A 2S4 | 819-345-3787
A haven of tranquility! Lake Lyster Campground, in Coaticook, the Eastern Townships of Quebec is just 25 mins from the Vermont border. Enjoy 60 acres of Campsites, just across the road from beautiful Lake Lyster, with 25 ready-to-camp sites including 11 mini-cabins with private toilets + 14 prospector-style tents. Rent Kayaks or paddleboards, hike Mount Pinacle or relax with a good book. Tranquility and peace await you ... book your campsite now, where camping, glamping, and nature combine!
Visit Lake Lyster Campground - Coaticook, Quebec, CA

---
Dog-Friendly Hikes in Vermont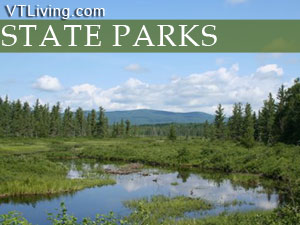 Hiking with your canine companion can be one of the most rewarding things to do when living in or visiting Vermont. Vermont has so many beautiful mountains and peaks full of trails that it is hard to not want to get out there and explore. Many of Vermont's state parks do not allow dogs on the trails. The parks that do allow dogs for hiking are ones not to miss. The following are some of Vermont's state parks that allow canine companions to hike and explore with their owners.
Marsh-Billings-Rockefeller National Historical Park located in Woodstock, Vermont is a wonderful place to visit. There are many things to see and do during your adventure on this historical site. Pets are allowed as long as they are on a leash. The park is open for hiking on the trails and carriage roads during three seasons. Once the snowfall hits, the trails are then groomed for cross-country skiing and snowshoeing.
Lowell Lake State Park located in Londonderry, Vermont is a great place to start your canine companion off with his/her first hikes. Lowell Lake Loop Trail is about 3.5 miles long and is of mainly flat terrain. This is a great place to bring an older canine that is not as active as he/she used to be.
Your canine companion will be very happy to join you on a hike in the wonderful state of Vermont.


Marshfield Inn and Motel, 5630 US Route 2, Marshfield, VT 05658 | 802-426-3383
We offer quiet country accommodations on 37 acres convenient to both Montpelier and St. Johnsbury. It's the perfect relaxing stop-over after a busy day of travel, or a comfortable place to settle for a few days while exploring Montpelier, Central Vermont or the Northeast Kingdom. Experience the cozy charm and beautiful surroundings of a B&B, with the privacy, convenience and reasonable price of a motel. We are pet friendly.
Visit Marshfield Inn & Motel
---

Vermont Products | Visit VT Towns | FWM 24/7 Shopping

Country Weddings | New England Recipes
VT Inns | Red Sox Gifts | Travel Destinations
Fitness and Sports Products On Sale Now
Free World Mall

Country Weddings | New England Recipes
VT Inns | Red Sox Gifts | Travel Destinations