South Central VT State Parks
Rutland Woodstock State Parks & Preserves

Camp in Killington or visit Bomoseen Vermont State Park – it's one of the most active State Parks in northern New England. A south-central Vermont State Park Campground is an ideal way to spend a few days or weeks visiting Vermont. VT State Parks may be found in every corner of Vermont. Whether you are seeking adventure at the lakes, retreat in the mountains, or sun and sand the shores of Lake Champlain, you will find a Vermont State Park and many outstanding private campgrounds and RV Parks. Ask us about Vermont campgrounds, RV parks,  and State Parks or share comments. To feature your business, contact us
Rutland Woodstock Killington VT State Park Guide


Lone Pine Campsites, 52 Sunset View Road, Colchester, VT | 802-878-5447
Known across New England and beyond as "Vermont's Favorite Family Campground", Lone Pine Campsites offers the quintessential Vermont camping experience in one of the most beautiful regions of the state, the Lake Champlain Valley. Located a mere stone's throw from Mallets Bay and 15 minutes from downtown Burlington, our 265 spacious campsites are surrounded by native trees and wildlife. We provide several RV hook-up options, offer RV rentals, and are happy to welcome tent campers.
Visit Lone Pine Campsites - Colchester
---


Lake Lyster Campground, 360 Chemin de Chalets, Coaticook, PC J1A 2S4 | 819-345-3787
A haven of tranquility! Lake Lyster Campground, in Coaticook, the Eastern Townships of Quebec is just 25 mins from the Vermont border. Enjoy 60 acres of Campsites, just across the road from beautiful Lake Lyster, with 25 ready-to-camp sites including 11 mini-cabins with private toilets + 14 prospector-style tents. Rent Kayaks or paddleboards, hike Mount Pinacle or relax with a good book. Tranquility and peace await you ... book your campsite now, where camping, glamping, and nature combine!
Visit Lake Lyster Campground - Coaticook, Quebec, CA

---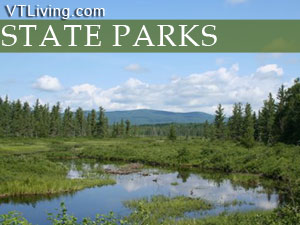 Mt. Ascutney State Park
1826 Back Mountain Road
Windsor, VT 05089
Ph: 802-674-2060
Season: May 19 to October 15
At the base of 3150′ Mt. Ascutney; camping, biking, hiking, hang gliding launch site, picnicking, showers(pay), flush toilets, dump station
Bomoseen State Park
22 Cedar Mountain Rd
Fair Haven, Vermont 05743
Ph: 802-265-4242
Season: May 26 – September 4
– On the shore of Vermont's Largest Lake; camping, swimming, picnicking, group use area, hiking, boating, fishing, shop/gift shop/concessions, flush toilets, showers(pay), dump station
Branbury State Park
3570 Lake Dunmore Rd, Rt 53
Salisbury, VT 05733
Ph: 802-247-5925
Season: May 26 to October 9
On the shore of Lake Dunmore; camping, swimming, picnicking, hiking, fishing, boating, boat rentals, flush toilets, showers (pay), dump station
Camp Plymouth State Park
2008 Scout Camp Rd
Ludlow, Vermont 05149
Park Phone: 802-228-2025
Season: May 26 – September 4
camping, hiking, fishing, hunting, picnicking, boat rentals, shop/gift shop/concessions, group use area, sandy beach
Coolidge State Forest Camp
Shrewsbury, VT 05738
No Phone – Primitive Camping Only
Coolidge State Park
855 Coolidge SP Rd
Plymouth, Vermont 05056
Ph. 800-293-3071; Summer 802-672-3612; Winter 802-885-8891
Season: May 26 to October 9
Located near the Calvin Coolidge birthplace, the Park offers picnicking, camping (32 lean-tos and 25 tent sites) nature trails, showers(pay), flush toilets, and a dump station. Admission is charged.
Gifford Woods State Park
34 Gifford Woods
Killington, VT 05751
Ph: 802-775-5354
Season: May 26 to October 15
Along Appalachian National Scenic Trail; camping, picnicking, hiking (Appalachian Trail), showers(pay), flush toilets, trailer sanitary station,
Half Moon Pond State Park
1621 Black Pond Road
Hubbardton, VT 05743
Ph: 802-273-2848
Season: May 26 to October 9
Site of 1777 Revolutionary War Battle; camping, hiking, fishing, boating(non-motorized), boat rentals, flush toilets, showers (pay), dump station
Lake St. Catherine State Park
3034 VT Rte. 30 – South
Poultney, VT 05764
Ph: 802-287-9158
Season: May 26 – September 4
Popular wooded lakeside camp and recreation area; picnicking, swimming, boating, boat rentals, fishing, shop/gift shop/concessions, flush toilets, showers (pay), dump station
Okemo State Forest Camp
Ludlow, VT 05149
No Phone – Primitive Camping Only
Quechee Gorge State Park
764 Dewey Mills Road
White River Junction, VT 05001
Ph: 802-295-2990
Season: May 26 to October 15
On the site of the former Woolen Mill near Quechee Gorge; camping, picnicking, hiking, skeet range, baseball field, restrooms, showers(pay), dump station
Silver Lake State Park
Barnard, VT 05031
Ph: 802-234-9451
Season: May 26 – September 4
On the lakeshore is noted for good fishing; camping, boat rentals, picnicking, group use area, restrooms, showers(pay), dump station,
Thetford Hill State Park
622 Academy Rd.
Thetford Center, VT 05075
Ph: 802-785-2266
Season: May 26 – September 4
1930s Conservation Corps recreation area  with views of Connecticut River Valley; camping, picnicking, hiking, restrooms, showers(pay)
West Rutland State Forest Camp
West Rutland, VT 05777
No Phone – Primitive Camping Only
inns | hotels | resorts | rentals | dining | real estate
Champlain Valley VT State Parks
Burlington, Middlebury, St. Albans, the Islands of NW Vermont
North Central VT State Parks
Montpelier, Barre, Randolph, Waterbury, Stowe, Mad River Valley
Northeast Kingdom VT State Parks
St. Johnsbury, Newport, Barton, Lyndonville, Burke, Jay, Island Pond
South Central VT State Parks
Rutland, White River Jct., Woodstock, Quechee, Brandon, Killington, Ludlow, Weston, Chester
Southern VT State Parks
Bennington, Brattleboro, Manchester, Arlington, Newfane, Mt. Snow area
SHOP CAMPING SALE

| Photo | Title | Price | Buy |
| --- | --- | --- | --- |
| | Coleman Skydome Camping Tent with Dark Room Technology, 6 Person | $183.10 | On Sale Now |
| | Coleman Evanston Screened Camping Tent, 6/8 Person Weatherproof Tent with Roomy Interior Includes Rainfly, Carry Bag, Easy Setup and Screened-in Porch | $160.11 | On Sale Now |
| | Coleman Skydome Camping Tent with Full-Fly Weather Vestibule, 2/4/6 Person Weatherproof Tent with Rainfly, Carry Bag, Storage Pockets, and Ventilation, Sets Up in 5 Minutes | $227.14 | On Sale Now |
| | Coleman Camping Tent | Skydome Tent with Screen Room | $227.99 | On Sale Now |
| | Coleman Cabin Camping Tent with Screened Porch, 4/6 Person Weatherproof Tent with Enclosed Screened Porch Option, Includes Rainfly, Carry Bag, Extra Storage, and 10 Minute Setup | $269.99 | On Sale Now |
| | Coleman Steel Creek Fast Pitch Dome Tent with Screen Room, 6-Person , White, 10' x 9' | $173.57 | On Sale Now |
| | Coleman WeatherMaster 10-Person Camping Tent, Large Weatherproof Family Tent with Room Divider and Included Rainfly, Strong Frame can Withstand Winds up to 35MPH | $289.00 | On Sale Now |
| | VECKUSON 18.4 Laptop Backpack for Men, 55L Extra Large Gaming Laptops Backpack with USB Charger Port,TSA Friendly Flight Approved and RFID Anti-Theft Pocket, adult business xl backpack | $50.39 | On Sale Now |
| | YOREPEK Travel Backpack, Extra Large 50L Laptop Backpacks for Men Women, Water Resistant College Student Bookbag Airline Approved Business Work Bag with USB Charging Port Fits 17 Inch Computer, Black | $27.19 | On Sale Now |
| | JanSport Superbreak Plus Backpack - Work, Travel, or Laptop Bookbag with Water Bottle Pocket, Black | $31.00 | On Sale Now |
| | JanSport Laptop Backpack, Black - Computer Bag with 2 Compartments, Ergonomic Shoulder Straps, 15" Laptop Sleeve, Haul Handle - Book Rucksack | $46.51 | On Sale Now |
| | Merrell Men's Moab 3 Hiking Shoe, Walnut, 10.5 | $50.00 | On Sale Now |
| | Timberland Men's White Ledge Mid Waterproof Hiking Boot, Medium Brown, 10 | $79.99 | On Sale Now |
| | Columbia Mens Flow Centre Sneaker, Dark Grey/Red Jasper, 11.5 US | $53.97 | On Sale Now |
| | Salomon X Ultra Pioneer Climasalomon Waterproof Hiking Shoes for Men Climbing, Black/Magnet/Bluesteel, 11.5 | $94.50 | On Sale Now |
| | Merrell J035898 Womens Hiking Shoes Moab 3 Taupe US Size 9 | $49.27 | On Sale Now |
| | Columbia Mens Crestwood Hiking Shoe, Camo Brown, Heatwave, 15 Wide US | | On Sale Now |
| | Columbia mens Newton Ridge Plus Ii Waterproof Boot Hiking Shoe, Cordovan/Squash, 10.5 Wide US | $60.00 | On Sale Now |
| | Merrell Women's Moab 3 Waterproof Hiking Shoe, Brindle, 9.5 | | On Sale Now |
| | Garmin 010-02258-10 GPSMAP 64sx, Handheld GPS with Altimeter and Compass, Preloaded With TopoActive Maps, Black/Tan | $329.00 | On Sale Now |
| | Garmin 010-02256-00 eTrex 22x, Rugged Handheld GPS Navigator, Black/Navy | $175.00 | On Sale Now |
| | Garmin GPSMAP 66s, Rugged Multisatellite Handheld with Sensors, 3" Color Display | $324.99 | On Sale Now |
| | Garmin GPSMAP 66i, GPS Handheld and Satellite Communicator, Featuring TopoActive mapping and inReach Technology | $389.99 | On Sale Now |
| | UDAP Pepper Power Bear Spray Self Defense Deterrent with Griz Guard Holster for Camping, Hiking, Fishing, Powerful Blast Pattern, 30 ft Fog Barrier, Safety Orange, SOG2, 7.9 oz, 2 Pack | $59.99 | On Sale Now |
| | Griz Guard - Maximum Strength Bear Spray (2 Pack) - Strongest Formula Allowed by EPA, Includes (2) Griz Guard Holsters | $61.49 | On Sale Now |
| | SABRE Frontiersman 9.2 Ounce Bear Spray Deterrent and Bear Horn with Locking Top | $53.39 | On Sale Now |

Vermont Products | Visit VT Towns | FWM 24/7 Shopping

Country Weddings | New England Recipes
VT Inns | Red Sox Gifts | Travel Destinations
Fitness and Sports Products On Sale Now
Free World Mall

Country Weddings | New England Recipes
VT Inns | Red Sox Gifts | Travel Destinations