Vermont Statistics
State of Vermont Population, Facts and Symbols

Known as the Green Mountain State, Vermont is the only New England state not touching the Atlantic Ocean and the second least populated state in America. Vermont was the 14th state in America and is the leading maple syrup producer in the country. Ask us about Vermont or share comments. To feature your Vermont business, contact us.
2006 Vermont Population
Courtesy of the US Census Bureau
Vermont Population: 623,908
Population percent change – April 1, 2000 to July 1, 2006: 2.5%
Foreign-born VT Population: 3.8%
Bachelor's degree or higher over age 25: 29.4%
2004 Median Household Income: $44,548
2005 Vermont Demographics
Persons under 5 years old: 5.3%
Persons under 18 yesars old: 21.4%
Persons 65 years & older: 13.3%
Females: 50.8%
Caucasians: 96.7%
African Americans: 0.7%
Hispanics: 1.1%
American Indians & Alaskan Natives: 0.4%
Asians: 1.1%
Native Hawaiians & other Pacific Islanders: *
Vermont Land Area
Land Area in Vermont: 9,249.56 (square miles)
Persons per square mile: 65.8
Vermont State Facts
VT State Nickname: The Green Mountain State
VT State Motto: Freedom and Unity
VT State Bird: Hermit Thrush
VT State Flower: Red Clover
VT State Tree: Sugar Maple
Purchase VT Maple Products online.
VT State Mammal: Morgan Horse
For more information about Morgan horses, click here.
VT State Amphibian: Northern Leopard Frog
VT State Reptile: Painted Turtle
VT State Gemstone: Grossular Garnet
VT State Song: "These Green Mountains"
Purchase this song and other Vermont songs, click here.
VT Cold Water Fish: Brook Trout
VT Warm Water Fish: Walleye Pike
For more Vermont fishing information, click here.
Vermont Sports Teams
Number of NCAA Teams: 4
Minor League Baseball : Burlington Expos
---
The Vermont State Flag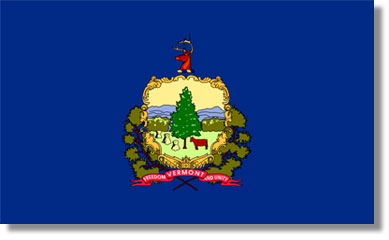 More information about Vermont towns and cities.
Vermont was admitted to the United States on March 4, 1791.
Vermont has many excellent colleges and universities and several fine museums, art galleries, historic sites, and attractions. The Vermont state motto is "Freedom and Unity". For information about Vermont weather including current weather conditions, click here.

Vermont Products | Visit VT Towns | FWM 24/7 Shopping

Country Weddings | New England Recipes
VT Inns | Red Sox Gifts | Travel Destinations
Free World Mall

Country Weddings | New England Recipes
VT Inns | Red Sox Gifts | Travel Destinations