Stephen Huneck
Dog Chapel Artist Has Passed Away

A self-taught artist, Stephen Huneck was an author, furniture maker, painter and wood carver who lived in St Johnsbury, Vermont and build the famous Dog Chapel on top of Dog Mountain. The star of most of Huneck's children's books was a black Labrador Retriever named Sally. Items created by Huneck can be found in the collections of the American Kennel Club, the Dog Museum of America and the Smithsonian Institution. Most of his wood carvings were created using wood collected from his Vermont farm. Ask us about Vermont Dog Chapel or artist Stephen Huneck or share your comments. To feature your Vermont business,  contact us.
Vermont Dog Chapel – Artist Stephen Huneck


The Wildflower Inn, Darling Hill Road, Lyndonville, VT 05851 | 802-626-8310
"Warm hospitality... the gardens are famous". Yankee Magazine. Relax and recharge at this country inn with resort amenities on 570 acres in Vermont's Northeast Kingdom. Offering 24 guest rooms and suites, pool, tennis, trails, petting barn, skiing, snowmobile tours, x-country skiing, hay / sleigh rides, spa, and sauna. Country breakfasts and dinners overlooking perennial gardens and spectacular mountain views. Wedding facilities. Kid friendly. Easy to get to from I-91 & I-93.
Visit Wildflower Inn Lyndonville
---
---


Phineas Swann Bed & Breakfast Inn, 195 Main Street, Montgomery Center, VT 05471 | 802-326-4306
The Phineas Swann Bed & Breakfast is New England's most romantic and pet-friendly getaway. Located just 7 miles from Jay Peak Resort, the Phineas Swann offers year-round recreational and vacation options, including skiing, hiking, cycling, mountain biking, cross-country skiing, snowmobiling, leaf-viewing, and even swimming at Jay Peak's indoor water park.
Visit Phineas Swann Bed & Breakfast
---
The World has lost another outstanding artist. The talented, self-taught artist and writer Stephen Huneck is dead. Huneck was well-known here in Vermont's Northeast Kingdom where he built the Dog Chapel on what he called Dog Mountain. "Dog Chapel" was built in 1999. It is open to the public and includes acres of hiking trails.
Huneck's art was primarily centered around dogs. Wood carving dog items and writing books made Huneck well-known. The main character of his children's books was Sally, his black Labrador Retriever. Huneck lived at Dog Mountain in St. Johnsbury, Vermont until his death on Thursday, January 7. 2010. Huneck was born in Sudbury, Massachusetts.
Pieces of Huneck's Artwork are on display in a permanent collection of the Smithsonian Institution, in Washington, DC. Stephen Huneck had a retail store in Woodstock, Vermont for a short while. The Huneck's also held an event called Dog Fest every summer. For more information visit our feature article about the Dog Chapel at Dog Mountain.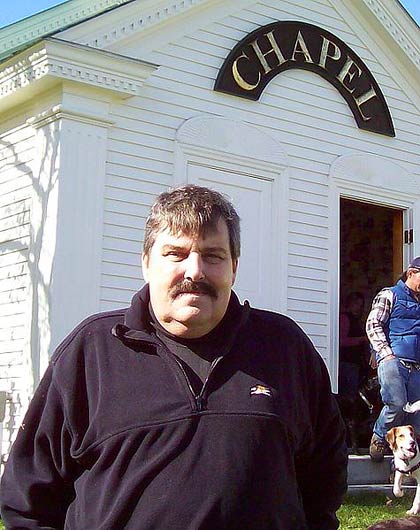 Vermont Products | Visit VT Towns | FWM 24/7 Shopping

Country Weddings | New England Recipes
VT Inns | Red Sox Gifts | Travel Destinations
Free World Mall

Country Weddings | New England Recipes
VT Inns | Red Sox Gifts | Travel Destinations