Vermont Strawberry Tips
Picking and Storing Strawberries

Picking Strawberries! What a fun, Vermont thing to do. Timing of course is everything. Vermont Living presents the Vermont Strawberry Field and PYO Strawberry Guide. Below is a listing of Vermont strawberry farms and fields where you can pick your own berries and some Vermont farmstands that sell strawberries. This information is subject to changes and peak harvesting time will vary with the New England weather. Please call in advance for directions and to confirm fruit availability. VTLiving thanks you for supporting Vermont Farmers. Ask us about Made in Vermont products or share comments. To feature your Made in Vermont products, contact us.
Preserving & Picking Strawberries


The Dutton Berry Farmstands and Greenhouse, Route 30, Newfane, VT, Routes 11 & 30 in Manchester, VT, and Route 9 in West Brattleboro, VT | 802-365-4168
Dutton Berry Farmstands are well known for their Vermont grown produce and other unique local products. Fresh picked apples straight from our orchard are available throughout apple season. Stop in and pick up a jug of Dutton Berry Farm's fresh made apple cider, made from our home grown apples. Whether it is fresh farmer-grown fruits and vegetables, cider, Vermont maple syrup or plants, you'll enjoy visiting a true Vermont farm experience.
Visit Dutton Berry Farmstands- VT
---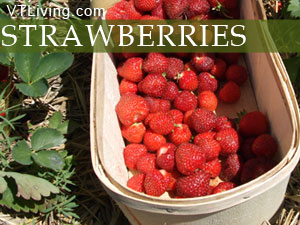 Strawberries are a favorite summertime treat for many people. Going and picking some yourself can make for a fun day with family and friends. Obviously, you want to get the most out of your strawberries. So, here are some tips to keep in mind while picking and later storing strawberries.
When it comes to selecting the perfect strawberry there are a few things to keep in mind. First of all select bright red berries that still have their cap. Keep in mind that the smaller berries are usually more sweet and flavorful. Avoid any that are moldy, soft, or shriveled.
Strawberries are best when eaten right away. Make sure not to wash them until right before you are ready to eat them. This is because water on berries will speed up deterioration. If storage is desired place the strawberries on a paper towel in a lightly covered container and place in the refrigerator. The strawberries usually keep for 2 – 3 days this way. Strawberries can also be frozen either whole or sliced, make sure to put them in a container made for the freezer. Strawberries can be kept this way for up to a year.
~ Megin K. for vtliving.com
Strawberry Farms
Strawberry Picking
Try Some Great Strawberry Recipes:

Vermont Products | Visit VT Towns | FWM 24/7 Shopping

Country Weddings | New England Recipes
VT Inns | Red Sox Gifts | Travel Destinations
Free World Mall

Country Weddings | New England Recipes
VT Inns | Red Sox Gifts | Travel Destinations