Vermont Sushi Guide
Sushi Types – Varieties of Sushi Dining

Believed to have originated in the Mekong River region of Southeast Asia, sushi travelled through China before finally being embraced by the Japanese culture it is most frequently associated with today. While the earliest forms of sushi involved fermented fish and rice, today's contemporary version no longer includes fermented ingreadients and is considered to be one of Japan's earliest "fast foods".  To share your Vermont business, contact us.
Vermont Sushi Restaurants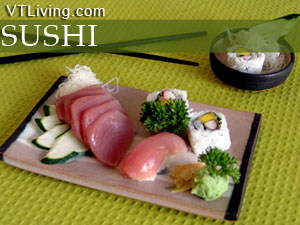 The Matterhorn Bar
4969 Mountain Road
Stowe, Vermont 05672
Ph: 802-253-8198
Koto Japanese Steak House
792 Shelburne Road
South Burlington, Vermont
Ph: 802-660-8976
Panda Garden
141 Main Street
Bennington, VT
Ph: 802-442-3399
Shin-La Restaurant
57 Main Street
Brattleboro, VT 05301
Ph: 802-257-5226
Sushi Yoshi
1807 Killington Road
Killington, VT
Ph: 802-422-4241
Sushi Boat Japanese Restaurant
4971-3 Main Street
Green Mountain Village Shops
Manchester, VT
Ph: 802-366-1888
---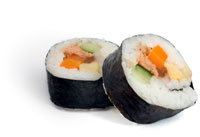 Sushi, a traditional Japanese dish, has many different variations and can seem somewhat puzzling at first glimpse. All varieties of sushi contain one very important common ingredient which makes it sushi. Sushi-meshi, or sushi rice, is a seasoned and vinegared short grain rice. The seasonings and rice vinegar used on the rice create the stickiness needed to clump and or roll the sushi, while allowing it to hold its final shape. Sushi's diversity comes from the choice of fish, vegetables, and cooking methods available for different roll types. Most often, sushi is characterized by its use of raw fish, but they're also several options that include smoked or seared fish, and vegetarian options as well.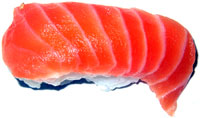 Nigiri Sushi is the most familiar type of sushi, and is made with a mound of sushi-meshi pressed together in the palm of the chef's hands. A slice of raw fish is placed across the top of the rice ball and sometimes topped with a thin band of Nori (seaweed) wrapped around it to hold the sushi-meshi and toppings together.
Maki Sushi is cylindrical type of sushi that looks a bit like an ice cream cone. The Nori (seaweed) is formed into a cone shape and filled first with the seasoned rice and then topped with the fresh ingredients (seafood, vegetables, egg, roe) Sometimes the rice and toppings are reversed in Maki rolls.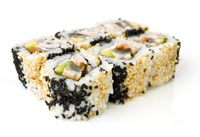 Sashimi is technically not sushi at all, because it does not contain any seasoned rice. Despite the fact that it is not considered sushi in Japan, Western culture has blended the two dining elements and you will find Sashimi on most Sushi menus. Sashimi is fresh raw fish sliced thinly on the diagonal and is almost a centimeter thick. Served simply, sashimi is usually garnished with thinly sliced radish and mint leaves and is sometimes served over a bowl of rice. This dish is known as Chirashizushi.
No sushi is complete without the ginger and wasabi that comes with every plate. The thinly sliced ginger root is used to cleanse one's pallet in between sushi varieties, and the green wasabi is mixed with soy sauce to create a nice dipping sauce for the sushi. With this newfound knowledge, you can go out and now enjoy sushi at one of our many fine sushi bars in VT. Remember that sushi is not just the food but also the way it is presented.
SUSHI & GINGER

Vermont Products | Visit VT Towns | FWM 24/7 Shopping

Country Weddings | New England Recipes
VT Inns | Red Sox Gifts | Travel Destinations
New England Living | New England Dining
Free World Mall

Country Weddings | New England Recipes
VT Inns | Red Sox Gifts | Travel Destinations