History of Tea Time
Afternoon Tea in the Green Mountains of Vermont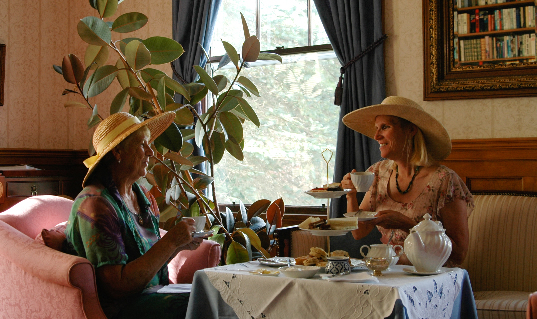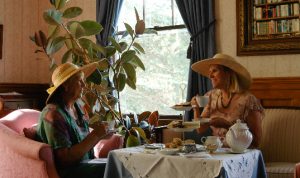 Welcome to high tea in Vermont. The Governor's House at Hyde Park is an excellent choice for loose-leaf English tea done right. Every Thursday and Sunday from 3:00 pm to 6:00 pm it's Tea Time at 100 Main Street in Hyde Park, Vermont.  If you'd like to make pre-arrangements for high tea at other times call the inn at 802-888-6888.
Afternoon Tea at Governor's House is much more than a special house blend of perfectly brewed hot tea. Tea treats there are simply sensational scones, cream, and jam as well as several varieties of tea sandwiches and finger pastries often including millionaire's shortbread or strawberry tarts.
Call in advance for information or reservations. Thank you for mentioning, " I found you online in Vermont Living Magazine." Ask us about Vermont activities or share your comments. To feature your Vermont business,  contact us.


The Governor's House in Hyde Park, 100 Main Street, Hyde Park, VT 05655 | 802-888-6888 or Toll-Free 866-800-6888
Centerpiece of a quiet village, the completely restored historic mansion offers modern comfort with the gracious elegance of an earlier time. Period furnishings. Bedroom fireplaces. Mountain views. Jane Austen weekends. Afternoon tea. Small private events, and weddings. The perfect elopement package.
Visit Governor's House Inn in Hyde Park, VT

---
Vermont Tea Houses
The Governor's House in Hyde Park
100 Main Street • Hyde Park, Vermont 05655
phone: 802-888-6888
toll-free: 866-800-6888
Dobra Tea Room
80 Church Street
Burlington, VT 05401-4408
Ph: 802-951-2424
This importer of fine teas features Chinese, Indian, Japanese, Korean, Nepalese, Sri Lankan, Taiwanese, Vietnamese, Green, White, Yellow, Oolong, Black Tea, and Pu-er teas.
Stone Leaf Tea House
111 Maple St
Middlebury, VT 05753
Ph: 802-458-0460
Teahouse Hours:  Tue-Sat 11 am-6 pm, Mon 11 am-5 pm
Inn Victoria
321 Main St
Chester, VT 05143
Ph: 802-875-4288
Owners and Innkeepers Penny and Dan Cote present English Tea at Inn Victoria Bed and Breakfast.
High Tea Time: A Delightful Tradition Exploring History, Etiquette, and Tea Varieties
High tea, a revered British tradition, combines the elegance of afternoon tea with heartier fare. This delightful affair, often associated with luxury and sophistication, has a rich history dating back centuries. Read on, as we will explore the origins of tea time, delve into the etiquette and techniques of high tea, and discover the diverse types of teas that can be savored during this esteemed occasion.
The History of Tea Time:
Tea drinking has been a cherished pastime around the world, but it was the British who popularized the concept of afternoon tea. Introduced in the early 1840s by Anna, the Duchess of Bedford, tea time originated as a solution to the "sinking feeling" she experienced between breakfast and dinner. Initially a private affair, it soon gained popularity among the social elite and eventually became a beloved tradition for people from all walks of life.
High Tea Etiquette and Techniques:
The Proper Setting:
High tea is typically served in the late afternoon or early evening and is more substantial than its counterpart, afternoon tea. Unlike the latter, which is served in a relaxed setting, high tea is enjoyed at a dining table with proper tableware, including cups and saucers, teapots, plates, and utensils.
Dress Code:
While there is no specific dress code for high tea, it is customary to dress smartly or formally, especially for high tea events held in upscale establishments. Dressing appropriately adds to the overall ambiance and charm of the occasion.
Seating Arrangements:
Traditionally, the host or hostess sits at the head of the table, with guests seated on either side. The seating arrangement may follow a particular order, such as alternating between male and female guests or based on the importance of the attendees.
Tea Brewing and Serving Techniques:
Selecting the Tea: High tea offers a wide range of tea options, including black teas, green teas, herbal infusions, and specialty blends. It's important to choose teas that complement the flavors of the accompanying food.
Preparing the Tea: Follow the instructions for each specific tea, considering factors such as water temperature, steeping time, and tea-to-water ratio. Use a tea infuser or tea bags to brew the tea, ensuring a full-bodied and flavorsome cup.
Tea Accompaniments: High tea is typically served with an assortment of delectable treats, such as scones with clotted cream and jam, finger sandwiches, pastries, and cakes. These delightful morsels are enjoyed alongside the tea, creating a harmonious balance of flavors.
Types of Teas for High Tea:
Black Tea:
Black teas, such as Earl Grey, Assam, and Darjeeling, are popular choices for high tea. Known for their robust flavors and rich aromas, these teas pair well with both savory and sweet dishes.
Green Teas:
Green teas, such as Sencha, Matcha, and Jasmine, offer a lighter and more delicate flavor profile. They are known for their refreshing qualities and are often enjoyed with lighter fare, such as cucumber sandwiches and citrus-infused desserts.
Herbal Infusions:
Herbal infusions, such as chamomile, peppermint, and rooibos, are caffeine-free options that provide a soothing and calming experience. These teas are perfect for those who prefer a non-caffeinated alternative during high tea.
High tea time is an exquisite British tradition that combines refined elegance with delectable flavors. From its humble beginnings to its modern-day appeal, this cherished affair continues to captivate tea enthusiasts worldwide. By embracing history, observing proper etiquette and techniques, and exploring a variety of tea options, one can truly appreciate the art of high tea. So, gather your loved ones, steep a cup of your favorite tea, and indulge in a delightful high tea experience. Cheers!
Vermont Attractions | VT Fairs | Vermont Events

Vermont Products | Visit VT Towns | FWM 24/7 Shopping

Country Weddings | New England Recipes
VT Inns | Red Sox Gifts | Travel Destinations
Free World Mall

Country Weddings | New England Recipes
VT Inns | Red Sox Gifts | Travel Destinations