Vermont Tea Houses
Afternoon Tea in the Green Mountains of Vermont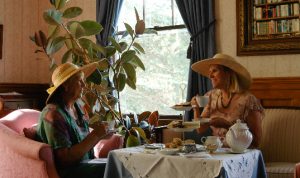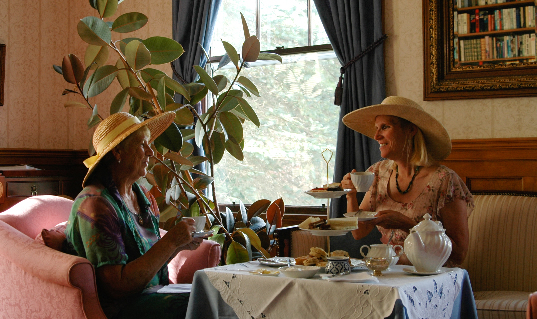 Welcome to high tea in Vermont. The Governor's House at Hyde Park is an excellent choice for loose leaf English tea done right. Every Thursday and Sunday from 3:00 pm to 6:00 pm it's Tea Time at 100 Main Street in Hyde Park, Vermont.  If you'd like to make pre-arrangements for high tea at other times call the inn at 802-888-6888.
Afternoon Tea at Governor's House is much more than a special house blend of perfectly brewed hot tea. Tea treats there are simply sensational scones, cream, and jam as well as several varieties of tea sandwiches and finger pastries often including millionaire's shortbread or strawberry tarts.
Call in advance for information or reservations. Thank you for mentioning, " I found you online in Vermont Living Magazine." Ask us about Vermont activities or share your comments. To feature your Vermont business,  contact us.


The Governor's House in Hyde Park, 100 Main Street, Hyde Park, VT 05655 | 802-888-6888 or Toll-Free 866-800-6888
Centerpiece of a quiet village, the completely restored historic mansion offers modern comfort with the gracious elegance of an earlier time. Period furnishings. Bedroom fireplaces. Mountain views. Jane Austen weekends. Afternoon tea. Small private events, and weddings. The perfect elopement package.
Visit Governor's House Inn in Hyde Park, VT

---
Vermont Tea Houses
The Governor's House in Hyde Park
100 Main Street • Hyde Park, Vermont 05655
phone: 802-888-6888
toll-free: 866-800-6888
Dobra Tea Room
80 Church Street
Burlington, VT 05401-4408
Ph: 802-951-2424
This importer of fine teas features Chinese, Indian, Japanese, Korean, Nepalese, Sri Lankan, Taiwanese, Vietnamese, Green, White, Yellow, Oolong, Black Tea, and Pu-er teas.
Stone Leaf Tea House
111 Maple St
Middlebury, VT 05753
Ph: 802-458-0460
Teahouse Hours:  Tue-Sat 11 am-6 pm, Mon 11 am-5 pm
Inn Victoria
321 Main St
Chester, VT 05143
Ph: 802-875-4288
Owners and Innkeepers Penny and Dan Cote present English Tea at Inn Victoria Bed and Breakfast.
Vermont Attractions | VT Fairs | Vermont Events

Vermont Products | Visit VT Towns | FWM 24/7 Shopping

Country Weddings | New England Recipes
VT Inns | Red Sox Gifts | Travel Destinations
Free World Mall

Country Weddings | New England Recipes
VT Inns | Red Sox Gifts | Travel Destinations