Champlain Valley VT Playhouses
Flynn Theater Burlington St. Michael's Playhouse

Live theater is alive and well in Champlain Valley Vermont. Flynn Theater, Vermont Stage Company and Lyric Theatre are three popular Vermont Playhouse venues. There are also some outstanding community theatre productions.Share your VT Playhouse reviews or updates. Thank you for supporting the arts in Vermont. To feature your Vermont business, contact us.
Champlain Valley Burlington VT Theaters & Playhouses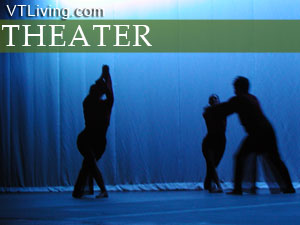 Flynn Theatre for the Performing Arts, Ltd.
153 Main Street
Burlington, VT  05401-8402
box office: 802 86-FLYNN
administrative: 802 652-4500
Built in 1930 for vaudeville, the Flynn Theatre is one of Burlington's most distinctive architectural landmarks.
Saint Michael's Playhouse
McCarthy Arts Center
On campus VT
Ph: 802-654-2281
Saint Michael's Playhouse has been producing theatre in Vermont since 1947. Each year more than 13,000 audience members enjoy the best in theatrical entertainment at Greater Burlington's Professional Summer Theatre. Owned and operated by Saint Michael's College.
Vermont Stage Company
Ph:  802-862-1497
Downtown Burlington's only professional theatre company. Vermont Stage Company presents 4 productions per year in the intimate setting of FlynnSpace.
Fairfax Community Theatre Company 
PO Box 253
Fairfax, VT  05454
Open to any individual, in any community, who is interested in the performance, technical, or production aspects of community theater. Operating since 1991.
Lyric Theatre Inc. 
18 Production Park
Williston, VT
Ph: 802-658-1484
Lyric Theatre is a non-profit corporation dedicated to producing and fostering quality amateur musical theater in Vermont. Our membership is completely volunteer. Everyone you see on stage, as well as behind the scenes is unpaid.
The Shoebox Theatre
135 Pearl St
Burlington, VT
Winooski Community Players
Winooski, VT
Missing Something? Share your comment or business review
inns | hotels | resorts | rentals | attractions | dining | real estate
Champlain Valley VT Theaters & Playhouses
Burlington, Middlebury, St. Albans, the Islands of NW Vermont
North Central VT Theaters & Playhouses
Montpelier, Barre, Randolph, Waterbury, Stowe, Mad River Valley
Northeast Kingdom Theaters & Playhouses
St. Johnsbury, Newport, Barton, Lyndonville, Burke, Jay, Island Pond
South Central VT Theaters & Playhouses
Rutland, White River Jct., Woodstock, Quechee, Brandon, Killington, Ludlow, Weston, Chester
Southern VT Theaters & Playhouses
Bennington, Brattleboro, Manchester, Arlington, Newfane, Mt. Snow area

Vermont Products | Visit VT Towns | FWM 24/7 Shopping

Country Weddings | New England Recipes
VT Inns | Red Sox Gifts | Travel Destinations
Free World Mall

Country Weddings | New England Recipes
VT Inns | Red Sox Gifts | Travel Destinations

Vermont Products | Visit VT Towns | FWM 24/7 Shopping

Country Weddings | New England Recipes
VT Inns | Red Sox Gifts | Travel Destinations
Free World Mall

Country Weddings | New England Recipes
VT Inns | Red Sox Gifts | Travel Destinations