North Central Vermont Theaters

Live theater is alive and well in North Central Vermont. Lost Nation Theater, Barre Opera House and Parrish Players are three of the more frequently visited live theater venues in the region. Share your VT Playhouse reviews or updates. Thank you for supporting the arts in Vermont. To feature your Vermont business with us, please contact us.
Vermont Theaters & Playhouses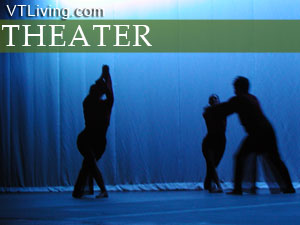 Barre Players 
Barre, VT
The Barre Players are a non-profit community theater group located in Barre, Vermont.  
Lost Nation Theater, Inc. 
39 Main Street, City Hall
Montpelier, VT 05602
Ph:  802-229-0492
Founded by Co-Artistic Director, Kim Bent, and officially incorporated in Bristol, VT, in 1977, the Theater settled in Montpelier in 1985, began the Summer Theater Series in 1989, and was officially designated Montpelier's Resident Professional Theater Company in 1992. 
Stowe Theatre Guild 
Town Hall Theatre
P.O. Box 1381 – Main Street
Stowe, VT 05672 
Ph: 802-253-3961
Stowe Theatre Guild produces shows at the Town Hall Theatre in Stowe.
Barre Opera House 
City Stage
Barre, VT 
Ph:  802-476-8188
Lamoille County Players 
Hyde Park Historical Society
PO Box 9
Hyde Park, VT  05655 
Ph: 802-888-4507
Valley Players 
PO Box 441
Waitsfield, VT  05673 
Located on scenic Rt. 100 in the beautiful Mad River Valley.
Parrish Players 
PO Box 136
Thetford, VT  05074 
Ph: 802-785-4344
Based in Thetford, VT, the Parrish Players produce theatre from Shakespeare to Mamet. On the hill in Thetford at the Old Eclipse Grange.
inns | hotels | resorts | rentals | attractions | dining | real estate
Champlain Valley VT Theaters & Playhouses
Burlington, Middlebury, St. Albans, the Islands of NW Vermont
North Central VT Theaters & Playhouses
Montpelier, Barre, Randolph, Waterbury, Stowe, Mad River Valley
Northeast Kingdom Theaters & Playhouses
St. Johnsbury, Newport, Barton, Lyndonville, Burke, Jay, Island Pond
South Central VT Theaters & Playhouses
Rutland, White River Jct., Woodstock, Quechee, Brandon, Killington, Ludlow, Weston, Chester
Southern VT Theaters & Playhouses
Bennington, Brattleboro, Manchester, Arlington, Newfane, Mt. Snow area

Vermont Products | Visit VT Towns | FWM 24/7 Shopping

Country Weddings | New England Recipes
VT Inns | Red Sox Gifts | Travel Destinations
Free World Mall

Country Weddings | New England Recipes
VT Inns | Red Sox Gifts | Travel Destinations

Vermont Products | Visit VT Towns | FWM 24/7 Shopping

Country Weddings | New England Recipes
VT Inns | Red Sox Gifts | Travel Destinations
Free World Mall

Country Weddings | New England Recipes
VT Inns | Red Sox Gifts | Travel Destinations