South Central VT Theaters
Rutland Weston Springfield Vermont Theaters

Live theater is alive and well in South Central Vermont. Northern Stage, Paramount Theatre and Springfield Community Players are three of the more frequently visited live theater venues in the region. There are also some outstanding community theatre productions. Share your VT Playhouse reviews or updates. Thank you for supporting the arts in Vermont. To feature your Vermont business with us, please contact us.
Rutland White River VT Theaters & Playhouses
Include Me shortcode: file not found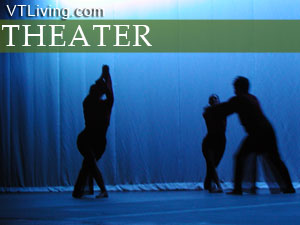 Weston Playhouse
Main Street
Weston, VT
Ph: 802-824-5288
Northern Stage
Briggs Opera House
12 N. Main Street
White River Jct, VT 05001
Ph: 802-296-7000
Paramount Theatre
30 Central Street
Rutland, VT 05701
Ph: 802-775-0570
Vermont Actors' Repertory Theatre
PO Box 580
Rutland, VT 05702
Springfield Community Players, Inc.
PO Box 113
165 South Street
Springfield, VT 05156
Ph: 802-885-4098
Springfield Community Players was organized in 1921. It is the longest continually running amateur theater group in the state of Vermont. They present approximately four shows per year from May through November, ranging from Broadway musicals to Off-Broadway comedies.
inns | hotels | resorts | rentals | dining | real estate
Champlain Valley VT Theaters & Playhouses
Burlington, Middlebury, St. Albans, the Islands of NW Vermont
North Central VT Theaters & Playhouses
Montpelier, Barre, Randolph, Waterbury, Stowe, Mad River Valley
Northeast Kingdom Theaters & Playhouses
St. Johnsbury, Newport, Barton, Lyndonville, Burke, Jay, Island Pond
South Central VT Theaters & Playhouses
Rutland, White River Jct., Woodstock, Quechee, Brandon, Killington, Ludlow, Weston, Chester
Southern VT Theaters & Playhouses
Bennington, Brattleboro, Manchester, Arlington, Newfane, Mt. Snow area

Vermont Products | Visit VT Towns | FWM 24/7 Shopping

Country Weddings | New England Recipes
VT Inns | Red Sox Gifts | Travel Destinations
Fitness and Sports Products On Sale Now
Free World Mall

Country Weddings | New England Recipes
VT Inns | Red Sox Gifts | Travel Destinations

Vermont Products | Visit VT Towns | FWM 24/7 Shopping

Country Weddings | New England Recipes
VT Inns | Red Sox Gifts | Travel Destinations
Fitness and Sports Products On Sale Now
Free World Mall

Country Weddings | New England Recipes
VT Inns | Red Sox Gifts | Travel Destinations