Castle Hill Aveda Concept Spa
Okemo – Ludlow VT Area Spa & Luxury Lodging
Whether you're planning an event to remember or a brief escape from the daily grind, The Castle in Ludlow Vermont is an ideal destination. With an eye toward excellence, owners Leo Xarras and Bruce Armitage have created an Inn known for quality in every way. Recognized by New England Living Magazine, New England Bride Magazine and Ski Magazine as one of the top ten destinations in the country. Visit the Okemo – Ludlow area and stay at The Castle Resort and Spa.  Share your Vermont Spa Vacation experiences or to feature your business, contact us.
Aveda Spa at Castle Hill Resort


Castle Hill Resort & Spa, Rt. 103, P.O. Box 525, Ludlow, VT 05149 | 802-226-7361
Castle Hill Resort and Spa is nestled in the Green Mountains of Ludlow Vermont, offering unparalleled service and the finest lodging for the perfect Vermont getaway. Select from the historic Castle Inn, an English Cotswold style mansion featuring 10 unique rooms; The Pointe Hotel offering 96 beautiful rooms and suites or stay in our fully equipped spacious Resort Home Condominiums.
Visit Castle Hill Resort & Spa Website
---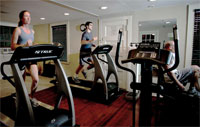 The Castle Resort and Spa is exactly what a Spa destination should be. It is in the relaxing mountains and fresh air of the Green Mountains of Vermont. It has all the four-season outdoor amenities in the surrounding area such as Okemo Skiing, golf, tennis, hiking, and Manchester outlet shopping.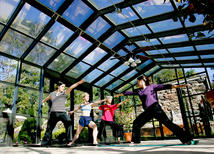 Located in a historic former carriage house on the main property of The Castle Resort, this wonderful full-service Aveda Spa can be used in combination with your stay or is also open to the public. Be advised that you do need to make reservations in advance. I found that many spa treatments were booked a few days out. Make your reservations when you make your lodging accommodation reservations.
Offerings include massage, facials, body wraps, and a full salon. Gift certificates make the perfect shower gift for the bride-to-be. Or think of a girls' weekend retreat. Let's see, rent a Castle Home with a few friends, swim in the outdoor heated pool and hot tub 12 months out of the year, get a facial and pedicure, then dine in the elegant dining rooms of the Castle Resort. Somehow this sounds like the weekend for me. For more information contact Castle Hill Resort direct and mention this article in Vermont Living. Enjoy!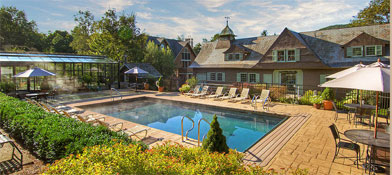 Fabulous Weddings – Fine Dining – Aveda Spa

Castle Hill Resort & Spa | The Pointe Hotel


Castle Hill Resort & Spa
Junction of Routes 103 and 131
Proctorsville, Vermont
802-226-7361
www.castlehillresortvt.com
inns | hotels | resorts | rentals | dining | real estate
SHOP AVEDA SPA PRODUCTS

| Photo | Title | Price | Buy |
| --- | --- | --- | --- |
| | Aveda Sap Moss Weightless Hydration Shampoo & Conditioner 6.7 oz Set | $57.45 ($4.29 / Fl Oz) | On Sale Now |
| | Aveda botanical repair strengthening leave-in treatment 100 ml | $26.90 ($7.96 / Fl Oz) | On Sale Now |
| | Aveda Chakra 6 Feel Insight Balancing Pure-Fume Mist 3.4 Oz | $36.84 ($12.28 / Ounce) | On Sale Now |
| | Aveda Rosemary Mint Purifying Shampoo 8.5oz & Weightless Conditioner, 8.5 Fl Oz (Pack of 2) | $41.67 | On Sale Now |
| | Aveda botanical kinetics hydrating lotion, 16.9 ounces | $88.46 ($5.23 / Ounce) | On Sale Now |
| | Aveda botanical repair intensive strengthening masque: rich 6.8oz | $43.02 ($6.15 / Ounce) | On Sale Now |
| | Brilliant Damage Control - Aveda - Hair Care - 250ml/8.5oz | $26.50 ($3.12 / Fl Oz) | On Sale Now |
| | Aveda Smooth Infusion Nourishing Styling Creme, 8.5 oz | $119.94 ($14.11 / Fl Oz) | On Sale Now |
| | Aveda Volumizing Tonic with Aloe, 3.4oz | $30.00 ($8.82 / Ounce) | On Sale Now |
| | AVEDA Damage Remedy Intensive Restructuring Treatment, 5.0 Fluid Ounce | $36.90 ($7.38 / Fl Oz) | On Sale Now |
| | Aveda Rosemary Mint Shampoo & Conditioner Duo 8.5 oz | $57.67 | On Sale Now |
| | Aveda Smooth Infusion Perfect Blow Dry New 6.7 oz | $25.70 ($3.84 / Ounce) | On Sale Now |
| | Aveda Botanical Kinetics All Sensitive Lotion 5 oz | $35.82 ($7.16 / Fl Oz) | On Sale Now |
| | Aveda Intense Hydrating Soft Cream, 1.7 Ounce | $38.19 ($22.46 / Ounce) | On Sale Now |
| | Segbeauty Extra Large Paraffin Wax Liners for Hands, 200 Counts Plastic Paraffin Wax Mittens, thera-py Wax Refill Gloves Hand Heat SPA Bags, Paraffin Bath Mitts Covers for Wax treat-ment XL | $15.49 ($0.08 / Count) | On Sale Now |
| | PHOGARY 10 Pack Microfiber Body Wash Mitts, Soft Face Mitten, Bath Spa Cloth, Reusable Makeup Remover Mitt Gloves, European Style Wash Cloth,6×8inch, White and Grey | $13.29 ($1.33 / Count) | On Sale Now |
| | Gloves for Paraffin treat-ment, Segbeauty Larger Thicker Paraffin Heated Hand SPA Mittens for Women, Gloves for Hot Wax Hand thera-py Bath Thermal treat-ment SPA Wax Warmer Paraffin Wax Machine | $11.99 ($11.99 / Count) | On Sale Now |
| | Noverlife Electric Heated Mittens Gloves for Paraffin Hand Wax Treatment, Nail Art Manicure Warmer Mittens, Beauty Therapy SPA Mitts for Women Beauty Treatment | $24.99 ($24.99 / Count) | On Sale Now |
| | Utoplike (24"x18" Teak Wood Bath Mat, Shower Mat Non Slip for Bathroom, Wooden Floor Mat Square Large for Spa Home or Outdoor | $54.99 | On Sale Now |
| | GOBAM Bamboo Bath Mat, Bamboo Mat for Indoor & Outdoor, Shower Mat Non-Slip Floor Mat for Shower, Bathtub, Spa, Sauna, Entryway, Pool, Easy to Clean(Natural, Small, 19.7 x 13 x 1.3 inches) | $34.99 | On Sale Now |
| | Beeplove 74" X 72" Hot Tub Mat - Large Inflatable Hot Tubs Floor Pad for 71" Dia. Outdoor Indoor Portable Spa Pool Ground Protection, Water-Absorbing Washable Outside Accessories | $32.99 | On Sale Now |
| | 2 Pcs Bamboo Bath Mat Non Slip Wooden Bathroom Rugs Waterproof Bamboo Shower Mat with Nonskid Silicone Pads for Floor Spa Bathtub Kitchen (24 x 16 inches) | $27.99 | On Sale Now |
| | SereneLife Electric Bathtub Bubble Massage Mat - Waterproof Tub Massaging Spa, Full Body Bubbling Bath Thermal Massager Machine w/Heat with Motorized Air Pump and Aroma Clip for Oil | $102.01 | On Sale Now |
| | Domax Wooden Bamboo Bath Shower Mat- Non-Slip Waterproof Large Bathroom Floor Mat for Indoor Outdoor (Black, 21.26 x 14.17 x 1.3 Inches) | $34.99 | On Sale Now |
| | Shower Mat Non-Slip Bathtub Mat - Bath Mat for Tub Without Suction Cups, Sturdy Shower Stall Mat with Drain Holes, Firm Spa Mat, Shower Floor Mat with Heavy Duty Rubber for Indoor & Outdoor, Black | | On Sale Now |

Vermont Products | Visit VT Towns | FWM 24/7 Shopping

Country Weddings | New England Recipes
VT Inns | Red Sox Gifts | Travel Destinations
Free World Mall

Country Weddings | New England Recipes
VT Inns | Red Sox Gifts | Travel Destinations