The Essex Resort & Spa
The Essex Resort and Spa in Essex, Vermont provides spa, lodging, and dining services.  Read about our visit to Essec Resort and Spa in the Champlain Valley region of Vermont.

The Essex lately (formally The Inn at Essex) is a full-service resort located about a 25 minute drive to Burlington, VT.
You can play tennis, golf, enjoy the outdoor waterfall pool, a large indoor pool, outdoor hot tub, a massage, a facial or body treatment in the whole new spa. Work out in the state-of-the-art fitness facility, inquire about cooking classes, or just sit and read a book.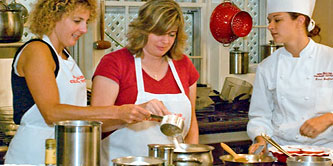 Strolling along the back of the hotel in the summer or fall will take you to the garden where the staff grows many of the foods you will be served during your stay. The fireplace pit is a great place to unwind and roast marshmallows.
Visit Vermont's resorts and thank you for mentioning Vermont Living when you inquire.
inns | hotels | resorts | rentals | attractions | dining | real estate
SUGGESTED LOCAL LODGING



Middlebury Inn, 14 Courthouse Square, Middlebury, VT 05753 | 802-388-4961
With 71 guest rooms, the Middlebury Inn offers the perfect blend of modern comfort and classic historic charm. Welcoming travelers since 1827, the inn now has all of the amenities of a full service hotel, including fine dining, a pub, and meeting and banquet space to accommodate your Vermont wedding. Located between Burlington and Rutland and convenient to many Vermont attractions, this inn is perfect for that pampered fresh-air getaway, family reunion or professional retreat.
Visit Middlebury Inn - Middlebury, VT
---


Strong House Inn, 94 West Main Street, Vergennes, VT 05491 | 802-877-3337
The Strong House Inn is located in the heart of the Champlain Valley. This historical Inn has 14 individually decorated guestrooms, on five acres of gardens and trees with classic New England architecture and the comfort and luxury of a modern day Inn. The Inn is a perfect location for weddings, receptions, and rehearsal dinners and meetings for up to 50 people. Join us for Quilting in Vermont, the ultimate setting for quilters to reignite their creative passion and be spoiled in the process. Whether you are looking for a romantic getaway, a foodie experience, or a once in a lifetime event - an adventure is waiting for you!
Visit Strong House Inn - Vergennes, VT
---


Shore Acres Inn & Restaurant, 237 Shore Acres Dr., North Hero, VT 05474 | 802-372-8722
Shore Acres is located in the heart of the Champlain islands. Each room offers guests an incomparable panoramic view of the Green Mountains and the glistening waters of Lake Champlain. A visit here provides you with the recharge and relaxation we all truly need. 19 lakeside inns overlooking Lake Champlain on 46 private acres. A special place for your special event or Lake Champlain VT wedding. Event consultation, and Pet-Friendly accommodations available.
Visit Shore Acres Inn & Restaurant, North Hero, VT
---
SUGGESTED LOCAL DINING



Morgan's Tavern - Middlebury Inn, 14 Courthouse Square, Middlebury, VT 05753
Upscale American cuisine with a fresh Vermont flair is the best way to describe Morgan's Tavern. One of the area's finest lunch and dinner options - an experience in delicious and skillfully prepared fresh cuisine. Enjoy an extensive wine list, including some picked, fermented and bottled right here in Vermont!
Visit Morgan's Tavern at Middlebury Inn
---


Shore Acres Inn & Restaurant, 237 Shore Acres Dr., North Hero, VT 05474 | 802-372-8722
Shore Acres is located in the heart of the Champlain islands. Each room offers guests an incomparable panoramic view of the Green Mountains and the glistening waters of Lake Champlain. A visit here provides you with the recharge and relaxation we all truly need. 19 lakeside inns overlooking Lake Champlain on 46 private acres. A special place for your special event or Lake Champlain VT wedding. Event consultation, and Pet-Friendly accommodations available.
Visit Shore Acres Inn & Restaurant, North Hero, VT
---
CULINARY GADGET SALE


Vermont Products | Visit VT Towns | FWM 24/7 Shopping

Country Weddings | New England Recipes
VT Inns | Red Sox Gifts | Travel Destinations
New England Living | New England Resorts
Free World Mall

Country Weddings | New England Recipes
VT Inns | Red Sox Gifts | Travel Destinations