Barre, Vermont 05641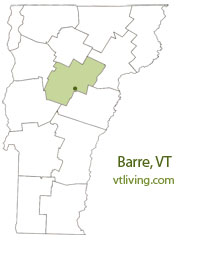 The City of Barre in Washington County, Vermont was settled in the late 1800s. Barre is pronounced, "barry". The region grew from four separate villages – powered by the brooks which ran into the valley. The four original villages were; Thwingsville, Gospel Village, Factory Village, and Jockey Hollow – the site of a fairground, trotting park, and stables.
Barre, Vermont: A Historical Gem in the Green Mountains
History of Barre, Vermont
Barre, Vermont, located in Washington County, is a city with a rich history dating back to the 19th century. The area was initially inhabited by Abenaki Native Americans before European settlers arrived in the late 18th century. Barre's history is closely tied to its natural resources, particularly its famous granite quarries.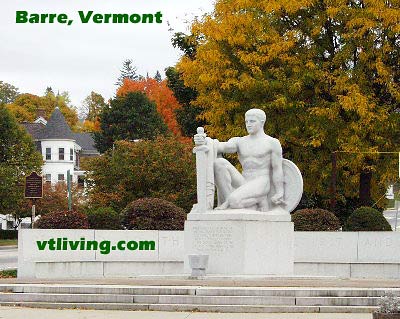 In the early 19th century, Barre's granite industry began to flourish as skilled stonecutters and craftsmen recognized the high-quality granite found in the region. The granite quarries in Barre became an essential source of construction materials, and the town earned the nickname "The Granite Center of the World." The granite from Barre can be found in iconic structures like the US Supreme Court Building and the Arlington National Cemetery.


Lisa Meyer, Licensed Real Estate Broker, Berkshire Hathaway Home Services, 98 South Main Street, Waterbury, VT 05676 | 802-793-2299
Offering Buyer representation and assistance in purchasing Primary or Vacation homes. Specializing in the sale of Vermont homes. Serving the Waterbury, Stowe, Montpelier, Barre, Mad River Valley, and Chittenden county Vermont. I also specialize in investment properties and land in the central Vermont Area. I am the Managing Broker for the Waterbury branch of Berkshire Hathaway HomeServices Vermont Realty Group and am surrounded by an extremely capable and experienced team.
Visit Lisa Meyer Berkshire Hathaway Vermont Realty Group - Waterbury, VT
---
The Barre Granite Workers
The success of Barre's granite industry attracted immigrants from various countries, especially Scotland, Italy, and Sweden. These skilled workers played a crucial role in shaping the city's character and architecture. The legacy of these immigrant communities can still be seen in the local culture and cuisine, making Barre a unique and diverse city.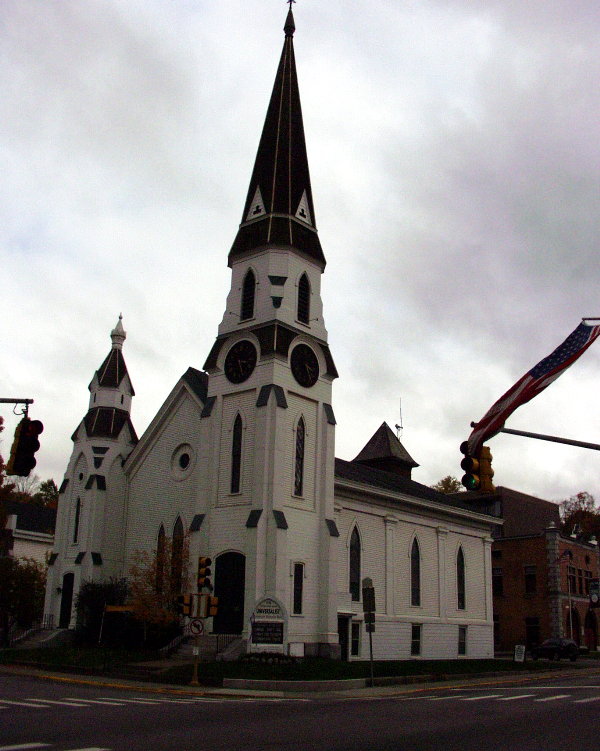 Barre VT Attractions, Villages, Districts, and Neighborhoods
Attractions
Rock of Ages Granite Quarry: A must-visit attraction, the Rock of Ages Quarry offers guided tours to witness the impressive granite extraction process and stunning vistas of the surrounding area.
Hope Cemetery: This renowned cemetery features exquisite granite memorials and sculptures created by skilled artisans, offering a blend of art and history.
Vermont History Center: For history enthusiasts, this center showcases the rich heritage of Vermont through exhibits and interactive displays.
Villages, Districts, and Neighborhoods
Downtown Barre: The heart of the city, Downtown Barre boasts historic architecture, charming boutiques, and local eateries.
South Barre: A residential area known for its peaceful surroundings and friendly community atmosphere.
Graniteville: Located close to the quarries, Graniteville showcases the strong influence of the granite industry on the city's identity.
Websterville: Home to the famous Vermont State House granite dome, Websterville offers a mix of residential and commercial properties.
City Parks, Recreation Areas, and Hikes
Millstone Hill Trails: With over 50 miles of trails, Millstone Hill is a haven for hikers, mountain bikers, and nature lovers.
Hubbard Park: A beautiful park offering hiking trails, picnic spots, and the iconic tower with panoramic views of the city.
Barre Town Forest: Perfect for outdoor activities like hiking and cross-country skiing.
Historic Sites and Places of Interest
Old Labor Hall: A National Historic Landmark, the Old Labor Hall preserves the history of labor activism in Vermont and is an important cultural venue for events and performances.
Spaulding Graded School: This historic school building now houses the Barre Historical Society and features exhibits on the city's granite industry and immigrant heritage.
Real Estate Options
Barre, Vermont, offers a variety of real estate options, including historic homes, charming cottages, and modern residences. The neighborhoods in Barre are known for their friendly and welcoming communities, making it an ideal place to settle down.
Employment
Barre's economy is diverse, with employment opportunities in the granite industry, healthcare, education, and tourism sectors. Additionally, the city's proximity to the state capital, Montpelier, opens up further employment prospects for residents.
Quality of Life and Barre VT Living
Barre, Vermont, provides a high quality of life for its residents. The city offers a safe and peaceful environment with access to beautiful natural landscapes, recreational activities, and cultural events. Residents can enjoy a close-knit community with a strong sense of history and pride in its heritage.
Today, Barre is a processing and commercial center for the region's granite quarrying and agricultural products. Barre was originally named Wildersburg and was renamed after a wrestling match was held to rename the town. Major manufacturers include granite building stones and memorials, and machine tools. The Times Argus Daily newspaper is published in Barre. Barre was named after Barre, Massachusetts, which was named after the British politician Isaac Barre. Barre is easily reached via I-89, which runs from White River Junction, Vermont to Canada. The Barre Public Library building (above right) is located in downtown Barre. The town of Barre nearly surrounds the city.
With a rich history, thriving local industries, and a beautiful natural setting, Barre, Vermont, stands as a testament to the hard work and perseverance of its residents. Whether you're interested in exploring the granite industry's legacy, enjoying outdoor adventures, or seeking a welcoming community to call home, Barre has something to offer for everyone.
To share any Barre, VT information, contact us. Learn more about advertising in VTLiving.
Chartered: 1894
County: Washington
Barre, VT Population:
2010: 9,052
GPS Coordinates:
Latitude: 44.1141
Longitude: -72.3023
Barre, VT Local Information
Barre Town Offices: 802-476-0240
inns | hotels | resorts | rentals | attractions | dining | real estate
SHOP BARRE VT GIFTS

| Photo | Title | Price | Buy |
| --- | --- | --- | --- |
| | College Style Barre Vermont Souvenir Gift Pullover Hoodie | $39.99 | On Sale Now |
| | College Style Barre Vermont Souvenir Gift Sweatshirt | $37.99 | On Sale Now |
| | Womens College Style Barre Vermont Souvenir Gift V-Neck T-Shirt | $21.99 | On Sale Now |
| | City of Barre Vermont | Cute Novelty Merch Gift - Graphic Pullover Hoodie | $32.99 | On Sale Now |
| | City of Barre Vermont | Cute Novelty Merch Gift - Graphic Sweatshirt | $31.99 | On Sale Now |
| | Retro East Barre, Vermont Big foot Souvenir Zip Hoodie | $39.99 | On Sale Now |
| | Knitting Style VERMONT BARRE Unique Tee Best Gift Sweatshirt | $31.99 | On Sale Now |
| | American Flag Mug Barre Vermont Coffee Cup It's Where My Story Begins 4th of July Coffee Mug Patriotic Gift Independence Day Memorial Day Tea Cup 11oz Black | $17.99 | On Sale Now |
| | Local Hometown Pride Gifts Zipcode East Barre Vermont Hometown Pride VT Zip 05649 Throw Pillow, 16x16, Multicolor | $19.99 | On Sale Now |
| | Barre (Images of America) | $15.30 | On Sale Now |
| | Vintage East Barre, Vermont Mountain Hiking Souvenir Print Zip Hoodie | $39.99 | On Sale Now |
| | Barre Vermont State Flag Cities Towns Door Mat Souvenir Gift Design Rubber Grip Non Skid Backing Rug Indoor Entryway Door Rugs Mats Pack of 2 | $29.95 | On Sale Now |
| | TANOKCRS Barre Vermont USA America Vintage Map Poster Artwork Wall Art City Road Map Print Travel Souvenir Gift Home Decor Unframed | $15.88 | On Sale Now |
| | Vintage East Barre, Vermont Mountain Hiking Souvenir Print Sweatshirt | $39.99 | On Sale Now |
| | BARRE GIRL VT VERMONT Funny City Home Roots Gift Sweatshirt | $31.99 | On Sale Now |

Vermont Products | Visit VT Towns | FWM 24/7 Shopping

Country Weddings | New England Recipes
VT Inns | Red Sox Gifts | Travel Destinations
New England Living Magazine
Free World Mall

Country Weddings | New England Recipes
VT Inns | Red Sox Gifts | Travel Destinations