Brattleboro, Vermont 05301
Brattleboro VT Lodging, Dining, Real Estate, History & Visitor Information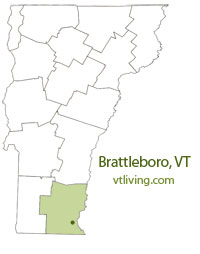 Welcome to "Billy Brattle's borough".  Yes, there really was a guy named William Brattle, an early settler of what is now known as Brattleboro. The town of Brattleboro in Windham County is located on the shores of the Connecticut River, in Vermont's southeast region.
Brattleboro serves as a major gateway to Vermont and is a year-round resort area in an agricultural region. Brattleboro is a distribution center and is also known for unique shops, antique stores, restaurants, banking, printing, and entertainment.
Brattleboro, Vermont: A Charming Town with Rich History and Vibrant Living
Brattleboro, located in Windham County, Vermont, is a picturesque town nestled in the heart of the Green Mountains. With its rich history, vibrant community, and breathtaking natural beauty, Brattleboro offers a unique blend of small-town charm and modern amenities. From its fascinating historical sites to its bustling downtown area, Brattleboro has something to offer everyone.
History of Brattleboro:
The history of Brattleboro dates back to its founding in 1753 when it was established as the first permanent settlement in Vermont. The town was named after Colonel William Brattle, Jr., an early landowner and one of the original proprietors. Brattleboro played a significant role in the development of the region, serving as an important transportation hub along the Connecticut River. Over the years, the town witnessed the rise of industry, including paper mills, textiles, and farming, which contributed to its growth and prosperity.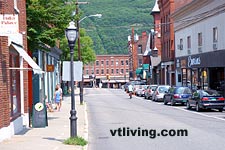 Brattleboro Area Villages, Districts, and Hamlets:
Brattleboro is comprised of several charming villages, each with its own distinct character. Downtown Brattleboro, the heart of the town, is a vibrant and eclectic area known for its historic architecture, unique shops, art galleries, and a wide array of dining options. Other notable villages include West Brattleboro, a quaint residential area with stunning views of the surrounding mountains, and Marlboro, a scenic village renowned for its vibrant arts scene and the renowned Marlboro Music Festival.
Town Parks and Recreation Areas:
For outdoor enthusiasts, Brattleboro offers a wealth of parks and recreational areas to explore. Retreat Farm, a historic working farm, provides visitors with a chance to experience farm life and enjoy scenic walking trails. The Brattleboro Retreat Trails wind through beautiful forested areas, perfect for hiking, jogging, and nature walks. Living Memorial Park offers a range of recreational facilities, including swimming pools, tennis courts, a skate park, and picnic areas, providing ample opportunities for outdoor recreation and family-friendly fun.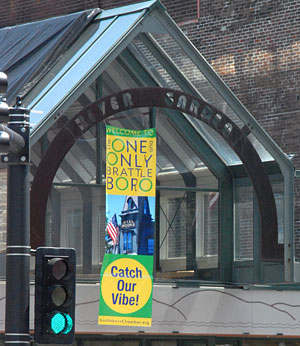 Historic Sites and Places of Interest:
Brattleboro is steeped in history, and there are several notable sites to explore. The Brattleboro Museum & Art Center showcases contemporary art exhibitions and hosts educational programs for visitors of all ages. The Estey Organ Museum, housed in a historic factory building, tells the story of Brattleboro's musical heritage and the renowned Estey Organ Company. The Fort Dummer State Park, located just outside of town, features the remnants of a colonial fort and offers scenic views of the Connecticut River.
Brattleboro VT Real Estate Opportunities and Employment:
Brattleboro offers diverse real estate opportunities, ranging from historic homes with charming New England architecture to modern condos and apartments. Whether you prefer a downtown loft or a countryside retreat, there are options to suit various preferences and budgets. Berkley, Keller & Greenwood Country Realtors, a trusted local real estate agency, can assist you in finding the perfect property.
In terms of employment, Brattleboro boasts a diverse economy with opportunities in healthcare, education, manufacturing, and tourism. With its proximity to major cities like Boston and New York, many residents enjoy the benefits of a small-town lifestyle while maintaining access to a wide range of career options.
Dining Out In Brattleboro – The Marina and Ramunto's Pizza:
Food lovers will delight in Brattleboro's culinary scene. The Marina, a waterfront restaurant located along the Connecticut River, offers a charming ambiance and a delectable menu of seafood dishes, burgers, and more. Whether you're enjoying their famous lobster bisque or savoring a fresh catch of the day, The Marina provides a delightful dining experience. Ramunto's Pizza is another local favorite, serving up mouthwatering pizzas with a variety of toppings, as well as a selection of salads, calzones, and sandwiches.
Robb Family Farm:
For a taste of Vermont's agricultural heritage, a visit to Robb Family Farm is a must. This working farm produces award-winning artisanal cheeses, maple syrup, and other farm-fresh products. Visitors can take guided tours, participate in cheese tastings, and even meet the farm's friendly goats. Robb Family Farm offers an authentic farm experience and an opportunity to learn about sustainable agriculture in a beautiful rural setting.
Quality of Life and Brattleboro VT Living:
Brattleboro is renowned for its high quality of life, attracting residents and visitors alike with its natural beauty, vibrant arts community, and a strong sense of community. The town's commitment to sustainability is evident in its many locally-owned businesses, farmers' markets, and community initiatives.
With its stunning natural surroundings, rich history, diverse recreational opportunities, and thriving cultural scene, Brattleboro is a place where residents can truly enjoy the best of Vermont living.
Brattleboro, Vermont, is a captivating town with a rich history, charming villages, breathtaking natural beauty, and a vibrant community. Whether you're exploring its historical sites, indulging in its culinary delights, or enjoying the great outdoors, Brattleboro offers a truly unforgettable experience. With its real estate opportunities, employment options, and high quality of life, it's no wonder that Brattleboro continues to attract residents and visitors who appreciate the unique charm of this New England gem.


The Marina, 28 Spring Tree Road, Brattleboro, VT 05301
Serving lunch and dinner seven days a week with Sunday Brunch Buffet. A beautiful view of the water from almost every seat in the restaurant. Enjoy amazing sunsets from our outdoor, dockside seating area. Located where the Connecticut and West Rivers meet on Route 5. The Marina is a memorable, casual dining experience.
Visit The Marina Website
---


Ramuntos Brick Oven Pizza, 111 Putney Road, Brattleboro, VT 05301 (On the roundabout, Exit 3, off I-91) | 802-579-1226
Welcome to Ramunto's - a taste of the North End right here in Brattleboro. At Ramunto's we're passionate about providing an unforgettable dining experience. Ramunto's combines great service, a warm family-friendly atmosphere, and high quality food made fresh daily. Authentic New York Pizza, fresh salads cut to order, pastas from scratch, and signature subs, Ramunto's offers something for everyone including catering services. Open Daily for lunch, dinner & Take-Out.
Visit Ramunto's Brattleboro Website
---


Robb Family Farm, 827 Ames Hill Road, Brattleboro, VT 05301 | 802-257-0163
Home of fine Vermont crafts. We produce the purest maple syrup you can find as well as a large assortment of fine hand-crafted treasures. Enjoy the scenic Vermont landscape and views from our shop. The Robb Family Country Shop is a family run business, consisting of a charming gift shop, farm events, mail order and baked goods by order. The shop is open throughout the year selling our own Vermont Maple Syrup, Vermont Maple Candy, Maple Syrup Party Favors, Gift Boxes, and Family Raised Beef. Sugarhouse Tours are offered year round.
Visit Robb Family Farm Website
---


Berkley, Veller & Greenwood Country Realtors, 119 Western Ave., Brattleboro, VT 05301 also 118 Route 100, West Dover, VT 05356 | 802-254-6400
Berkley, Veller & Greenwood Country Realtors has access to the largest selection of real estate listings in southeastern Vermont and southwestern New Hampshire. Offices are located in Brattleboro and Mount Snow, Vermont. The area's leading independent full service real estate company serving Windham County in Southern Vermont and Cheshire County in Southern New Hampshire.
Visit Berkley Veller Greenwood Country Realtors Website
---


The Dutton Berry Farmstands and Greenhouse, Route 30, Newfane, VT, Routes 11 & 30 in Manchester, VT, and Route 9 in West Brattleboro, VT | 802-365-4168
Dutton Berry Farmstands are well known for their Vermont grown produce and other unique local products. Fresh picked apples straight from our orchard are available throughout apple season. Stop in and pick up a jug of Dutton Berry Farm's fresh made apple cider, made from our home grown apples. Whether it is fresh farmer-grown fruits and vegetables, cider, Vermont maple syrup or plants, you'll enjoy visiting a true Vermont farm experience.
Visit Dutton Berry Farmstands- VT
---
Annual Brattleboro VT Events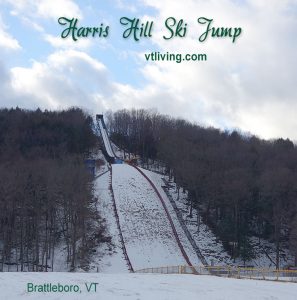 Popular annual Brattleboro events include Pie Making and Dinners at Scott Farm Orchards, Brattleboro's Annual Winter Carnival (held in Feb.), Harris Hill Ski Jumping Championship, The "Strolling of the Cows" and visiting unique downtown shops and boutiques.
Getting to Brattleboro VT
Getting to Brattleboro is easy. Most visitors drive. The town has three Exits off of I-91. Drive times are an approximate 3.5-hour drive from NYC or Boston, a 1.5-hour drive from Hartford, CT, and about one hour north of Springfield, MA.  The nearest major airport is Bradley International Airport in Connecticut. Ask us about Brattleboro, Vermont, or share your Brattleboro, VT comments.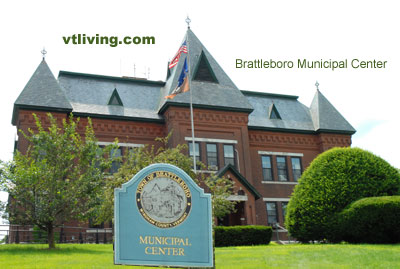 Chartered: 1763
County: Windham
Brattleboro, VT Population:
2010: 12,046
GPS Coordinates:
Latitude: 42.510
Longitude: -72.3456
Brattleboro, VT Local Information
Brattleboro Town Offices: 802-251-8157
inns | hotels | resorts | rentals | attractions | dining | real estate
Brattleboro, VT Living Resources

Brattleboro, VT Airports
Brattleboro, VT Art Galleries
Brattleboro, VT Autos
Brattleboro, VT Camping
Brattleboro, VT Golfing
Brattleboro, VT Microbreweries
Brattleboro, VT Shopping
Brattleboro, VT Theaters
Brattleboro, VT Antiques
Brattleboro, VT Attorneys
Brattleboro, VT Classifieds
Brattleboro, VT Hiking
Brattleboro, VT Inns
Brattleboro, VT Museums
Brattleboro, VT Skiing
Brattleboro, VT Weather
Brattleboro, VT Apple Orchards
Brattleboro, VT Attractions
Brattleboro, VT Beaches
Brattleboro, VT Dining
Brattleboro, VT Hotels
Brattleboro, VT Radio Stations
Brattleboro, VT State Parks

Vermont Products | Visit VT Towns | FWM 24/7 Shopping

Country Weddings | New England Recipes
VT Inns | Red Sox Gifts | Travel Destinations
Free World Mall

Country Weddings | New England Recipes
VT Inns | Red Sox Gifts | Travel Destinations