Burlington, Vermont 05401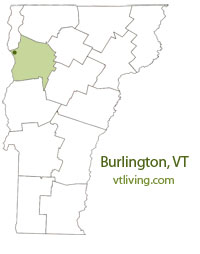 Welcome to Burlington Vermont. The city of Burlington on the shores of Lake Champlain is the largest city in Vermont. Burlington Vermont is a port of entry and a manufacturing, commercial, educational, and tourism center.
Burlington is home to Vermont's largest daily newspaper, The Burlington Free Press, and the state's largest airport, Burlington International Airport.
Burlington was settled in 1773 and is Vermont's fastest-growing city. Burlington is the art and entertainment capital of the state – with music venues, restaurants, and a vibrant art and theater scene.
Burlington is a bustling college town. The University of Vermont (UVM), Champlain College, Trinity College, and Burlington College are all located here. Downtown Burlington's Church Street Marketplace is a popular four-season destination with its many shops, boutiques, nightclubs, and restaurants.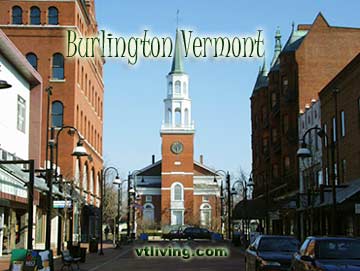 Discovering Burlington, Vermont: A Gem of New England
Nestled on the eastern shore of Lake Champlain, Burlington, Vermont is a vibrant city that combines stunning natural beauty, rich history, and a lively cultural scene. This in-depth page provides a comprehensive overview of Burlington, including its history, renowned educational institutions, diverse neighborhoods, recreational offerings, places of interest, real estate opportunities, employment prospects, and overall quality of life. Whether you're a resident, a prospective student, or a visitor, Burlington offers an array of experiences that make it a truly exceptional destination.
History of Burlington:
Burlington traces its roots back to its establishment in 1763 by Ethan Allen's nephew, Samuel de Champlain. Over the years, it grew into a bustling port city and played a significant role in regional commerce. In the 19th century, Burlington flourished as a center for trade and manufacturing, with industries such as lumber, textiles, and iron contributing to its economic growth. Today, remnants of its historic past can be found in its architecture and landmarks, providing a charming backdrop to the city's modern identity.
UVM and other Burlington VT Area Colleges:
Burlington boasts a thriving educational scene, with the University of Vermont (UVM) serving as its academic hub. UVM, founded in 1791, is a renowned research institution offering a wide range of undergraduate and graduate programs. The university's presence contributes to the city's intellectual and cultural vibrancy. Additionally, Burlington is home to several other esteemed colleges, including Champlain College, Burlington College, and the Community College of Vermont, fostering a diverse and intellectually stimulating environment.
Burlington Villages, Districts, and Neighborhoods:
Burlington is comprised of various distinctive neighborhoods, each with its own character and charm. The city is divided into several villages and districts, including the Downtown area, Old North End, Hill Section, South End, and the New North End. Church Street Downtown Burlington is a lively hub of activity, featuring an array of shops, restaurants, galleries, and cultural venues. The neighborhoods surrounding the University of Vermont are known for their vibrant student life, while the South End offers a blend of industrial spaces, art studios, and trendy eateries.
City Parks, Recreation Areas, and Beaches:
Burlington prides itself on its abundance of green spaces and outdoor recreation opportunities. The crown jewel is the Waterfront Park, stretching along the shores of Lake Champlain, which offers stunning views, walking, and biking paths, and hosts numerous events and festivals throughout the year. Other notable parks include Oakledge Park, Battery Park, and Ethan Allen Homestead. For those seeking water activities, North Beach provides a sandy shoreline for swimming and picnicking.
Historic Sites and Places of Interest:
Burlington is steeped in history, and visitors can explore various historic sites that offer insights into the city's past. The Ethan Allen Homestead, once the home of the renowned Vermont patriot, provides a glimpse into 18th-century life. The Church Street Marketplace, a pedestrian-only street in downtown Burlington, features a vibrant atmosphere with its eclectic mix of shops, restaurants, and street performers. The Fleming Museum of Art and the ECHO Leahy Center for Lake Champlain are must-visit destinations for art and science enthusiasts alike.
Burlington VT Real Estate Opportunities:
Burlington offers a diverse range of real estate options, from historic homes in established neighborhoods to modern condominiums with stunning lake views. The city's real estate market is influenced by its popularity as a college town, and both buyers and renters can find a variety of housing options to suit their needs. The vibrant downtown area and proximity to outdoor recreation make Burlington an appealing place to call home.
Employment Opportunities:
Burlington's economy is diverse, with a strong presence in healthcare, education, technology, and tourism. The University of Vermont Medical Center, Dealer.com, and Burton Snowboards are among the major employers in the region. The city's reputation as a hub for innovation and entrepreneurship has also fostered a growing start-up ecosystem, making it an attractive destination for professionals seeking career opportunities.
Burlington VT Living:
Burlington consistently ranks highly for its quality of life, offering a blend of urban amenities and natural beauty. The city's commitment to sustainability, access to outdoor activities, vibrant arts and culture scene, and a strong sense of community contribute to its exceptional quality of life. Burlington residents enjoy a high standard of living, with access to excellent healthcare facilities, top-notch educational institutions, and a plethora of recreational opportunities.
Burlington, Vermont is a city that seamlessly combines its rich history with a forward-thinking and dynamic spirit. From its historic roots and esteemed educational institutions to its beautiful parks, vibrant neighborhoods, and thriving arts scene, Burlington offers a unique blend of cultural, natural, and recreational experiences. Whether you're considering relocation, seeking higher education, or planning a visit, Burlington is sure to captivate you with its charm, opportunities, and exceptional quality of life.
Burlington City Hall Click to enlarge view


Petra Cliffs Climbing Center and Mountaineering School, 105 Briggs Street, Burlington, VT 05401 | 802-657-3872
Located in Burlington, Petra Cliffs is Vermont's premier indoor rock climbing facility and climbing school. Our gym features 8,500 square feet of climbing walls and bouldering for all abilities. Our programming, guiding, and instructional courses focus on individuals and groups of all ages.
Visit Petra Cliffs - Burlington, VT
---


Lipkin Audette Real Estate, Coldwell Banker Hickok and Boardman, 346 Shelburne Road, Burlington, VT 05401 | 802-846-8800
As the top selling team at Coldwell Banker Hickok & Boardman Realty, the Lipkin Audette team is a group of dedicated and experienced real estate professionals working with both investment and single family home buyers and sellers throughout Northwest Vermont. It is the mission of the Audette Team to consistently provide the highest quality, most innovative, and exceptional real estate service available anywhere. Our client's needs always come first. Our constant goal is mutual respect and long term relationships that are beneficial to all parties.
Visit Lipkin Audette Real Estate Website
---


Nancy Jenkins, CRB, CRS - Nancy Jenkins Real Estate, 140 Kennedy Drive, Suite 102, South Burlington, VT 05403 | 802-846-4888
Whether you're selling or buying, Nancy Jenkins and her team will provide you with the very best in real estate counsel and service. Her clients and customers rely on her for the financial insight that has placed her on the cutting edge of the ever changing Chittenden County VT real estatemarketplace. Involved, innovative, a top producer, interested in what is best for each person with whom she works, a leader and true professional. For more information about Nancy Jenkins, the number one agent in Vermont visit the website.
Visit Nancy Jenkins Real Estate
---
To share your Burlington, VT business information contact us about advertising in VTLiving.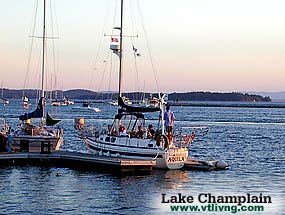 Chartered: 1763
County: Chittenden
Burlington, VT Population:
2010: 42,417
GPS Coordinates:
Latitude: 44.2833
Longitude: -73.1243
Burlington, VT Local Information
Burlington Town Offices: 802-865-7272
inns | hotels | resorts | rentals | attractions | dining | real estate
SHOP GIFTS – FREE WORLD MALL

| Photo | Title | Price | Buy |
| --- | --- | --- | --- |
| | Vermont Catamounts UVM Double Sided House Flag | $33.95 | On Sale Now |
| | Desert Cactus University of Vermont Flag UVM Catamounts Flags Banners 100% Polyester Indoor Outdoor 3x5 (Style 1) | $24.95 | On Sale Now |
| | W Republic UVM University of Vermont Catamounts Script Crewneck Pullover Sweatshirt Sweater Forest X-Large | $45.95 | On Sale Now |
| | W Republic UVM University of Vermont Catamounts College Hoodie Sweatshirt Forest Large | | On Sale Now |
| | Vermont UVM NCAA 7 Panel Flat Bill Snapback Baseball Cap Hat Green | $29.95 | On Sale Now |
| | University of Vermont UVM Catamounts Womens Love Tank Top Tee T-Shirt Heather Grey Small | | On Sale Now |
| | W Republic University of Vermont UVM Catamounts College Tee T-Shirt Forest XXL | $32.95 | On Sale Now |
| | W Republic University of Vermont UVM Catamounts Womens Institutional Tee T-Shirt Heather Charcoal Large | $29.95 | On Sale Now |
| | Vermont Catamounts Icon Officially Licensed T-Shirt | $22.99 | On Sale Now |
| | University of Vermont Official One Color Vermont Catamounts Logo Unisex Adult Pull-Over Hoodie, Athletic Heather, Large | $44.99 | On Sale Now |
| | College Flags & Banners Co. Vermont Catamounts Green Flag | $29.95 | On Sale Now |
| | University of Vermont UVM Catamounts Womens Love Tank Top Tee T-Shirt Black XL | | On Sale Now |
| | Burlington VT Home Decor Beach Gifts Burlington Vermont Beach Crew Throw Pillow, 18x18, Multicolor | $24.99 | On Sale Now |
| | Girl Out Of BURLINGTON VT VERMONT Gift Funny Home Roots USA Tank Top | $19.99 | On Sale Now |
| | Burlington Vermont VT Vintage Athletic Navy Sports Design Pullover Hoodie | $31.99 | On Sale Now |

Vermont Products | Visit VT Towns | FWM 24/7 Shopping

Country Weddings | New England Recipes
VT Inns | Red Sox Gifts | Travel Destinations
New England Living Magazine
Free World Mall

Country Weddings | New England Recipes
VT Inns | Red Sox Gifts | Travel Destinations