Cabot, Vermont 05647
Cabot VT Lodging, Real Estate, Travel & Visitor Information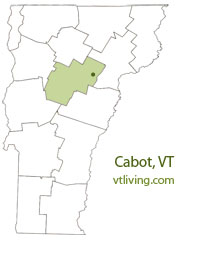 Welcome to Cabot, Vermont. Cabot is known for being the headquarters of Cabot Dairy Cooperative – the makers of famous Cabot Cheddar and other Cabot Cheese, and Dairy Products.
Once part of Caledonia County, the Village of Cabot, Vermont is situated in the northeastern part of Washington County. The township is six miles square and was once heavily wooded by hardwoods, hemlock, and spruce. The town of Cabot received its name from one of its original grantees, Mr. Lyman Hitchcock, in honor of his intended bride, Miss Cabot of Connecticut – a descendent of Sebastian and John Cabot, the early navigators and explorers of North America.
HISTORY OF CABOT, VT
The first Cabot settler was Benjamin Webster, an uncle of Daniel Webster. In 1783 Webster made a little clearing and built a log cabin on the Bayley-Hazen Road near what is now the Walden, Vermont town line. He then returned to New Hampshire, and the following March he snowshoed back to Cabot with his family and a hired man pulling what few possessions they had on a handle with their baby daughter riding in a wooden washtub. Thus began the town's settlement, and by 1788 the first town meeting was held. In 1789, millwright Thomas Lyford built an up-and-down sawmill using the Winooski River for power. Others soon followed suit, setting up numerous water-powered businesses including a wool-carding and cloth dressing shop, a starch factory, a carriage shop, a blacksmith shop, and a small foundry.
Cabot soil was conducive to raising an abundance of potatoes in an area where there was no market for the crop. Engaging entrepreneurs soon erected distilleries and the potatoes were made into whiskey, which found its way to markets in Boston and Portland and was eventually smuggled into Canada. By 1810 businesses had begun to move away from Cabot Plain, eventually settling in greater numbers beside the Winooski River. As industry developed, the government seat moved to Cabot Village, and a third settlement soon developed in Lower Cabot, with the Winooski River water power continuing to encourage the growth of the industry. Other industries soon developed including hay processing, a gristmill, and sheep raising. In 1893 F. A. Messer built a creamery in Cabot Village, and in 1919 a group of 94 farmers bought the creamery and established the Cabot Farmers Creamery Co., Inc.
To share any Cabot, VT information, contact us. Learn more about advertising in VTLiving.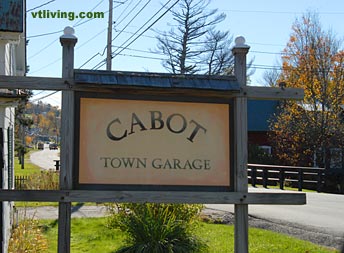 Cabot VT Chartered: 1781
County: Washington
Cabot, VT Population:
2010: 1,433
GPS Coordinates:
Latitude: 44.2356
Longitude: -72.185
Cabot, VT Local Information
Cabot Town Offices: 802-563-2279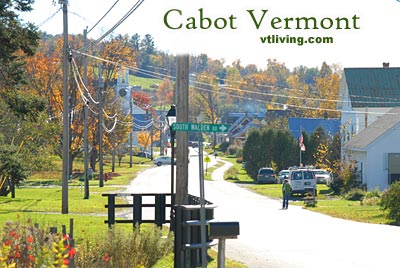 inns | hotels | resorts | rentals | attractions | dining | real estate
CABOT VT PRODUCTS


Vermont Products | Visit VT Towns | FWM 24/7 Shopping

Country Weddings | New England Recipes
VT Inns | Red Sox Gifts | Travel Destinations
New England Living Magazine
Fitness and Sports Products On Sale Now
Free World Mall

Country Weddings | New England Recipes
VT Inns | Red Sox Gifts | Travel Destinations