Proctorsville, Vermont 05153
Windsor county VT Lodging Dining Real Estate History & Attractions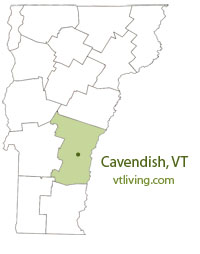 Proctorsville – which is located east of Vermont Route 131 is part of Cavendish, Vermont. Cavendish, Vermont was the home of Captain John Coffeen whose inn sheltered hundreds of Revolutionary War soldiers. Coffeen was one of the early settlers. He came to Cavendish from Rindge, New Hampshire. Cavendish was named after William Cavendish, 4th Duke of Devonshire. The Castle of Cavendish (Castle Hill Resort & Spa) and Cavendish Pointe Hotel are located here. Cavendish is bounded on the north by Reading, on the east by Weathersfield, on the southeast by Baltimore, on the south by Chester, and on the west by Ludlow.


Castle Hill Resort & Spa, Rt. 103, P.O. Box 525, Ludlow, VT 05149 | 802-226-7361
Castle Hill Resort and Spa is nestled in the Green Mountains of Ludlow Vermont, offering unparalleled service and the finest lodging for the perfect Vermont getaway. Select from the historic Castle Inn, an English Cotswold style mansion featuring 10 unique rooms; The Pointe Hotel offering 96 beautiful rooms and suites or stay in our fully equipped spacious Resort Home Condominiums.
Visit Castle Hill Resort & Spa Website
---
The Town of Cavendish was chartered in 1761. It is a quiet rural community with beautiful forested hills and valleys, mountain views and river valleys. One of Vermont's famous trout fishing waters, the picturesque Black River runs west to east through the town. The Black River flows through the towns two distinct villages. Cavendish was visited by Abe Lincoln. The local woolen mill once made blankets for the US Military. Cavendish's largest industrial resident is a branch of the Mack Molding company which specializes in custom plastics molding. Mack took one of the former mill complexes in town and has developed it into a modern plant while keeping the exterior of the plant well maintained and preserving the classic mill complex character. A devastating flood occurred in 1927. During that flood, the Black River's waters spilled over its banks, washing out lower Cavendish Village and creating a large gully and destroying houses, barns and automobiles. In 1938 a major hurricane struck Cavendish. The winds blew down thousands of trees, blocking nearly every road. In 1973, Cavendish again experienced a severe flood that washed out many roads and bridges. On July 21, 2003 a tornado struck the town destroying a mobile home and hundreds of trees. Cavendish was home to U.S.S.R. dissident and author, Aleksandr Solzhenitsyn from 1977 to 1994. The Nobel Laureate returned to his Russian homeland after Communist rule ended. He was presented with a plaque from the town at the Cavendish Town Meeting on February 28, 1994. Solzhenitsyn died in 2008.
To share any Cavendish, VT information, contact us. Learn more about advertising in VTLiving.
Chartered: 1761
County: Windsor
Cavendish, VT Population:
2010: 1,367
GPS Coordinates:
Latitude: 43.2311
Longitude: -72.3645
Cavendish, VT Local Information
Cavendish Town Offices: 802-226-7291
inns | hotels | resorts | rentals | dining | real estate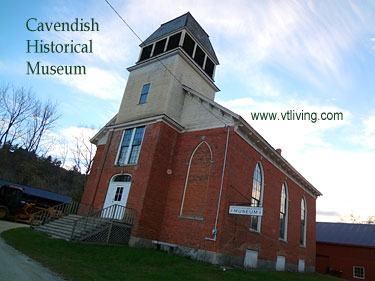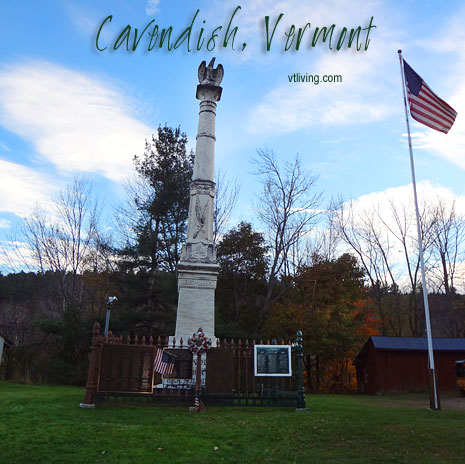 Vermont Products | Visit VT Towns | FWM 24/7 Shopping

Country Weddings | New England Recipes
VT Inns | Red Sox Gifts | Travel Destinations
Free World Mall

Country Weddings | New England Recipes
VT Inns | Red Sox Gifts | Travel Destinations