Townshend, Vermont 05353
Townshend VT Lodging, Real Estate, Travel & Visitor Information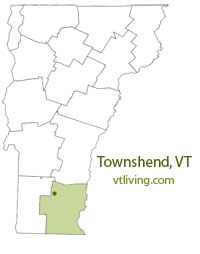 Townshend is the home of Samuel Fletcher, head of the Vermont Militia. Annual town events include; Townshend Anniversary (June), Grace Cottage Hospital Fair Day (August), Townshend Flea Market & Craft Fair (May), and the Townshend Pumpkin Festival (October), Townshend the home of Mary Meyer Mfg. Company, Townshend Furniture, East Hill Bison Farm, The Townshend Inn, Windham Hill Inn, Townshend Dam Diner and several other small businesses. Townshend includes; West Townshend and Harmonyville.
Townshend is named after the Townshend family – prominent figures in British politics. H. P. Lovecraft's story "The Whisperer in Darkness" is set near Townshend, Vermont. House Rules, a novel by Jodi Picoult is set in Townshend. In July of 1991, the popular Vermont band called Phish played a concert at Family Park in Townshend. The movie "Funny Farm" starring Chevy Chase was filmed in Townshend and resulted in the death of most the towns trees on the Townshend Green. The film crew accidentally killed most of the trees on the Townshend Common when they colored the leaves to make it look like it was mid-autumn. Townshend attractions include Scott Covered Bridge, the largest single span covered bridge in Vermont (166 feet), Townshend Dam & Recreation Area, Townshend State Park, and Townshend's Arch Stone Bridges.
To share Townshend, VT information, contact us. Learn more about advertising in VTLiving.
Chartered: 1753
County: Windham
Townshend, VT Population:
2010: 1,149
GPS Coordinates:
Latitude: 43.250
Longitude: -72.412
Townshend, VT Local Information
Townshend Town Offices: 802-365-7300
inns | hotels | resorts | rentals | attractions | dining | real estate

Vermont Products | Visit VT Towns | FWM 24/7 Shopping

Country Weddings | New England Recipes
VT Inns | Red Sox Gifts | Travel Destinations
New England Living Magazine
Free World Mall

Country Weddings | New England Recipes
VT Inns | Red Sox Gifts | Travel Destinations