Vergennes, Vermont 05491
Vergennes VT Lodging Real Estate Travel & History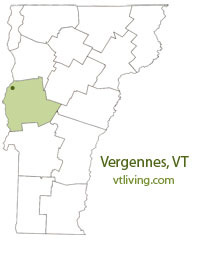 Vergennes, Vermont is the oldest city in Vermont and the third-oldest incorporated city in the United States, being succeeded by Hartford and New Haven, Connecticut. Vergennes is the smallest city in Vermont and one of the smallest cities in the US with only 2,588 residents and just 2.0 square miles in size. The Vergennes city motto is "Little City on the Falls". The Falls refer to the falls on Otter Creek.  Vergennes is a popular Vermont vacation destination. The historic Strong House Inn and, The Basin Harbor Club – a Vermont resort is located in Vergennes.
Visiting Vergennes Vermont
At the base of Main Street are the forty-foot Otter Creek Falls that generated the wealth which provided the basis for the growth of the area. The Falls' basin is 7 miles inland from Lake Champlain and forms the only inland port in the state. Today, the City of Vergennes provides water and power hook-ups free of charge to all boating visitors. The city recreation park located at the Falls provides a picnic area, and fishing from the docks is fun for folks of all ages.
Vergennes, Vermont: A Rich Tapestry of History and Community
Vergennes, Vermont, nestled in the heart of Addison County, is a picturesque and historic town that captivates visitors and residents alike with its charm, rich history, and tight-knit community. Known as Vermont's first city, Vergennes offers a perfect blend of small-town warmth and urban amenities. From its intriguing history to its vibrant local businesses, natural beauty, and diverse neighborhoods, Vergennes has something to offer for everyone.
History of Vergennes
Vergennes boasts a compelling history dating back to its founding in 1788. Named after French naval officer Charles Gravier, the Comte de Vergennes, the town's early days were shaped by its strategic location along Otter Creek and Lake Champlain. It played a crucial role in the Revolutionary War, and remnants of that era can still be seen in its architecture and historic sites. The Bixby Memorial Library, a centerpiece of the town, stands as a testament to its commitment to education and culture since its establishment in 1873.
Local Businesses and Economy
Vergennes is home to a thriving business community that reflects both its historical roots and modern sensibilities. The city's Main Street is adorned with boutique shops, galleries, and restaurants that offer a diverse range of culinary experiences. From quaint cafes to artisanal boutiques, local entrepreneurs contribute to the unique character of Vergennes.
Villages, Districts, and Neighborhoods
The town is comprised of several distinct neighborhoods, each with its own charm and character. Vergennes' historic downtown area is a hub of activity, with its brick-lined streets, charming storefronts, and public squares that play host to local events and markets. Other neighborhoods offer a mix of architectural styles, from colonial-era homes to more contemporary designs, catering to various preferences and lifestyles.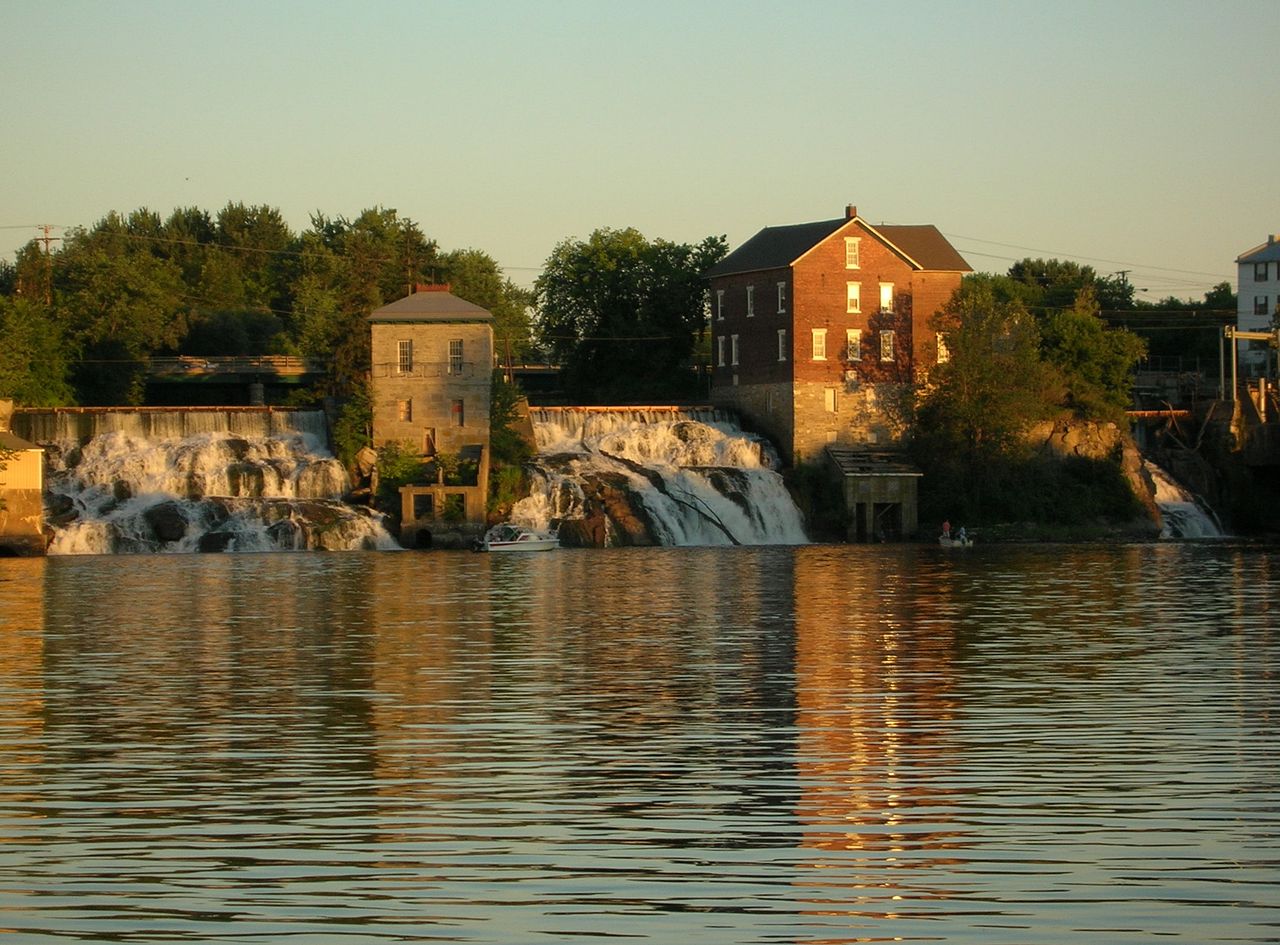 Parks, Recreation Areas, and Hikes
Nature enthusiasts will find themselves spoiled for choice in Vergennes. Nearby Button Bay State Park offers stunning lake views, camping facilities, and hiking trails that wind through lush forests. Vergennes Falls Park, located along Otter Creek, provides a serene setting for picnics, leisurely strolls, and birdwatching.
Historic Sites and Places of Interest
The town's rich history is palpable in its historic sites. The Vergennes Opera House, built in 1897, stands as a historic gem that hosts cultural events and performances. Visitors can also explore the Rokeby Museum, a National Historic Landmark, which offers insights into the Underground Railroad and the lives of the Robinson family.
Vergennes VT Real Estate Values and Options
Vergennes offers a diverse range of real estate options, from historic homes with unique character to more modern residences with scenic views. The real estate market reflects the town's desirability, with a mix of single-family homes, townhouses, and apartments to cater to various needs.
Events: Addison County Field Days and Community Events
The Addison County Field Days, an annual agricultural fair, stands as a testament to Vergennes' strong sense of community. This event showcases local agriculture, crafts, entertainment, and more, drawing visitors from near and far to celebrate the town's heritage. An annual Memorial Day Parade takes place in Vergennes, VT.
Strong House Inn
Vergennes' Strong House Inn, a historic bed and breakfast, exemplifies the town's commitment to preserving its heritage. This inn provides visitors with a cozy and inviting experience, reflective of the town's warm hospitality.
Quality of Life in Vergennes, VT
Vergennes offers a high quality of life, boasting a strong sense of community, a variety of recreational opportunities, and a commitment to preserving its rich history. Its blend of natural beauty, vibrant local culture, and historical significance make it a truly special place to call home.
Vergennes, Vermont, with its rich history, diverse neighborhoods, local businesses, and commitment to community, stands as a testament to the unique character of this charming town. Whether you're drawn to its historic sites, outdoor activities, or vibrant cultural scene, Vergennes offers an enriching experience for residents and visitors alike.


Strong House Inn, 94 West Main Street, Vergennes, VT 05491 | 802-877-3337
The Strong House Inn is located in the heart of the Champlain Valley. This historical Inn has 14 individually decorated guestrooms, on five acres of gardens and trees with classic New England architecture and the comfort and luxury of a modern day Inn. The Inn is a perfect location for weddings, receptions, and rehearsal dinners and meetings for up to 50 people. Join us for Quilting in Vermont, the ultimate setting for quilters to reignite their creative passion and be spoiled in the process. Whether you are looking for a romantic getaway, a foodie experience, or a once in a lifetime event - an adventure is waiting for you!
Visit Strong House Inn - Vergennes, VT
---
To share your Vergennes, VT business information, contact us.
Chartered: 1788
County: Addison
Vergennes, VT Population:
2010: 2,588
GPS Coordinates:
Latitude: 44.956
Longitude: -73.158
Vergennes, VT Local Information
Vergennes Town Offices: 802-877-3637
inns | hotels | resorts | rentals | attractions | dining | real estate
SHOP VERGENNES VT GIFTS

| Photo | Title | Price | Buy |
| --- | --- | --- | --- |
| | Vergennes Vermont VT Vintage Sports Established Design Pullover Hoodie | $32.99 | On Sale Now |
| | Vergennes Vermont VT Mountains Hike Hiking Souvenir Pullover Hoodie | $39.99 | On Sale Now |
| | Vintage Vergennes, Vermont Mountain Hiking Souvenir Print T-Shirt | $19.99 | On Sale Now |
| | Vergennes Vermont Souvenirs & Gifts by KAEDAM Vergennes Vermont USA Vacation Souvenir Throw Pillow, 16x16, Multicolor | $22.99 | On Sale Now |
| | (Reprint) 1971 Yearbook: Vergennes High School, Vergennes, Vermont | $59.95 | On Sale Now |
| | Vergennes Vermont Vergennes VT Retro Vintage Text Pullover Hoodie | $39.99 | On Sale Now |
| | Vergennes Vermont Vergennes VT Retro Vintage Text Throw Pillow, 18x18, Multicolor | $26.99 | On Sale Now |
| | Vergennes Vermont Designs Vergennes Vermont Retro Vintage Throw Pillow, 16x16, Multicolor | $19.99 | On Sale Now |
| | Road Atlas of Addison County, Vermont: Middlebury, Vergennes, Bristol, and all other communities | $14.99 | On Sale Now |
| | October on Great Otter Creek, Vermont by William Mason Brown - 10" x 16" Gallery Wrap Canvas Art Print - Ready to Hang | $54.99 | On Sale Now |
| | Historic Prints 12" x 24" 1980 Map of Middle Otter Creek Watershed Addison Rutland & Windsor Counties Vermont | $33.85 | On Sale Now |

Vermont Products | Visit VT Towns | FWM 24/7 Shopping

Country Weddings | New England Recipes
VT Inns | Red Sox Gifts | Travel Destinations
Fitness and Sports Products On Sale Now
Free World Mall

Country Weddings | New England Recipes
VT Inns | Red Sox Gifts | Travel Destinations