Vermont Train Services
Amtrak, Green Mountain Railroad Scenic Train Rides

Vermont Railroad Companies fueled growth in the Green Mountains decades ago. Vermont Rail System offers scheduled and charter tourist trains, heavy haul carload freight options, reloading and storage, freight forwarding and logistics, and nationwide intermodal service. Ask us about Vermont Amtrak Rail Service or share your train travel comments. To feature your Vermont business,  contact us.
Vermont Amtrak Railroad Service
For VT Amtrak services and trains schedules visit our Amtrak page and view a listing of all their stations in Vermont. For more information, contact: Amtrak toll-free: 1-800-872-7245.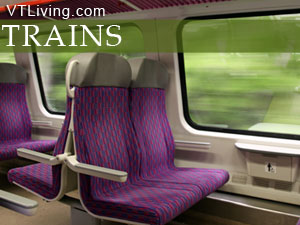 FIND VERMONT'S AMTRAK STATIONS. The Green Mountain Railroad offers three "flyer" transits and scenic train rides:
The Green Mountain Flyer: Bellows Falls, VT & Chester, VT. The Bellows Falls Union Station will still take you back to the days when train travel was the only way to go. Built in the 1850's, this structure still serves both the Green Mountain Railroad and Amtrak. The waiting room and ticket office look just as they did in the 1940's. Climb aboard and travel through the scenic southern Vermont countryside in restored coaches pulled by a vintage diesel locomotive. Travel along the Connecticut and Williams Rivers, with spectacular views of Brockway Mills Gorge and two historic covered bridges. The Green Mountain Flyer also has a snack car offering beverages and other goodies while you ride.
The White River Flyer: White River Jct., VT – Norwich, VT. The White River Flyer departs from Union Depot in White River Junction to Norwich and the Montshire Museum of Science. The excursion will travel along the majestic Connecticut River with a panoramic view of the White Mountain foothills and a causeway which serves as a wildlife sanctuary. White River Junction offers specialty shops, restaurants and the Coolidge Hotel only minutes from the Depot. An historic steam engine, "Old 494" which was built in 1892, is displayed in Depot Park adjacent to the station.
The Champlain Valley Flyer: Burlington, VT – Shelburne, VT. Take a train ride through the beautiful Champlain Valley. Rising over the eastern horizon you will see both Camel's Hump and Mt. Mansfield, the two highest mountains in Vermont. Enjoy all the attractions on the Burlington waterfront. The Champlain Ferry dock is just a short walk from the train station. The train meanders through gently rolling green pastures that sweep down to the shores of beautiful Lake Champlain. Across the lake, the Adirondacks of New York provide a picturesque backdrop.
The Green Mountain Railroad
PO Box 498, Depot St.
Bellows Falls, VT 05101
Vermont Rail System
Executive Offices,
1 Railway Lane
Burlington, VT 05401
Ph.: (802) 658-2550

Vermont Products | Visit VT Towns | FWM 24/7 Shopping

Country Weddings | New England Recipes
VT Inns | Red Sox Gifts | Travel Destinations
Free World Mall

Country Weddings | New England Recipes
VT Inns | Red Sox Gifts | Travel Destinations