Trattoria Delia
VT Dining Reviews – Best Restaurants in VT

Discover the best Vermont restaurants and eateries. Vermont farms offer a wide variety of the freshest ingredients. Find great Vermont, chef-owned fine dining inns and classic diners. This is Northern New England and the variety of outstanding restaurants in Vermont will amaze you. Ethnic, Asian and Italian Cuisine, Steakhouses and fast food done right. VTLiving thanks you for supporting the great farms and restaurants of Vermont. New dining reviews are added frequently, so please bookmark this page and return often. Ask us about Burlington VT Restaurants or share dining reviews. To feature your business, contact us.
Burlington VT Dining: Trattoria Delia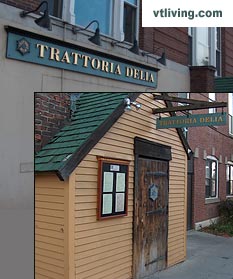 I am a hard person to impress when it comes to Italian food. One, because it is at the top of my list of favorites and two, because I can cook Italian very well. Okay, so I am a bit self-assured about this but look at my family and you might agree. So to recommend a dining experience in Downtown Burlington…. Trattoria Delia on St. Paul Street that totally captured my heart as well as my palette is to give this restaurant a big approval rating.
To start the list of appetizers looked amazing. Calamari, Antipasto and salads (Insalata) of roasted veggies, mussels, imported meats, cheeses and breads. The bread sticks were imported from Italy, the bread was fresh baked in true European fashion, crusty with a soft center served with herb butter.
But be prepared. We dined on a pasta dish consisting of cheese spinach tortellini in a sauce of Gorgonzola dolce, cream and lightly toasted walnuts. And…one of the house specialties, Veal Scaloppini layered with prosciutto and sage lightly breaded and served in a white wine sauce. Both of these dishes were served with fresh carrots and broccoli "perfectly steamed". The meal was outstanding…the pasta was rich but not over bearing, the veal one of the most outstanding dishes I have had. The spiced prosciutto delicate and not dominate – the ideal compliment to this "hard to perfect" entree. The menu has a variety of items from shrimp, clams, veal meatballs, vegetarian selections, and authentic Italian meats.
Trattoria Delia serves beer, wine and a small assortment of liquors. They feature a wine each night and we found this recommendation to be outstanding.
Now for dessert…which was ordered "to go", to allow for some time to digest after this extraordinary meal. I selected the classic Italian dessert called Tiramisu. Wow! Enough for at least two this delicate dessert again exceeded my expectations. Add this one to your most order list. I recommend Trattoria Delia for dinner seven nights a week starting a five. The prices are a bit above average as this menu is al a Carte but the quality of the food makes it well worth it.
Trattoria Delia is member of the Vermont Fresh Network and the Slow Food Movement. Tell them Vermont Living sent you. Trattoria Delia is open for dinner from 5:00 pm – 10:00 pm nightly.
Reservations are recommended, casual attire.
Trattoria Delia
152 St. Paul Street
Burlington, Vermont 05677
Ph: 802-864-5253
inns | hotels | resorts | rentals | attractions | dining | real estate

Vermont Products | Visit VT Towns | FWM 24/7 Shopping

Country Weddings | New England Recipes
VT Inns | Red Sox Gifts | Travel Destinations
Free World Mall

Country Weddings | New England Recipes
VT Inns | Red Sox Gifts | Travel Destinations