True North Granola
A Vermont Business Profile from "Try Vermont First"

Vermont Living Magazine presents a series of Vermont product reviews and commentary from native Vermonter Honi Bean Barrett. Have your Vermont Product reviewed or feature your business. Ask us about Vermont True North Granola or share your reviews. To feature your business, contact us.
Vermont Products: True North Granola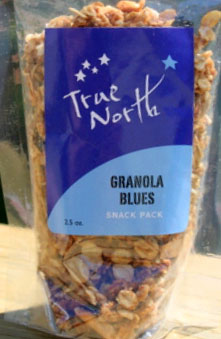 Have you ever tried chocolate granola? You should. And might I suggest pairing it with maple yogurt? The combination is great. Thank you True North Granola for sending me your deeply rich and powerful Choco Granola made with organic Dutch cocoa powder, banana chips, and Vermont maple syrup. Your Choco Granola made my crazy and busy day a little bit more sweet!
We are quite thankful for all of the samples sent to us from True North Granola. It was hard to know which granola to start with as they all sounded delicious. Granola Blues with dried blueberries and coconut chips? Spunky Pumpkin with golden raisins and pecans? Or Go Nuts with almonds, pecans, and pistachios?
My 4-year-old loves nuts so we started with "Go Nuts" Granola. We found it to be crunchy, sweet and filled with nuts. I love to pair nuts with dried cranberries, which we found in this granola. Yum! It's fantastic to have such a mix of textures. Nuts, cranberries, and both sunflower and pumpkin seeds. This will easily be our "go to" granola. A must-have at all times.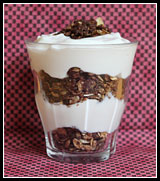 We also really enjoyed the Apricot granola as we are big fans of dried apricots and macadamia nuts! As I finish writing this post I am eating lunch. Lunch for me is usually an hour or two after the kids'. I put the kids to bed, clean up the house and then think "I am hungry!" I want something satisfying, that will fill me up, but not ruin my dinner appetite.
Most days my lunch is yogurt with granola. Today I am enjoying peach yogurt with True North's Ginger (Gluten-Free) Granola. I snacked on a good amount of the granola before I let it meet my yogurt. The whole almonds and large pieces of dried pineapple blended well with the sweet rolled oats and the zing from the dried ginger.
You can easily tell that all of the True North Granolas are worth trying. Different days, different occasions, and different moods call for different granola. True North is helpfully offering so many choices to meet these needs.
Take a moment to read True North Granola's Eight Guiding Principals. The promises they make reflect their deep commitment to their product, their employees, their customers, and their community. They inspire me to support their company.
Thank you Ingrid & Franklin for sharing your granola with us, and letting us tell the world about it. Now… I need to finish my lunch!
Honi Bean Barrett grew up in Vermont. After college and traveling afar, she knew that Vermont is where she and her family should and would settle down and plant roots. Her blog came to life after her son asked her to buy local products at a Vermont Farmer's Market. Honi set out to try, test, sample, and review these homegrown products for friends and family. In the process, she found products that she loves, and she loves supporting the Vermont economy!
Vermont Products | Vermont Lodging Specials | VT Dining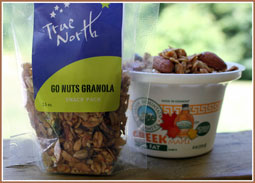 Vermont Products | Visit VT Towns | FWM 24/7 Shopping

Country Weddings | New England Recipes
VT Inns | Red Sox Gifts | Travel Destinations
Fitness and Sports Products On Sale Now
Free World Mall

Country Weddings | New England Recipes
VT Inns | Red Sox Gifts | Travel Destinations