Try Vermont First
Vermont Product Introductions & Reviews from Vermonter Honi Bean Barrett's Blog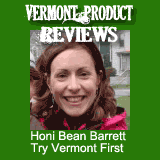 Vermont Living Magazine presents a series of Vermont product reviews and commentary from native Vermonter Honi Bean Barrett. Have your Vermont Product reviewed or feature your business. Ask us about Try Vermont First or share your Vermont product comments. To feature your business, contact us.
Vermont Made: Try Vermont First
Vermonter Honi Bean Barrett wants to introduce you to some exciting, new, Vermont products – and help out a few of her Vermont neighbors. Honi Bean Barrett is publishing a Vermont Blog called "Try Vermont First". Vermont Living Magazine features her discoveries in Vermont Living. Honi Bean Barrett is a mom committed to serving the most-natural, healthiest foods to her children.
Try Vermont First Vermont Product Reviews
Vermont Products | Local Farmer's Markets
Vermont Road Conditions | VT Weather Maps

Vermont Products | Visit VT Towns | FWM 24/7 Shopping

Country Weddings | New England Recipes
VT Inns | Red Sox Gifts | Travel Destinations
Free World Mall

Country Weddings | New England Recipes
VT Inns | Red Sox Gifts | Travel Destinations