Vermont Poultry Shopping Tips
Turkey Chicken and Poultry Shopping

Vermont is home to many producers of high-quality white broad-breasted turkeys. Unlike larger corporations, turkey raisers in the Green Mountain State are ardently opposed to the use of any growth hormones or antibiotics; they opt instead for a diet of straight grain and water. After butchering, many soak the birds in cold water overnight before packing. Most of the VT turkey dealers listed below raise and sell white broad-breasted turkeys, the most common New England variety of the animal. Share your Vermont poultry comments. To feature your business, contact us.
Vermont Poultry – Turkey Raising & Shopping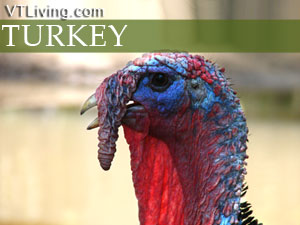 The only biological stimulation that is given to the birds in some instances consists usually of the so-called "medicated diet," i.e., a high-protein diet coupled with 100% organic vitamin supplements.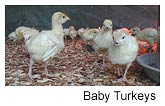 After butchering, many soak the birds in cold water overnight before packing to insure freshness.
While producers of beef place great emphasis on the lifestyle of the animal prior to butchering (i.e., sedentary vs. active), we are told that this is an incidental issue where turkeys are concerned. Being of a naturally lethargic and low-energy disposition, turkeys are not inclined toward physical exercise or exertion; however, some turkey producers opt to at least give the birds the chance to graze during the day in the interest of ethical treatment.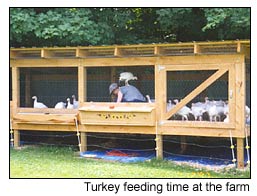 Todd Seymour of Moretown, VT states that it is advantageous to keep feed in front of the birds during colder weather because the turkeys increase their calorie intake for warmth, which results in a more desirable yield when their time comes to go to turkey heaven and relinquish their physical selves to the dinner table!
In terms of selecting the "best turkey," multi-generational turkey producer Bob Bearor of Teenie's Tiny Poultry Farm in Norwich, VT recommends that shoppers select a bird with a broader breast–an attribute that suggests an abundance of white meat. The sex of the bird is viewed as incidental–providing that it has been raised and fed according to the conditions mentioned above.
Harold Harvey, 20-year turkey producer of the Barn at Gray Rocks in Richmond, VT states that, "the ideal Vermont turkey has been raised on a high-protein diet."

Vermont Products | Visit VT Towns | FWM 24/7 Shopping

Country Weddings | New England Recipes
VT Inns | Red Sox Gifts | Travel Destinations
Fitness and Sports Products On Sale Now
Free World Mall

Country Weddings | New England Recipes
VT Inns | Red Sox Gifts | Travel Destinations