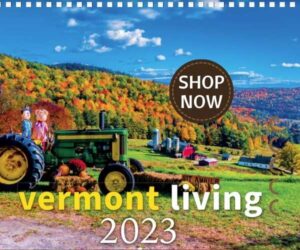 2023 Vermont Living Wall Calendar
VT Living Photo Calendar Depicting VT Life & Landscapes
A great gift idea! The VT LIVING Wall Calendar features 12 new photographs from professional photographers depicting life, landscapes, and living in Vermont.
The 2022 VT LIVING Wall Calendar displays the Best of Vermont in all four seasons. In the tradition of VT Life – the VT Living wall calendar begins Vermont to you while you are waiting for your next visit to Vermont.

Enjoy Vermont every day with this large full-color Vermont Living 2023 Calendar.
Browse a sample of this year's spectacular photographs.