VT Chocolate & Truffle Makers
Vermont Chocolate Manufacturers

Take a Vermont Chocolate Factory Tour! There are several handmade, natural, chocolate, truffle, and candy makers here. Vermont's history in chocolate-making goes back centuries. Many of Vermont's talented handmade chocolate and truffle makers utilize locally made products like butter, maple syrup, and cream. Visit all Vermont products and Vermont chocolate makers and bring Vermont chocolates home. Ask us about Vermont Chocolates or share your reviews and comments. To feature your business, contact us.
Vermont Products: Made in Vermont Chocolates
Some of our favorite chocolates are made right here in Vermont. Sample some of our featured Made in Vermont products.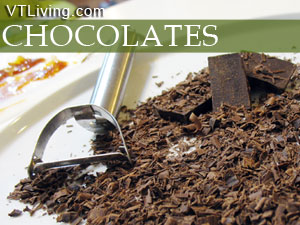 Laughing Moon Chocolates of Stowe
78 So. Main St.
Stowe, VT 05672
Ph: 802-253-9591
A nice selection of chocolates. Try the Chocolate Covered Graham Crackers.
Snowflake Chocolates
81A Rt. 15
Jericho, VT
Ph: 802-899-3373
A family owned and operated company producing made in Vermont homemade chocolates, fudge, truffles, confections, candy and other gifts.
Vermont Nut Free Chocolates
146 Brentwood Drive
Colchester, VT 05446
Ph: 802-372-4654
Web: vermontnutfree.com
SHOP VT PRODUCTS IN FREE WORLD MALL

Vermont Products | Visit VT Towns | FWM 24/7 Shopping

Country Weddings | New England Recipes
VT Inns | Red Sox Gifts | Travel Destinations
NEW ENGLAND LIVING MAGAZINE | NEW ENGLAND PRODUCTS
Free World Mall

Country Weddings | New England Recipes
VT Inns | Red Sox Gifts | Travel Destinations