Vermont Fresh Network Annual Forum
Celebrating Vermont's Farmer-Chef Partnerships

One of the most exciting developments in recent years to promote buying local and eating healthy is the Vermont Fresh Network. The Vermont Fresh Network encourages farmers, food producers and chefs to work together to build partnerships – and promote local commerce. Working farms have long been a vital part of Vermont and the Vermont Fresh Network is helping farmers maximize their products and profits. Ask us about Vermont Fresh Annual Forum in Vermont or share your Vermont food comments. To feature your business, contact us.
The Vermont Fresh Annual Forum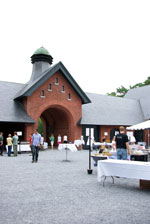 Held each year at the historic and visually stunning Shelburne Farms' Coach Barn, the Vermont Fresh Network Annual Forum is a wonderful event in which to meet local Vermont farmers, attend educational workshops, listen to keynote speakers and taste the fruits of partnership between Vermont's finest chefs and farmers.
In attendance at the 2010 VFN Forum were such restaurants as American Flatbread, Topnotch, Bluebird Tavern, Michael's on the Hill, and many more.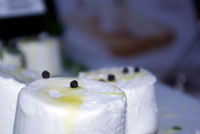 Events included passed hors d'oeuvres, product samplings, artisan cheeses, keynote speaker Marian Burros, a walk-around dinner with dishes from 25 Vermont chefs featuring farm-fresh Vermont ingredients, outdoor cooking classes, and an ice cream social hosted by Strafford Organic Creamery.
Perched on the edge of Lake Champlain and surrounded by the stunning architecture of Shelburne Farms' Coach Barn, an evening spent at VFN's Forum was a true delight.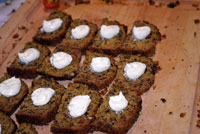 We were able to sample fresh-picked apple varieties we'd never heard of before, taste local baby green salads with radishes picked that day, and sample wines from local Vermont vineyards. American Flatbread fired up their portable cob oven to bake delicious flatbreads and Vermont dairies offered a plethora of amazing butters and cheeses to sample. The partnership between Vermont farmers and chefs is a strong one, as was self-evident with every bite we enjoyed.
Membership of the Vermont Fresh Network (VFN) provides benefits to Vermont farmers, chefs, food growers and consumers who enjoy healthy food and eating out. Details about becoming a member may be found at the Vermont Fresh Network website or by contacting the Vermont Fresh Network.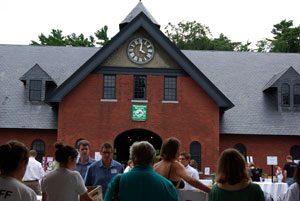 The Vermont Fresh Network
PO Box 895
Richmond, VT 05477
Ph: 802-434-2000

Vermont Products | Visit VT Towns | FWM 24/7 Shopping

Country Weddings | New England Recipes
VT Inns | Red Sox Gifts | Travel Destinations
Free World Mall

Country Weddings | New England Recipes
VT Inns | Red Sox Gifts | Travel Destinations