Vermont Inn Weddings
at The Vermont Inn in Mendon

The Vermont Inn, 69 Rt. 4, Mendon, VT 05701 | 800-541-7795
This 1840 farmhouse on six acres surrounded by the Green Mountains was featured in Recommended Country Inns of New England and VERMONT Magazine, and offers fine dining with an extensive wine list. Golf and ski packages are available.
Visit The Vermont Inn - Mendon, VT
---

Located in the heart of the Green Mountains of Central Vermont in the quaint town of Mendon, is The Vermont Inn, a 1800's country inn on five acres. Located only a convenient 10 miles from great skiing at Killington Resort, 5 minutes from Pico Mountain and a half hour from Okemo, The Vermont Inn is a great choice for the skier's vacation getaway. Ask us about The Vermont Inn or share visit comments. To feature your business, contact us.
The Vermont Inn hosts Vermont Weddings in central Vermont
For the bride and groom who want to create perfect memories that will truly last a lifetime, TheVermont Inn offers the quintessential Vermont country wedding. From its picture perfect setting to its intimate size and the love, care and fine attention to detail paid by the Inn's owners, a Vermont Inn wedding promises an enchanted experience. Best yet, the affordable price offers substantial savings from what you'd find in most other highly sought after places!
The 16-room quaint country Inn is large enough to accommodate a good size group while still allowing an intimate and private affair. The bride and groom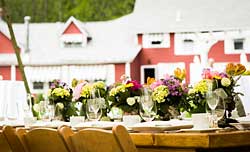 are left with their perfect wedding sanctuary. The Vermont Inn tavern and grounds offer the possibility of turning that special day into a special weekend with a rehearsal dinner and/or post-wedding brunch.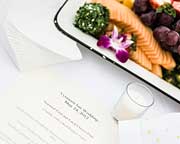 The beautiful Green Mountains and bucolic setting offer a picturesque landscape for photos and the ideal environment to become fully immersed in wedding bliss. Other details promise to delight. The bridal suite is truly picture perfect, created to be perfectly suited for a bride getting ready for the wedding and the couple to share their first night with beautiful photos all along the way.
The Vermont Inn can offer seasoned professionals to take care of every perfect detail so the bride and groom can focus solely on the love they share with each other and with those around them. All of this can even be had with no facility fee. The Vermont Inn family is excited to share more details on how they can help you create the perfect wedding!



The Vermont Inn
78 Cream Hill Road
Rutland, VT 05751
Ph: 802-775-0708

www.vermontinn.com

Vermont Products | Visit VT Towns | FWM 24/7 Shopping

Country Weddings | New England Recipes
VT Inns | Red Sox Gifts | Travel Destinations
Free World Mall

Country Weddings | New England Recipes
VT Inns | Red Sox Gifts | Travel Destinations