Vermont Peanut Butter
A Vermont Business Profile from "Try Vermont First"

Vermont Living Magazine presents a series of Vermont product reviews and commentary from native Vermonter Honi Bean Barrett. Have your Vermont Product reviewed or feature your business. Ask us about Vermont Peanut Butter or share your Vermont product comments.
To feature your Vermont product, contact us.
Vermont Products: Vermont Peanut Butter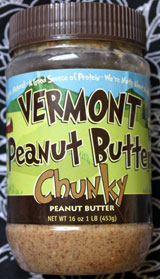 Last summer my son begged and begged for a jar of Vermont Peanut Butter at the Farmer's Market. I was torn on spending the money. I grew up with the sugary, salty Peter Pan peanut butter. But healthy eating is incredibly important to me and I want my children to grow up as healthy as possible. We tried a bit of peanut butter on pretzels and I chose a jar filled with seeds and nuts.
This could be my son's special and healthy peanut butter that other moms would see and know I put nutrition first (while I secretly hid a jar of Peter Pan for myself.) Comparing a jar of Vermont Peanut Butter with a jar of Peter Pan is a bit embarrassing (for Peter Pan). Peter Pan Peanut Butter includes corn syrup, sugar, and various oils. Here is the ingredient list for Vermont Peanut Butter's Creamy: peanuts, low sodium sea salt. That's it. (My husband asked me if VT Peanut Butter used Cabot butter, and was surprised to hear that there actually isn't butter in peanut butter.)
To me this is how peanut butter should be made. Find the best peanuts (VT Peanut Butter only uses peanuts from the USA), then roasts and grind them to make a natural and healthy, and very tasty peanut butter. Peanut butter is a staple in my house. We eat it a few times a week, love it on freshly baked bread, and could eat it for 3 meals a day (or more!). There was a time when I shied away from giving my family peanut butter more than once in a while. I read a lot about the sugars in peanut butter and didn't want to serve added sugar to my children.
Eating Vermont Peanut Butter does not leave me feeling guilty. There is little to no added sugar or oil in Vermont Peanut Butter. Plus it's a great source of protein. I set out to sample a few different peanut butter from VT Peanut Butter. I am hooked on them all! My favorite is the Maple Walnut. I am still surprised to say that this is my favorite because I have not always loved walnuts, and I have never liked chunky peanut butter before. The Maple Walnut peanut butter finds a perfect balance of sweet and salty. It's rich and fills you as a whole meal might fill you. Get two jars because it won't last long.
You will find many things to enjoy this peanut butter with! My family has tried two of the creamy peanut butter from Vermont Peanut Butter including their classic "Creamy" and their Bee Nut Butter. The creamy is a bit grainy. They call it an "old-fashioned smooth texture". I have grown to really like this new creamy! You might be saying to yourself "I have an issue with textures"… I say… "get over it" and try Vermont Peanut Butter's creamy. You will thank yourself for buying and eating a well-made product that is better for you.
If you like peanut butter and honey sandwiches, you are sure to love the Bee Nut Butter. A bit sweeter, you'll want to eat it out of the jar with a spoon. I have made the switch and will watch Peter Pan fly away forever. Vermont Peanut Butter is simply the best quality peanut butter you will find. Plus I would rather support my neighbors than Peter Pan. I hope that you will look for Vermont Peanut Butter in your store and make the switch for your family.
– Honi Bean Barrett
Editors Note: Peter Pan Peanut Butter is a name brand of peanut butter produced by ConAgra Foods and named after the J.M. Barrie character "Peter Pan". Peter Pan Peanut Butter was introduced by Swift & Company in 1920. The product was renamed in 1928, originally packaged in a tin can. Peter Pan packaging was changed to glass jars during World War II. Peter Pan was the first brand of peanut butter to start selling in plastic jars. Peter Pan Peanut Butter is sold in several varieties: Crunchy, Creamy, Honey Roasted, Reduced-Fat Creamy, Reduced-Fat Crunchy, and Reduced-Sugar Creamy. Past spokesmen for Peter Pan have included actor Mark Linn-Baker, comedian Alan Sues, and game-show host Art James. In 2007 it was announced that Disney's version of the Peter Pan character would become the mascot for Peter Pan Peanut Butter.
Honi Bean Barrett grew up in Vermont. After college and traveling afar, she knew that Vermont is where she and her family should and would settle down and plant roots. Her blog came to life after her son asked her to buy local products at a Vermont Farmer's Market. Honi set out to try, test, sample, and review these homegrown products for friends and family. In the process, she found products that she loves, and she loves supporting the Vermont economy!
SHOP FREE WORLD MALL

| Photo | Title | Price | Buy |
| --- | --- | --- | --- |
| | Granny Bella Chocolate Chip Cookie Gifts, Homemade Fresh Bakery Cookies for Fathers Day, Prime Gift Basket Ideas For Dad Husband Grandpa Stepdad From Daughter Wife Son Kids Girlfriend Baskets Delivery (Regular) | | On Sale Now |
| | David's Cookies Gourmet Butter Pecan Meltaway Cookies Gift Basket – 32oz Round Tin Butter Cookies with Crunchy Pecans and Powdered Sugar – All-Natural Ingredients – Kosher Recipe – Ideal Gift for Corporate Birthday Fathers Mothers Day Get Well and Other Special Occasions | $14.92 ($0.47 / Ounce) | On Sale Now |
| | European Cookies LIMITED EDITITON Kirkland Signature with Belgian Chocolate, 49.4 Ounce | $29.72 ($0.60 / Fl Oz) | On Sale Now |
| | Christmas Chocolate Gift Baskets, 24 Cookie Chocolates Box, Covered Cookies Holiday Gifts Sets, Prime Gourmet Candy Basket, Family Food Delivery Ideas, For All Couples Families Adults Men Women Mom | $39.99 ($39.99 / Count) | On Sale Now |
| | Lotus Biscoff Cookies, Caramelized Biscuit Cookies, 144 Cookies (12 Sleeves of 6 Two-Packs) Vegan, 3.28 Ounce (Pack of 12) | $17.88 ($0.45 / Ounce) | On Sale Now |
| | Christmas Chocolate Gift Baskets, Holiday Gourmet Covered Cookies, Prime Candy Box Ideas, Milk Chocolates Gifts Mens Cookie Basket, Family Food Delivery, For All Mom Women Men Families Couples Adults | $26.99 | On Sale Now |
| | Walker's Pure Butter Shortbread Traditional Assortment - 17 Assorted Cookies Per Box - Authentic Shortbread Cookies from Scotland | $16.57 ($0.94 / Ounce) | On Sale Now |
| | Mrs. Fields - 30 Nibblers Signature Cookie Tin, Assorted with 30 Nibblers Bite-Sized Cookies in our 5 Signature Flavors (30 Count) | $39.99 ($1.33 / Count) | On Sale Now |
| | David's Fresh-Baked Winter Wonderland Christmas Cookies in Tin, 0.5 Oz Assorted Mini Cookies Gift Basket with Chocolate Chip, Chocolate & White Chocolate Chip & Red Velvet, Holiday Food Gift Basket | | On Sale Now |
| | Danisa, Butter Cookies Tin, 16 Ounce | $13.55 ($0.85 / Ounce) | On Sale Now |
| | Pepperidge Farm Milano Cookies, Dark Chocolate, 20 Packs, 2 Cookies per Pack | $14.99 ($1.00 / Ounce) | On Sale Now |
| | Christmas Chocolate Gift Baskets, Holiday Gourmet Covered Cookies, Prime Candy Box Ideas, Milk Chocolates Gifts Mens Cookie Basket, Family Food Delivery For All, Mom Women Men Families Couples Adults | $39.99 | On Sale Now |
| | Kelsen Danish Butter Cookies in Decorative Holiday Tin, 80 Ounce (300 Cookies) | $32.65 ($0.41 / Ounce) | On Sale Now |
Vermont Products | Vermont Lodging Specials | VT Dining

Vermont Products | Visit VT Towns | FWM 24/7 Shopping

Country Weddings | New England Recipes
VT Inns | Red Sox Gifts | Travel Destinations
Fitness and Sports Products On Sale Now
Free World Mall

Country Weddings | New England Recipes
VT Inns | Red Sox Gifts | Travel Destinations