Vermont Soap Organics
A Vermont Business Profile from "Try Vermont First"

Three members of my family have spent the last few weeks using body soaps from Vermont Soap Organics. My husband was using the Aloe Baby Soap bar soap. I was using the Country Lavender shower gel and my 3.5 year old son was using the Unscented Baby Wash. I am happy to say that we have all enjoyed making the switch in the shower to Vermont Soap Organics!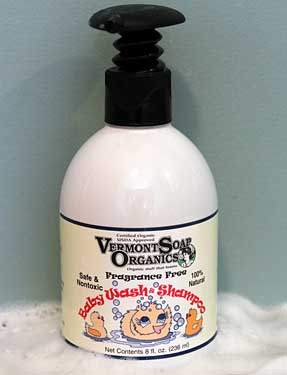 I have always used body gels, washes, or soaps that were marketed as extra moisturizing. I was hesitant to try a new soap but the Country Lavender shower gel has exceeded my expectations. A small amount of gel makes a nice thick and bubbly lather. My skin has been well moisturized and my skin feels natural, not covered with soap residue. My son has always felt anxious about having his hair washed. We have used many soaps labeled "tear-free" and even tried using fancy cups that are supposed to keep water out of kids' faces. But my son still hates to have his hair washed and fears water and soap getting into his eyes.
Vermont Soap's Unscented Baby Wash is very gentle. Gentle as it cleans, and gentle to little faces and eyes. Bath time has been stress-free for my son since making the switch to Vermont Soap. He no longer worries about getting soap into his eyes when I wash his hair. Vermont Soap rinses out easily and leaves him smelling like a clean little boy.
I recommend that you take a look at Vermont Soap Organic's website. Ready about how and why they started their company (they have written some funny stories about their soap trials and experiments). Also, read about exactly what soap is! Vermont Soap Organics has many great soap products for you, your family, and even your pets! Are you ready to try to make a positive change for your skin?
– Honi Bean Barrett
VERMONT SOAP ORGANICS
Honi Bean Barrett grew up in Vermont. After college and traveling afar, she knew that Vermont is where she and her family should and would settle down and plant roots. Her blog came to life after her son asked her to buy local products at a Vermont Farmer's Market. Honi set out to try, test, sample, and review these homegrown products for friends and family. In the process, she found products that she loves, and she loves supporting the Vermont economy!
Vermont Living Magazine presents a series of Vermont product reviews and commentary from native Vermonter Honi Bean Barrett. Have your Vermont Product reviewed or feature your business. Ask us about Vermont Soap Organics or share your Vermont product reviews or comments. To feature your Vermont product, contact us.

Vermont Products | Visit VT Towns | FWM 24/7 Shopping

Country Weddings | New England Recipes
VT Inns | Red Sox Gifts | Travel Destinations
Fitness and Sports Products On Sale Now
Free World Mall

Country Weddings | New England Recipes
VT Inns | Red Sox Gifts | Travel Destinations