VT Teddy Bear Factory
Vermont Teddy Bear Factory Tours Shelburne VT

Located in the Champlain Valley, Vermont Teddy Bear Company is one of the largest teddy bear manufacturers in the world and has been handcrafting teddy bears for over 20 years. This company produces, on average, an estimated 500,000 bears a year. Vermont Teddy Bear company started out as a booth at an open-air market and has grown to one of Vermont's most successful corporations, and one of the world's largest online retailers of these lovable stuffed animals. Ask us about Vermont Teddy Bear or share reviews and comments.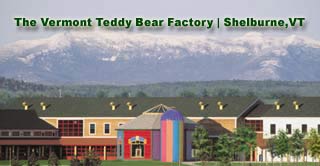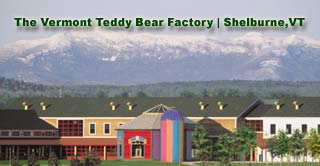 How do you wash a Vermont Bear? Well, after you catch him (try looking in the honeypot) you stuff him into a pillowcase and wash him on the delicate cycle. Next, you hang him up by his ears to dry in the breeze. Don't try this with a native Vermont Bears however, they dislike the heat and might get mad.
Before you decide to round yourself up a Vermont Bear to wash, visit the Vermont Teddy Bear Company in Shelburne Vermont. Vermont Teddy Bears like to be played with and loved.



So, what's special about a Vermont Teddy Bear? Each and every one is handmade, no two bears are alike. The Bears from Vermont Teddy Bear are fully jointed, 100% child-safe (as long as the Bears are bare), they are flame-retardant and hypoallergenic. Most importantly though, these critters have a lifetime guarantee from Vermont Teddy Bear Company.
VERMONT TEDDY BEAR

VERMONT TEDDY BEAR GIFTS

The colorful Vermont Teddy Bear factory offers factory tours. Find more information by visiting our Vermont Factory Tours section.

Vermont Products | Visit VT Towns | FWM 24/7 Shopping

Country Weddings | New England Recipes
VT Inns | Red Sox Gifts | Travel Destinations
Free World Mall

Country Weddings | New England Recipes
VT Inns | Red Sox Gifts | Travel Destinations