A Wedding Tail, or Two…
Pet Friendly Vermont Weddings

A good sense of humor will make all the difference when you include your pet in your wedding ceremony. The scene is set perfectly for an outdoor wedding on a beautiful summer day. The bride and groom have decided that their faithful Basset Hound, Flounder, will give the bride away in the absence of her father. All is proceeding as planned, and now the organist begins the wedding march. Ask us Vermont Pet Friendly Weddings or share your comments. To feature your Vermont wedding or pet friendly lodging, contact us.
Vermont Pet Friendly Weddings Stories
Burlington Middlebury Vermont Pet Friendly Lodging


Middlebury Inn, 14 Courthouse Square, Middlebury, VT 05753 | 802-388-4961
With 71 guest rooms, the Middlebury Inn offers the perfect blend of modern comfort and classic historic charm. Welcoming travelers since 1827, the inn now has all of the amenities of a full service hotel, including fine dining, a pub, and meeting and banquet space to accommodate your Vermont wedding. Located between Burlington and Rutland and convenient to many Vermont attractions, this inn is perfect for that pampered fresh-air getaway, family reunion or professional retreat.
Visit Middlebury Inn - Middlebury, VT
---


Strong House Inn, 94 West Main Street, Vergennes, VT 05491 | 802-877-3337
The Strong House Inn is located in the heart of the Champlain Valley. This historical Inn has 14 individually decorated guestrooms, on five acres of gardens and trees with classic New England architecture and the comfort and luxury of a modern day Inn. The Inn is a perfect location for weddings, receptions, and rehearsal dinners and meetings for up to 50 people. Join us for Quilting in Vermont, the ultimate setting for quilters to reignite their creative passion and be spoiled in the process. Whether you are looking for a romantic getaway, a foodie experience, or a once in a lifetime event - an adventure is waiting for you!
Visit Strong House Inn - Vergennes, VT
---


Shore Acres Inn & Restaurant, 237 Shore Acres Dr., North Hero, VT 05474 | 802-372-8722
Shore Acres is located in the heart of the Champlain islands. Each room offers guests an incomparable panoramic view of the Green Mountains and the glistening waters of Lake Champlain. A visit here provides you with the recharge and relaxation we all truly need. 19 lakeside inns overlooking Lake Champlain on 46 private acres. A special place for your special event or Lake Champlain VT wedding. Event consultation, and Pet-Friendly accommodations available.
Visit Shore Acres Inn & Restaurant, North Hero, VT
---


Lake Lyster Campground, 360 Chemin de Chalets, Coaticook, PC J1A 2S4 | 819-345-3787
A haven of tranquility! Lake Lyster Campground, in Coaticook, the Eastern Townships of Quebec is just 25 mins from the Vermont border. Enjoy 60 acres of Campsites, just across the road from beautiful Lake Lyster, with 25 ready-to-camp sites including 11 mini-cabins with private toilets + 14 prospector-style tents. Rent Kayaks or paddleboards, hike Mount Pinacle or relax with a good book. Tranquility and peace await you ... book your campsite now, where camping, glamping, and nature combine!
Visit Lake Lyster Campground - Coaticook, Quebec, CA

---
Burke Mt. Jay Peak Vermont Pet Friendly Lodging


Phineas Swann Bed & Breakfast Inn, 195 Main Street, Montgomery Center, VT 05471 | 802-326-4306
The Phineas Swann Bed & Breakfast is New England's most romantic and pet-friendly getaway. Located just 7 miles from Jay Peak Resort, the Phineas Swann offers year-round recreational and vacation options, including skiing, hiking, cycling, mountain biking, cross-country skiing, snowmobiling, leaf-viewing, and even swimming at Jay Peak's indoor water park.
Visit Phineas Swann Bed & Breakfast
---


The Wildflower Inn, 2059 Darling Hill Road, Lyndonville, VT 05851 | 802-626-8310
Trailside Lodging in the Northeast Kingdom of Vermont. Your next great adventure awaits at The Wildflower. A four-season destination property for the best in outdoor recreation and Vermont experiences. With our 25-room Inn, full-service restaurant, pub, Village Sport bike shop (with rentals) and KCE guide company right on the property, you will have everything you need to make the most of your Vermont visit.
Visit The Wildflower Inn - Lyndonville, VT
---


May Brook Falls Cottages, Northeast Kingdom, Vermont
Relax, unwind, and enjoy a slower pace at these renovated, vintage cottages nestled along May Brook in Barton, Vermont. Situated on over an acre of land, there is plenty of room for campfires, lawn games, and just enjoying nature. At the back of the property is May Brook Falls, a beautiful waterfall that sets the soundtrack for your stay. Across the street from Pageant Park Beach on Crystal Lake and close to many hiking and biking trails, this is the perfect base for exploring Vermont's Northeast Kingdom.
Book Online - May Brook Falls Cottages
---
Montpelier North Central Vermont Pet Friendly Lodging


Marshfield Inn and Motel, 5630 US Route 2, Marshfield, VT 05658 | 802-426-3383
We offer quiet country accommodations on 37 acres convenient to both Montpelier and St. Johnsbury. It's the perfect relaxing stop-over after a busy day of travel, or a comfortable place to settle for a few days while exploring Montpelier, Central Vermont or the Northeast Kingdom. Experience the cozy charm and beautiful surroundings of a B&B, with the privacy, convenience and reasonable price of a motel. We are pet friendly.
Visit Marshfield Inn & Motel
---
Rutland Woodstock Okemo Pet Friendly Lodging


The Pointe at Castle Hill Resort, Rt. 103, Ludlow, VT 05149 | 888-764-6836
A truly accommodating country hotel with 96 spacious rooms and suites, enhanced guest services, and a new look. An exceptional lodging value with all the comforts of a first class hotel. Indoor pool, hot tub, restaurant, lounge, game room and views of Okemo Mountain.
Visit The Pointe at Castle Hill Resort
---

The Norwich Inn, 325 Main Street, Norwich, VT 05055

The Norwich Inn is a historic Vermont inn located just across the river from Hanover, New Hampshire. Our new Ivy Lodge has 2 king bedded rooms with cozy fireplaces and spacious bathrooms that are "pet friendly". With special flooring and a comforting dog motif throughout, these rooms are sure to make your companions feel right at home!
Visit Norwich Inn Norwich
---

The Castle Hill Resort, Rt. 103, Ludlow, VT 05149

A truly accommodating country inn and luxury hotel with 96 spacious rooms and suites, enhanced guest services, and a new look. An exceptional lodging value with all the comforts of a first class hotel. Indoor pool, hot tub, restaurant, lounge, game room and views of Okemo Mountain.
Visit Castle Hill Resort Ludlow
---

The Vermont Inn, 69 Rt. 4, Mendon, VT 05701 | 800-541-7795
This 1840 farmhouse on six acres surrounded by the Green Mountains was featured in Recommended Country Inns of New England and VERMONT Magazine, and offers fine dining with an extensive wine list. Golf and ski packages are available.
Visit The Vermont Inn - Mendon, VT
---
Stratton Mt. Snow Manchester Pet Friendly Lodging



Bromley View Inn, 522 Vermont Rte. 30, Bondville, VT 05340 | 802-297-1459
Bromley View Inn is located between Manchester, Bromley Mountain Resort and Stratton Mountain Resort. Our guests will find themselves in an activity haven with six ski areas within an hour, five golf courses within a half hour, superior hiking and snowshoeing, plenty of waterways for kayaking, canoeing, and fishing; and some of Vermont's best shopping and antiquing in the towns of Manchester, Arlington, Londonderry, Weston, Peru, and Dorset.
Visit Bromley View Inn - Bondville, VT
---


Bring My Pet - Pet Friendly Lodging
You can bring your pet with you to Vermont. We found some exceptional Vermont Dog-Friendly Inns, Hotels and Resorts. Bring My Pet is the Pet Friendly Lodging site that only features hotels, inns, resorts and vacation rentals that allow pets.
VT Pet Friendly Lodging
---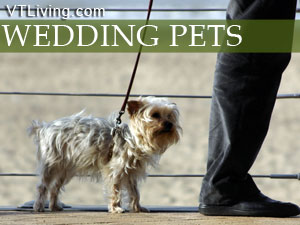 Flounder and the glowing bride start down the aisle…  But, wait – Flounder suddenly has an itch – a really bad itch – one of those itches that he must tend to immediately, making him moan and groan and then shake all over.  A chuckle escapes from one of the guests – then another…
Okay, Flounder is ready now and they again proceed down the aisle to the grinning groom.  Halfway there, Flounder notices that some inconsiderate onlooker is sitting over his favorite bone burial ground and he must go, at that very moment, to dig and dig and dig until at last, he grasps his prize bone in his jaw.  A snicker, giggle, an outright guffaw from the crowd, but the bride is undaunted, waiting patiently for Flounder to finally finish his fiasco…
The organist begins again and the two continue onward toward the husband-to-be whose face is damp with laughter.  Flounder is now in perfect rhythm with the bride's stride and is sheepishly looking up at her for approval.  They are finally at the altar where the officiate asks "who gives this woman to this man?".  Flounder has been instructed to softly howl "ry-roo", and then take his seat next to Mom.  But, Flounder has the bone in his mouth and he is not going to drop it for anything.  After all, someone already had the audacity to impose on its burial ground, and there's no way he will again jeopardize the fate of his treasured prize.
So now the wedding party is coaxing him on – "come on Flounder, drop the bone" – "here Flounder, give me the bone" – "Flounder's a good boy, now drop the bone" – "Flounder, pleeeeze give me the bone…"  It soon becomes apparent that Flounder has no intention of dropping the bone, as he trots up the aisle to a nice shade tree where he can chew his bone shielded from the hot sun and the stares of disapproving wedding guests.  No amount of coaxing will bring him back, and as the laughter dies down, the service continues on jovially with the wedding party occasionally grinning and glancing Flounder's way.
At the reception, guests recount the humorous wedding events, and the memory is one they will not soon forget.  Think of the stories they'll tell their friends, and the bride and groom will tell their children and grandchildren…  Why the pictures themselves will be priceless…  And, as they say, "all's well that ends well"… 
Pet Care Specials


Vermont Products | Visit VT Towns | FWM 24/7 Shopping

Country Weddings | New England Recipes
VT Inns | Red Sox Gifts | Travel Destinations
Free World Mall

Country Weddings | New England Recipes
VT Inns | Red Sox Gifts | Travel Destinations