Vermont Wineries
VT Wines – Wineries & Vineyards

Yes you can find estate bottled wines in Vermont. The Green Mountain state currently has a handful of vineyards producing wine from blossom to bottle. A visit to a Vermont vineyard is great way to explore the countryside. Vermont is a new and emerging wine growing region. The short, warm summer season yields fruit by the end of Autumn. Most Vermont vineyard operations are open to the public. Call in advance of your visit to confirm hours. Ask us about Vermont wineries or share your Vermont wine comments. To feature your Vermont Vineyard, contact us.


The Norwich Inn, 325 Main Street, Norwich, VT 05055
Vermont brewery tradition was revived at the Norwich Inn in 1993 when Jasper Murdock's Alehouse began producing traditional English-style ales in 5-gallon glass jugs. By 1995, an historic livery building was renovated and outfitted with a new four-barrel brew house, enabling 125-gallon batches. The vessels are now larger, but the Jasper Murdock Alehouse remains one of the smallest breweries in America. These hand crafted beers are sold only at the Inn. Call ahead and place your an order to pick up when you come to the Inn. The Norwich Inn offers an extensive, diverse and moderately priced menu incorporating traditional pub favorites with elegant dinner options. We have nightly dinner and wine specials that can be enjoyed in our pub or dining room 7 nights a week. An Inn has been on the site since 1797; the current Victorian Structure since 1890. We offer 38 guestrooms, Pub, Dining Room, and Microbrewery.
Visit Jasper Murdock Alehouse at Norwich Inn
---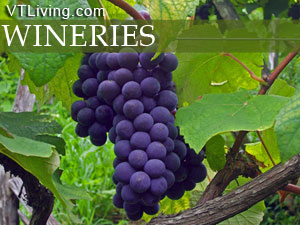 Shelburne Vineyard
Route 7
Shelburne, VT
Ph: 802-734-8700
Produces Hand-crafted wines. Organically certified.
Snow Farm Vineyard and Winery
190 West Shore Road
South Hero, VT 05486
Ph: 802-372-WINE
Boyden Valley Winery
RR2, Box 2580
Cambridge, VT 05444
Ph: 802-644-8151
Grand View Winery
2039 Max Gray Road
East Calais, VT 05650
Ph: 802-456-7012
Winners of regional, national and international awards. Tastings, specialty wines, traditional fruit wines, artist gallery.
Joseph Cerniglia Winery
RFD #1, Box 119A
Rte 103
Proctorsville, VT 05153
Ph: 802-226-7575
An assortment of apple and fruit wines.
North River Winery
PO Box 258
Jacksonville, VT 05342
Ph: 802-368-7557
Winery tours and tastings.
Putney Mountain Winery
Holland Hill Road
Putney, VT 05346
Ph: 802-387-4610
Vermont Apple Cider Champagnes vinted from locally grown apples such as Northern Spy and Roxbury Russet.
Ottauquechee Valley Winery
Quechee, VT 05059
Ph: 802-295-9463
Retail sales, Daily Wine Tasting Program, Winery Tours.
Flag Hill Farm
Vershire, VT 05079
Ph: 802-685-7724
Dry, sparkling, or still vintage-style hard cider.
L'Abeille Honey Winery
638 S. Main Street
Stowe, VT 05672
Ph: 802-253-2929
Open daily, buses are welcome. Learn about their honey wine by watching a video about bees and by viewing the process to produce mead. Tastings.
WINE FAVORITES
GLASSES

TempShield️ double-wall vacuum insulation protects temperature for hours
Snug, secure, splash-resistant Press-In Straw Lid
Flexible straw
Strong ergonomic handle
Fits most cupholders
Color Last powder coat is durable, sweat-free and colorful
Made with 18/8 pro-grade stainless steel for durability, pure taste and no flavor transfer
Compatible with size Large Press-In accessories
BPA-Free
Dishwasher safe
PRODUCT CONFIGURATION: Drinking glass set includes 4 can-shaped glass cups [ Diameter - 3 inches, Height - 5.8 inches ],4 nature bamboo lids, 4 reusable glass straws and 2 cleaning brushes, Classic design, Very practical mixed drinkware sets
DURABLE and SAFE: The can shaped glasses are made of high-quality durable clear glass, Lead-free and BPA-free. It can be used safely for a long time. This thick clear glass can withstand the sudden changes in the temperature difference between -68°F to 212°F, making them dishwasher safe. If you want to decorate this glass, you can do DIY easily without breakage.
MULTI-PURPOSE: The can shaped glassware Great for any Occasion, any hot and cold drinks. It is widely loved by families, kitchen, breweries, cafes, bars and restaurants. You can use it to make perfect tea, boba bubble Pearl Milk Tea, soda, water, iced coffee, smoothie, fruit juice or any other interesting holiday drinks.
AMAZING GIFT: This jar is very fashionable, aesthetic and characteristic. Excellent workmanship. Perfect for Birthdays, House warming gifts, Tea Sets, Home Bar Accessories, Graduation, Weddings, Bachelorette Parties and Christmas Gifts.
100% SATISFIED SERVICE: This glass set is packaged in the heavy bubble holder and thick carton box to prevent damage while in transport. If the can-shaped glass set you received was damaged or imperfect or you are not 100% satisfied, please simply contact us, we will offer a satisfactory solution.
Fuck gift:Prepare this great birthday or holiday spoof gift for your boyfriend or girlfriend, son, husband, wife, friend, colleague
Product material:Our choice of wood is use non-endangered tree species.Because we only have one Earth,so let's take good care of it.
Product attribute: Size 4.4 * 2.3 * 2.3in Weight: 5oz For each product, we use soft foam packing safety and shipping in cardboard boxes
Scope of application: Can be placed on the desk, bookshelf, bedroom always remind yourself that fuck is a valuable asset. Don't let things and life or love bring you negative energy.
Each bottle contains 100pcs fucks, enough to last for about a year. If you need it, please purchase it immediately, it will be a good gift for you.(If there is any problem with the product, please contact us to solve it for you)
WINE ACCESSORIES

Vermont Products | Visit VT Towns | FWM 24/7 Shopping

Country Weddings | New England Recipes
VT Inns | Red Sox Gifts | Travel Destinations
Fitness and Sports Products On Sale Now
Free World Mall

Country Weddings | New England Recipes
VT Inns | Red Sox Gifts | Travel Destinations