Vermont Yoga Centers
VT Meditations Reiki Yoga Vacations

Vermont can be the state in which you discover an ancient form of relaxation called Yoga. There are Yoga Centers and Meditation Centers in Vermont than can introduce you to this form of exercise.
There are many different types of yoga. Read more about Vermont yoga, reiki, and healing centers. Consider a life-altering, healthful vacation in Vermont. Ask your resort, hotel or innkeeper about Yoga instructors nearby. Ask us about Yoga Studios or share healthy living comments. To feature your business, contact us.
Vermont Yoga Centers – Healthy Vacations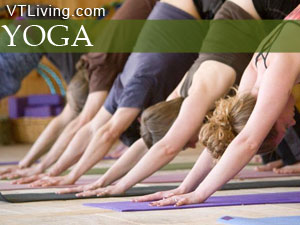 Roll out your mat and join the YOGA revolution. September is National Yoga Month – a good time to try some Yoga exercises and postures. There are dozens of free Yoga classes and events available. The average price of a paid yoga class is only 12 dollars, so working with an experienced Yoga instructor is quite affordable.
Yoga is growing in popularity. Nearly 16 million Americans practice yoga, most of them women. The typical yoga practitioner claims better relaxation and overall health. Yoga is not without risk, however. There were more than 5,500 yoga-related injuries last year. Yoga is centuries old. In India, they have been practicing yoga for more than 5,000 years.
Yoga Vacations
Some Vermont inns, hotels, and resorts offer Yoga lessons or can arrange for you to meet with an independent Yoga instructor during your visit. The Vermont landscape is conducive to relaxation, so the combination of Vermont vacation with yoga lessons is a terrific match.
Yoga Styles
There are many different styles or types of Yoga. Choose the yoga type that fits your personality and lifestyle and then seek an experienced yoga instructor in the style of yoga that you are most interested in. Yoga styles include:
Christian Yoga
Sivananda Yoga
Forrest Yoga
Laughter Yoga
Hatha Yoga
Vinyasa Yoga
Anusara Yoga
Integral Yoga
Kripalu Yoga
Moksha Yoga
Restorative Yoga
Yoga Mats Yoga Pants On Sale


Vermont Products | Visit VT Towns | FWM 24/7 Shopping

Country Weddings | New England Recipes
VT Inns | Red Sox Gifts | Travel Destinations
Free World Mall

Country Weddings | New England Recipes
VT Inns | Red Sox Gifts | Travel Destinations