Vermont Zip Line Rides
VT Zipline Rides Extreme Sports Canopy
Ride Tours & Outdoor Adventure Sports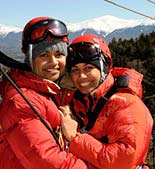 Vermont is great choice for outdoor adventure sports. Whether you are into Rock Climbing, Zip Line Riding, Kayaking, River Rafting, Hiking, or Mountain Biking, or during winter; Ice Climbing and Snowmobiling, Vermont has something for everyone seeking just about any kind of "extreme sport" or adventure sport. Ask us about VT Zipline Rides or Adventure Sports or share comments. To feature your business, contact us.
Vermont Zip Line Rides – Adventure Vacations


Petra Cliffs Climbing Center and Mountaineering School, 105 Briggs Street, Burlington, VT 05401 | 802-657-3872
Located in Burlington, Petra Cliffs is Vermont's premier indoor rock climbing facility and climbing school. Our gym features 8,500 square feet of climbing walls and bouldering for all abilities. Our programming, guiding, and instructional courses focus on individuals and groups of all ages.
Visit Petra Cliffs - Burlington, VT
---


Above Reality Inc. Hot Air Balloon Rides, 70 Essex Way, Essex, VT 05452 | 802-899-4007
Enjoy spectacular views of the Green Mountains, Lake Champlain, and the Adirondack mountains during a memorable balloon flight with our friendly and skilled staff. We'll whisk you above the ordinary and take you on a magical voyage above the treetops. All flights conclude with a champagne toast and VT cheese and fudge.
Visit Balloon Vermont Website
---


Vermont Antique Mall, 5573 Woodstock Road, Quechee, VT 05059 | 802 281-4147
Located in the heart of Quechee Gorge Village, you'll find our 17,000 square foot barn filled with antiques, vintage and collectable treasures. Come see the area's largest selection, with hundreds of dealer booths and new stock daily. Nearby eateries and seasonal events make this a "must see" for all ages. Shop where the dealers shop! Open daily 10am – 5pm.
Visit Vermont Antique Mall Website
---


The Governor's House in Hyde Park, 100 Main Street, Hyde Park, VT 05655 | 866-800-6888
Centerpiece of a quiet village, the completely restored historic mansion offers modern comfort with the gracious elegance of an earlier time. Period furnishings. Bedroom fireplaces. Mountain views. Jane Austen weekends. Afternoon tea. Small private events and weddings. The perfect elopement package.
Visit Governor's House at Hyde Park
---


Odyssey Events VT, 276 Laber Road, Bridgewater Corners, VT 05035 | 802-342-1513
Hands-on cooking classes offered by Chef Ted at his mountain top idyll. Discuss the many possibilities or choose from pre-scheduled classes. From pastas and pizzas to meats, seafoods, vegetables, and desserts. Learn then eat what you cook. BYOB.
Visit Cooking classes with Chef Ted
---


Strong House Inn, 94 West Main Street, Vergennes, VT 05491 | 802-877-3337
The Strong House Inn is located in the heart of the Champlain Valley. This historical Inn has 14 individually decorated guestrooms, on five acres of gardens and trees with classic New England architecture and the comfort and luxury of a modern day Inn. The Inn is a perfect location for weddings, receptions, and rehearsal dinners and meetings for up to 50 people. Join us for Quilting in Vermont, the ultimate setting for quilters to reignite their creative passion and be spoiled in the process. Whether you are looking for a romantic getaway, a foodie experience, or a once in a lifetime event - an adventure is waiting for you!
Visit Strong House Inn - Vergennes, VT
---


Okemo Valley Regional Chamber of Commerce, 57 Pond St., Ludlow, VT 05149 | 802-228-5830
We serve the Towns of Andover, Cavendish, known for trophy trout fishing; Chester, known for Arts & Antiques; Ludlow, home of Okemo Mountain Resort, Mount Holly famous for Cider Days; Plymouth, home to Pres. Calvin Coolidge State historic site and Weston, home to the original Vermont Country Store.
Visit Okemo Valley Chamber of Commerce Website
---


Mountain View Farm Animal Sanctuary, 3383 Darling Hill Rd., E. Burke, VT 05832 | 802-626-9924
Visit Mountain View Farm Animal Sanctuary in Vermont to see our rescued animals and please consider making a donation to help us care for them. If you share our love for animals and would like to get more involved with MVFAS we would love to welcome you as a volunteer. Volunteers join us on the farm or from their homes offering their time and services to the sanctuary.
Visit Mountain View Farm Animal Sanctuary
---


Robb Family Farm, 827 Ames Hill Road, Brattleboro, VT 05301 | 802-257-0163
Home of fine Vermont crafts. We produce the purest maple syrup you can find as well as a large assortment of fine hand-crafted treasures. Enjoy the scenic Vermont landscape and views from our shop. The Robb Family Country Shop is a family run business, consisting of a charming gift shop, farm events, mail order and baked goods by order. The shop is open throughout the year selling our own Vermont Maple Syrup, Vermont Maple Candy, Maple Syrup Party Favors, Gift Boxes, and Family Raised Beef. Sugarhouse Tours are offered year round.
Visit Robb Family Farm Website
---


Sugarbush Farm, 591 Sugarbush Farm Road, Woodstock, VT 05091 | 800-281-1757
Sugarbush Farm is located on a 550 acre hilltop outside of Woodstock Village. Visitors watch cheese production, year round maple tours, sample Sugarbush Farm cheeses, Vermont Maple Products, local Honey, and other products. You can walk the nature trail, see farm animals, and best of all free admission. The farm is located 3 miles off US Route 4 on Hillside Road, across from the Taftsville Bridge, 3 miles east of Woodstock, VT. Sugarbush Farm Store is open daily from 9:00am to 5:00pm.
Visit Sugarbush Farm - Woodstock
---


Night Eagle Wilderness Adventures, PO Box 479, Wallingford, VT 05773 | 802-885-8661
A unique primitive summer camp for boys, ages 10 -14. Boys develop an authentic sense of personal accomplishment and learn to rely on their own ingenuity as they live in tipis, learn wilderness skills, canoe, hike, throw tomahawks and atlatls, cook over an open fire and so much more! Through community living and group decision making, campers learn to work and play together in a spirit of cooperation rather than competition. Accredited by the American Camp Association.
Visit Night Eagle Wilderness Adventures - Wallingford, VT
---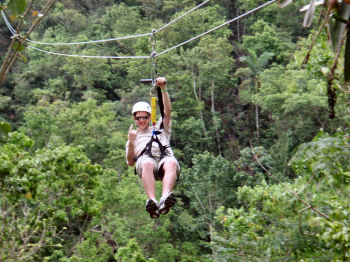 One of the fastest growing adventure sports is Zip riding or Zip-Line Riding. This awe-inspiring sport involves riding or "zipping" through the woods on a "zip line" that is secured to your body. The sport can be enjoyed by all ages, involves little equipment, and is truly exhilarating. Participants aged 8 to 80 describe the experience as "soaring, awesome, cool".
A farily new zip line system is located at Northern Lights Rock and Ice in Essex, Vermont. Northern Lights is part of the adventure center facilities at the Essex Resort and Spa. With a focus on team-building activities, Northern Lights offers several packages for their overnight guests that include cargo nets, dual zip lines and a Burma bridge.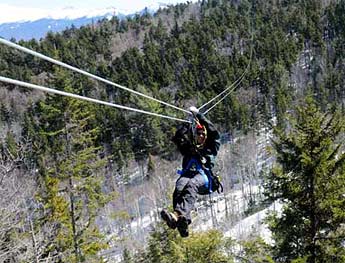 Vermont's most recent Zip Line Ride is located at Bromley Mountain near Peru, Vermont. They call it the Sun Mountain Flyer, and it debuted in July 2009. Many Zip Rides across the country are referred to as Canopy Rides or Canopy Tours because you cruise at the top of tree level and are rewarded with a tree canopy view. At Bromley the double zip line reaches the height of a five story building and travels at speeds of 50 MPH. Due to it's half mile run, the Sun Mountain Flyer is New England's longest zip line ride.
Another Green Mountain Zip Line Adventure Tour may be found in Warren at Sugarbush Mountain. At Sugarbush, you can fly down the mountain on their new 800 foot zipline, located on Lincoln Peak and landing behind the Gate House.
The sport of Zipline Riding or Canopy Riding is new, so you can still be the first of your friends to experience it and there is no better place to do that than right here in Vermont.

Vermont Products | Visit VT Towns | FWM 24/7 Shopping

Country Weddings | New England Recipes
VT Inns | Red Sox Gifts | Travel Destinations
Free World Mall

Country Weddings | New England Recipes
VT Inns | Red Sox Gifts | Travel Destinations