Arlington Inn
Arlington VT Lodging & Dining


The Arlington Inn, Historic Route 7A, Arlington, Vermont 05250 | 802-375-6532
A unique and special place that brings you back to a time of Elegance and Style. This Victorian Inn is decorated with beautiful antiques and exudes warmth and friendliness. Close to activities yet far enough away from the hustle and bustle to have a quiet, relaxing, and romantic Vermont visit. This stately Greek Revival mansion was built in 1848, it is among America's landmark historic inns. You will enjoy the Romance and Elegance of the Victorian Era in this faithfully restored estate.
Visit The Arlington Inn Website- Arlington, VT
---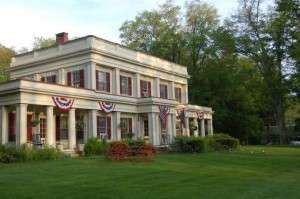 Built in the late 1800's this beautifully restored inn is a favorite destination. Tastefully modernized Victorian home with contemporary amenities, including private baths, TVs, WiFi, air conditioning and two person Jacuzzi tubs complemented by historic claw foot tubs, fireplaces, relaxing porches and patios. You will enjoy a full cooked to order country breakfast served in the inns garden solarium. This fantastic historic Vermont inn is situated on four acres, the inn provides the perfect venue for weddings & romantic escapes as well as corporate retreats. Located in the heart of The Shires of Vermont nearby to Dorset, Bennington, Manchester and all of southern Vermont . Ask us about the Arlington Inn in Arlington, VT.
3904 VT Route 7A
Arlington, VT 05250
802-375-6532
Visit Arlington, Vermont.
Arlington Inn is a recommended Vermont Inn.
 Lodging Guide | VT Maps | VT Attractions | VT Realty

VT Products | Visit VT Towns | Shopping