Arlington, Vermont 05143
Arlington VT Inns Resorts Attractions & History Information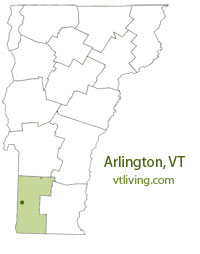 Welcome to beautiful Arlington, Vermont. Nestled between the Taconic Mountains to the west and the Green Mountains to the east, the town of Arlington, Vermont is full of rich history. Arlington is a popular Vermont vacation destination and home to several well-known inns such as The Arlington Inn, West Mountain Inn, and others.


The Arlington Inn, Historic Route 7A, Arlington, Vermont 05250 | 802-375-6532
A unique and special place that brings you back to a time of Elegance and Style. This Victorian Inn is decorated with beautiful antiques and exudes warmth and friendliness. Close to activities yet far enough away from the hustle and bustle to have a quiet, relaxing, and romantic Vermont visit. This stately Greek Revival mansion was built in 1848, it is among America's landmark historic inns. You will enjoy the Romance and Elegance of the Victorian Era in this faithfully restored estate.
Visit The Arlington Inn Website- Arlington, VT
---


West Mountain Inn, River Road, Arlington, VT 05250 | 802-375-6516

Nestled on a mountainside, the century old, seven gabled West Mountain Inn invites guests to discover its many treasures. Distinctively decorated guest rooms, comfortable common areas, 150 woodland acres with wildflowers, a bird sanctuary, and llamas. Miles of wilderness ski or hiking trails and the Battenkill River provide seasonal outdoor activities. Private dining and meeting rooms, A unique space for celebrations of weddings, birthdays, anniversaries, family reunions, or business meetings.
Visit West Mountain Inn Arlington
---
Arlington was the Capitol of Vermont in 1787. Chartered by the Governor of New Hampshire on July 28, 1761, the town's early years were turbulent due to the outbreak of the Revolutionary War. Many settled in Arlington after the northern region of Vermont became dangerous because of threats from the British and Native Americans in Canada.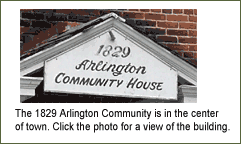 Several of the Green Mountain Boys, Thomas Chittenden (Vermont's first Governor), and Seth Warner lived in Arlington. Many meetings of the Vermont Council of Safety were held in Arlington. As home to the Governor's residence, it was the first capital of the state. World-famous artist Norman Rockwell moved to Arlington in 1938. After his first studio burned, he moved into a 1792 house that once served as a tavern and inn.
The world-renowned Battenkill River flows through Arlington on its way west to the Hudson. Known for its trout fishing, anglers from all over the world are drawn to its waters. Legend has it that the seal of Vermont was drawn here originally, and the tree depicted still stands on Route 313.
Local Arlington points of interest include the Chiselville Covered Bridge, the Dorothy Canfield Fisher House, the Norman Rockwell Houses, the beautiful and historic Arlington Inn, the West Arlington Covered Bridge, and the Mount Equinox Skyline Toll Road.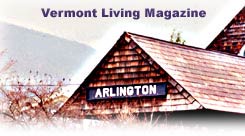 Dorothy Canfield Fisher spent most of her life here in Arlington. She was a popular novelist and educator proponent. Canfield introduced the Montessori School teaching method to America and helped found the Adult Education Association in the US. Dorothy Canfield Fisher – a famous Vermonter, died in Arlington in 1958.
To share any Arlington, VT information, contact us. Learn more about advertising in VTLiving.
Chartered: 1761
County: Bennington
Arlington, VT Population:
2010: 2,397
GPS Coordinates:
Latitude: 43.429
Longitude: -73.950
Arlington, VT Local Information
Arlington Town Offices: 802-375-2332
inns | hotels | resorts | rentals | attractions | dining | real estate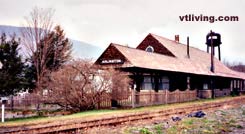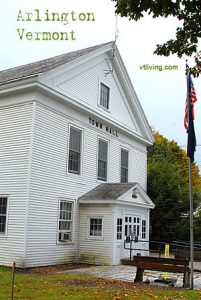 Vermont Products | Visit VT Towns | FWM 24/7 Shopping

Country Weddings | New England Recipes
VT Inns | Red Sox Gifts | Travel Destinations
New England Living Magazine
Free World Mall

Country Weddings | New England Recipes
VT Inns | Red Sox Gifts | Travel Destinations