Arlington, Vermont 05143
Arlington VT Inns Resorts Attractions & History Information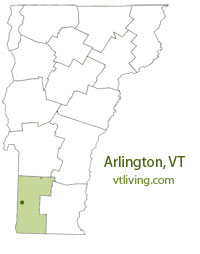 Welcome to beautiful Arlington, Vermont. Nestled between the Taconic Mountains to the west and the Green Mountains to the east, the town of Arlington, Vermont is full of rich history. Arlington is a popular Vermont vacation destination and home to several well-known inns such as West Mountain Inn, Arlington Inn, and others.


West Mountain Inn, River Road, Arlington, VT 05250 | 802-375-6516
Nestled on a mountainside, the century old, seven gabled West Mountain Inn invites guests to discover its many treasures. Distinctively decorated guest rooms, comfortable common areas, 150 woodland acres with wildflowers, a bird sanctuary, and llamas. Miles of wilderness ski or hiking trails and the Battenkill River provide seasonal outdoor activities. Private dining and meeting rooms, A unique space for celebrations of weddings, birthdays, anniversaries, family reunions, or business meetings.
Visit West Mountain Inn Arlington
---

Arlington was the Capitol of Vermont in 1787. Chartered by the Governor of New Hampshire on July 28, 1761, the town's early years were turbulent due to the outbreak of the Revolutionary War. Many settled in Arlington after the northern region of Vermont became dangerous because of threats from the British and Native Americans in Canada. Several of the Green Mountain Boys, Thomas Chittenden (Vermont's first Governor), and Seth Warner lived in Arlington. Many meetings of the Vermont Council of Safety were held in Arlington. As home to the Governor's residence, it was the first capital of the state. World-famous artist Norman Rockwell moved to Arlington in 1938. After his first studio burned, he moved into a 1792 house that once served as a tavern and inn.
The world-renowned Battenkill River flows through Arlington on its way west to the Hudson. Known for its trout fishing, anglers from all over the world are drawn to its waters. Legend has it that the seal of Vermont was drawn here originally, and the tree depicted still stands on Route 313.
Local Arlington points of interest include the Chiselville Covered Bridge, the Dorothy Canfield Fisher House, the Norman Rockwell Houses, the beautiful and historic Arlington Inn, the West Arlington Covered Bridge, and the Mount Equinox Skyline Toll Road.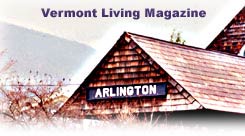 Dorothy Canfield Fisher spent most of her life here in Arlington. She was a popular novelist and educator proponent. Canfield introduced the Montessori School teaching method to America and helped found the Adult Education Association in the US. Dorothy Canfield Fisher – a famous Vermonter, died in Arlington in 1958.
To share any Arlington, VT information, contact us. Learn more about advertising in VTLiving.
Chartered: 1761
County: Bennington
Arlington, VT Population:
2010: 2,397
GPS Coordinates:
Latitude: 43.429
Longitude: -73.950
Arlington, VT Local Information
Arlington Town Offices: 802-375-2332
Exploring the Charms of Arlington, Vermont: A Historical Gem with Endless Delights
Nestled in the picturesque Battenkill Valley of southwestern Vermont, Arlington is a quaint town that seamlessly blends a rich history, natural beauty, and a vibrant community spirit. With its captivating history, diverse recreational activities, comfortable lodging options, thriving businesses, and warm community atmosphere, Arlington has something to offer everyone. Let's embark on a journey to discover the allure of Arlington, Vermont.
Arlington History:
Arlington's roots trace back to the early 18th century when it was first settled by Europeans. The town's history is steeped in Revolutionary War lore, with notable figures such as Ethan Allen and Remember Baker playing significant roles. Visitors can explore the historical sites, including the Arlington Covered Bridge, which stands as a testament to the town's past. The Martha Canfield Library, housed in a building dating back to 1853, provides a glimpse into Arlington's literary heritage.
Arlington VT Things to Do:
Outdoor enthusiasts will find themselves in paradise in Arlington. The town is renowned for its natural beauty, with the Battenkill River winding through the landscape, offering excellent opportunities for fishing, kayaking, and canoeing. Hiking and biking trails, such as the Battenkill Valley Loop, allow visitors to immerse themselves in the breathtaking scenery. Additionally, nearby Mount Equinox provides hiking trails and panoramic views from its summit.
Arlington Lodging, Real Estate, and Living:
Arlington offers a range of accommodations to suit every preference, from cozy bed and breakfasts to charming inns and vacation rentals. Visitors can enjoy a warm and inviting stay while immersing themselves in the town's unique atmosphere. For those considering making Arlington their permanent home, the real estate market offers a variety of options, from historic properties to modern homes nestled in the countryside. The quality of life in Arlington is unmatched, with a close-knit community, excellent schools, and access to outdoor recreational opportunities.
Arlington VT Businesses and Employment Opportunities:
Despite its small size, Arlington boasts a thriving local economy supported by a wide range of businesses. From local artisan shops to restaurants serving farm-to-table cuisine, the town provides an array of options for shopping and dining. Employment opportunities are available in various sectors, including tourism, retail, healthcare, and education. The community's strong support for local businesses contributes to a vibrant and sustainable economy.
Shopping in Arlington:
Shopping enthusiasts will find delight in Arlington's unique boutiques, antique stores, and art galleries. The town is known for its locally crafted goods, including pottery, handmade jewelry, and artwork. Visitors can explore the Arlington Village Center, where charming shops line the streets, offering one-of-a-kind treasures. The Arlington Farmers Market, held weekly during the summer months, showcases the region's agricultural bounty and provides an opportunity to connect with local producers.
Arlington, Vermont, captivates visitors with its captivating history, an abundance of outdoor activities, comfortable lodging options, thriving businesses, employment opportunities, and charming shopping scene. Whether you're exploring its rich Revolutionary War heritage, immersing yourself in nature's beauty, or enjoying the warm hospitality of the community, Arlington promises an unforgettable experience. As you plan your visit to Vermont, be sure to include Arlington on your itinerary. Discover the allure of this hidden gem and create memories that will last a lifetime.
inns | hotels | resorts | rentals | attractions | dining | real estate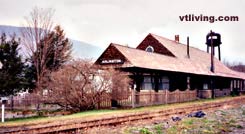 Vermont Products | Visit VT Towns | FWM 24/7 Shopping

Country Weddings | New England Recipes
VT Inns | Red Sox Gifts | Travel Destinations
New England Living Magazine
Fitness and Sports Products On Sale Now
Free World Mall

Country Weddings | New England Recipes
VT Inns | Red Sox Gifts | Travel Destinations