Grafton Village Cheese Co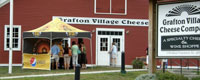 400 Linden Street, Brattleboro, VT 05301 • Ph: 802-246-2221
The Grafton Cooperative Cheese Company was founded in 1892 by dairy farmers who gathered together in a cooperative to make their surplus milk into cheese.
In the days before refrigeration, there were many such cooperatives in the rural agricultural communities and an abundance of fresh, creamy milk was turned into a food that could be stored for a longer period of time.
Grafton Cheese has two production plants: the original in Grafton and a new facility in nearby Brattleboro, Vermont. Each has a retail store with viewing windows to watch cheesemaking and taste the final product.
Category: Local Flavor, Cheese Shop, Factory Tours
inns | hotels | resorts | rentals | attractions | dining | real estate
VT CHEESE SALE

Grafton Village Cheese


Vermont Products | Visit VT Towns | FWM 24/7 Shopping

Country Weddings | New England Recipes
VT Inns | Red Sox Gifts | Travel Destinations
NEW ENGLAND LIVING MAGAZINE | NEW ENGLAND PRODUCTS
Free World Mall

Country Weddings | New England Recipes
VT Inns | Red Sox Gifts | Travel Destinations