Maple Grove Farms VT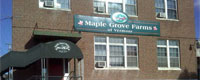 1052 Portland Street, St. Johnsbury, VT 05819 • Ph: 802-748-5141
Maple Grove Farms of Vermont had sweet beginnings over 98 years ago when Helen Gray and Ethel McLaren began perfecting maple products and confections on the family farm. Maple Grove Farms of Vermont features a product line including gourmet salad dressings, marinades, fruit syrups, confections, syrups, and pancake mixes. But the sweetest performer in the line is the 100% Pure Maple Syrup sold under the Maple Grove Farms of Vermont brand since 1915.
Category: Factory Tours, Local Flavor, Speciality Food
inns | hotels | resorts | rentals | attractions | dining | real estate
Maple Grove of Vermont

Sweetened with Splenda
A delicious pairing with Maple Grove pancakes and waffles
Rich, authentic maple flavor
Low in calories
Fat-free
SALTED CASHEWS: Roasted lightly salted cashews have rich, buttery flavor and a satisfying crunch
PLANTERS CASHEWS: This 18.25 ounce resealable jar of PLANTERS Deluxe Lightly Salted Whole Cashews contains about eighteen 1 ounce servings and features a resealable lid designed to lock in long-lasting freshness
ROASTED CASHEWS: These whole cashews are roasted in peanut oil for a satisfying crispy texture. State of Readiness: Ready to Eat
REDUCED SODIUM SNACKS: Contains 50 milligrams of sodium per 1 ounce serving compared to 100 milligrams in PLANTERS Deluxe Whole Cashews—an energizing and delicious snack for those reducing sodium in their diet
KOSHER CERTIFIED LIGHTLY SALTED CASHEWS: PLANTERS cashews are great tasting nutrient dense snacks for those keeping Kosher
PLANTERS CASHEWS: Nuttin' beats PLANTERS lightly salted cashews. They're nutrient dense snacks for adults or kids, are perfect for enjoying as a game day snack, movie snacks, after school snacks, or as a holiday gift or stocking stuffer
PLANTERS SNACKS, PLANTERS PEANUTS AND PLANTERS NUTS: Whether you want to satisfy a salty craving, PLANTERS (and Mr. Peanut) has you covered
SHELF LIFE: The "Best When Used By" date printed on each package of PLANTERS peanuts or PLANTERS nuts represents the last day the product should be consumed to guarantee the best quality, freshness and flavor
Allergen information: tree_nuts
Tastes Like Real Maple Syrup: The perfect mix of water, tapioca fiber, non-GMO Lakanto Monkfruit Extract, natural flavors, sea salt, and other quality ingredients makes this sugar free maple syrup a perfect topping for pancakes, waffles, oatmeal, granola, frostings, marinades, salad dressings, and other sweet, sugar free treats. You may also use it with beverages like coffee and tea.
Delicious Sugar Free Condiment: Our keto sugar free syrup has 1 net carb and lower calories than traditional maple syrup. Plus, it's all natural, low glycemic, and gluten free.
Lifestyle Friendly: Lakanto Sugar Free Maple Flavored Syrup works with ketogenic, diabetic, candida, paleo, vegan, low sugar, non-GMO, and all natural diets. Diabetics and dieters alike can enjoy the texture, taste, and sweetness of syrup without spiking their glycemic index.
Refrigerate After Opening: For best results, we suggest to consume Lakanto's low carb sugar free syrup within 90 days after breaking the safety seal and refrigerate after opening.
The Ultimate Breakfast: Our syrup is vegan, all natural, and does not contain any artificial ingredients. This maple sugar free syrup makes a great topping and additive for a healthy lifestyle. For the ultimate ketogenic breakfast, savor the rich, smooth, maple-like flavor of our syrup on top of Lakanto Pancake and Baking Mix.

Vermont Products | Visit VT Towns | FWM 24/7 Shopping

Country Weddings | New England Recipes
VT Inns | Red Sox Gifts | Travel Destinations
NEW ENGLAND LIVING MAGAZINE | NEW ENGLAND PRODUCTS
Free World Mall

Country Weddings | New England Recipes
VT Inns | Red Sox Gifts | Travel Destinations